Increase Sales and Reduce Risk
The Challenge: Two buyers are leaving Las Vegas, one departing the big apparel show Magic and the other from The International Consumer Electronics Show. Both scrambled through 35 football fields of vendor exhibits in the two million square foot Las Vegas Convention Center. That's 2,700 exhibitors in 30 product categories for our electronics buyer, and about the same for our apparel buyer.
What doesn't stay in Las Vegas? Each buyer's ideas about what goes into next season's assortment.
Now on the airplane headed home, both need to make sense of it all. Their challenge extends beyond planning their buys. Customers are churning, trading down, their loyalty exhausted. Inventory risk is extreme. Comps are down. The store base is under attack.
Whether buying branded goods in Las Vegas or designing private label in New York, business as usual threatens survival. Back in the office our buyers must break the mold. The following trends leading to customer-driven predictive merchandise analytics will help them beat odds worse than they faced in Vegas.
Trend 1: Don't Get Lost in the Fuzzy Front End
Putting aside the aftereffects of the Vegas Strip, our buyers are in what's formally called the fuzzy front end of new product development and launch.
Fuzzy isn't a good place to be, but our buyers have company there. According to an AMR Research survey of executives, 69% say their new product process is strategically or financially out of control. Dr. Robert G. Cooper of the Product Development Institute estimates that nearly 50% of all resources allocated to product commercialization is spent on products that are cancelled or fall short of their financial goals.
Retailers know these pains well. They battle fuzzy uncertainty in key decisions in design, line planning, assortment strategies, and product selection. That's a challenge traditional preseason planning, forecasting, and markdown tools can't handle.
Trend 2: Avoid Conventional Market Research Shortcomings
Writing in the MIT Sloan Management Review, Susumu Ogawa and Frank Piller lay blame for notoriously high new product failure rates on "a faulty understanding of customer needs." 46% of the executives AMR surveyed agree.
Ogawa and Piller identify shortcomings of traditional market research to explain why retailers and brands lack timely, reliable customer insight and suffer unacceptable new product risk.

Trend 3: See Opportunity, Not Just Avoidable Costs
Every retailer records markdown and promotional overrun costs and teetering comp store sales. These are easily tracked but don't tell the full story.
Opportunity costs complete the story. Peter A. Koen of the Stevens Institute of Technology gives an aggregate view of opportunity costs from having too many "me-too" products and too few that "explore" new market niches. Exploration products grab 61% of new product profit on only 14% of new product launches versus 39% of profits from "me-too" products on 86% of launches.
Kenneth Homa at Georgetown University points out that exploration products offer huge strategic advantages. Just think of two megahits: Apple with the iPod and Under Armour with wicking fabric. Both command premium pricing, market share, brand loyalty, consumer inertia, and patent barriers.
Opportunity victories don't have to be megahits. They can be won every season. Changing the merchandise mix toward on-trend innovation and differentiated products is key.
Trend 4: Reduce Cycle Time With Your Customers in Mind
Let's take a look Ogawa and Piller's ideas for replacing conventional market research, the culprit for the faulty understanding of customer needs, in the context of recommendations from Kurt Salmon Associates.
KSA's research shows that retailers gain an average of 25 basis points in maintained margin per week shaved off new product lead times. KSA sees speed as part of a broad set of recommendations it calls "Act Vertical."
They include three key capabilities to know what your customers will buy:
Anticipate emerging customer needs and merchandise opportunities through market research
Test and verify your ideas to reduce the risk of innovation
Use consumer insight to balance designer creativity and merchant inspiration against commercial appeal
A recent KSA white paper concludes that a "real-time feedback process enable(s) designers to focus on trend-right products. Companies can expect design hit ratios to increase up to 50%, while ensuring that products to which consumers will react best make it into the line."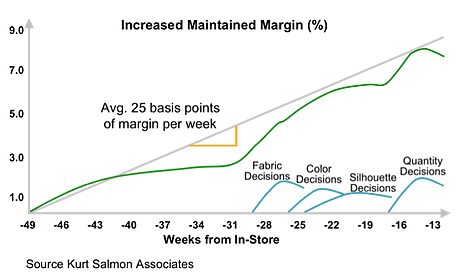 Trend 5: Involve Your Customers and Consumers
Along with KSA, MIT's Ogawa and Piller recommend involving customers and consumers in a "collective customer commitment" approach to innovation. They dismiss notions that customers "cannot express what they want…are internally inconsistent…and are likely to change their minds." They suggest further that those "excuses" place retailers "in the persistent danger of missing important trends."
Collective customer commitment, Ogawa and Piller write, is especially well suited for "fast-changing market trends and increasingly diverse customer needs" where "customers can be an invaluable source of innovation." They cite the success of Muji, a large private label Japanese retailer with a business strategy akin to Target. It's a household name and sells apparel, household goods, and food at prices 20% to 30% lower than other brands. Customer ideas are behind most of its recent successful new products.
Trend 6: Keep Your Hands on the Reigns
Customer involvement adds insight. It doesn't replace your designer and merchants' judgment. Muji's product developers interpret customer input with "their tacit knowledge about technical constraints and market reception." At Threadless, customers are actively engaged in designing and evaluating tee-shirts, merchants make the final selection from among the top-scoring submissions. The merchant's expertise focuses on evaluating originality, timeliness, and fit within the overall assortment.
Both retailers enable their merchants to leverage the knowledge of the large customer base while applying their judgment as needed. Merchants stay in control acting with additional insight to deliver the best results possible.
Trend 7: Focus on the Doable to Realize Immediate and Repeatable Value
The cost and effort of full-blown "collective customer commitment" a la Muji are prohibitive. But retailers must pursue its fundamental thrust—infusing customer insight throughout product development and merchandise planning. Nothing short of this puts the customer at the center of your product strategy. With that retailers can increase sales with the periodic megahit and frequent on-trend products every season.
For Further Reading:
"Reducing the Risks of New Product Development," Susumu Ogawa and Frank T. Piller, MIT Sloan Management Review, Winter 2006
"Best of the Best: Learn Top Quartile Practices in the Front End," Peter A. Koen, Ph.D Stevens Institute of Technology
"The CIO's Guide to the PERFECT Product Launch: Translating Innovation to Business Benefit," AMR Research
"Valuable Lessons for Managing the Front End of Innovation," AMR Research
Written by: Greg Girard, VP Marketing