Coming hard on the heels of the slow start in back to school sales recently reported by retailers, today's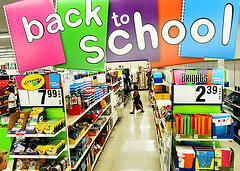 advance report on July retail sales illustrates the law of unintended consequences. Sometimes paying Paul takes robbing Peter.
Total retail sales fell an unexpected 0.1% despite the booming cash for clunkers business that needed an extra $2 billion infusion after consumers burned through their first round of car-buying incentives. Auto sales jumped 2.8% from June. All other retail sales dropped 0.6%. Big ticket retail lead the decline as home improvement sales dropped 2.1% and appliance sales fell 1.4%. Discretionary items declined, with sporting goods and the like off 1.9%.
Apparel sales going up by 0.6% suggests Johnny may get those new jeans for school. General merchandise store sales falling by 0.8% suggests mom's approach to shopping is still shifting.
What's the implication for retailers? The target has moved again. With less in her pocket after that car down payment and a new monthly payment on her mind, some of our most important customers are pickier when they arrive at the mall in their new fuel efficient car. Keeping those shoppers in sight is more critical than ever.