One of the new buzz phrases is "democratizing fashion." I mentioned it a few posts ago in a comment made by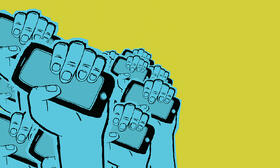 Norma Kamali. Today, Greg Petro, our CEO, sent along a link to a really interesting website, UsTrendy.
According to their "About Us" section, their platform is all about democratizing fashion "where fans give the yay or nay to which designs get produced and sold." The site also keeps a blog with helpful hints and tips for upcoming designers, the latest trends and reviews for fans, and a showcase of latest creations. It seems to be a new take on the Threadless.com model, but expanded into multiple product categories. The strategy is simple: a designer uploads a product image or a portfolio, users rate it, and UsTrendy helps winning products be manufactured and promoted.
The internet is giving more power to consumers. Not only are they able to find their desired products with the click of a button, they are more increasingly able to design, manufacture and market those products themselves if they don't already exist. If retailers are willing to open themselves to the world of possibilities, they can harness this pent up creativity and desire to influence for themselves.