The iPad caught the attention of leading retailers when it first hit the market in April 2010. But how to leverage this new technology was still in question. Now, we are starting to see the iPad come to its fruition as retailers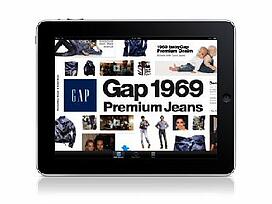 implement them into stores for a "multi channel presence or higher degree of service." Others are developing innovative applications to enhance their brands by making them more modern.
With e-commerce powering the retail industry, the in-store shopping experience must be that much more engaging for consumers. Retailers are using the iPad as a means to entice consumers and drive in-store sales. Puma, for example, has invented a Creative Factory that lets consumers create their own personalized shoes in 3-D using the iPad. JCPenney has also decided to implement the iPad into their in-store shopping experience, allowing sales associates to showcase JCPenney's full bridal jewelry collections, highlighting a variety of styles, cuts, sizes and metal options.
Other retailers have created iPad applications such as GAP. What makes GAP's application so unique is its ability to give consumers a social shopping experience. Compared to other applications GAP allows consumers to purchase items and even share them with your friends. It also includes content from designers, musicians and fashion insiders.
The iPad is said to make the greatest impact on the in-store shopping experience. Can you imagine it? Virtual sales assistants…the ability to make transactions on spot using the iPad…sales staff in the dress departments being able to pull coordinating accessories for you from other departments…. the possibilities are endless. References: http://read.bi/b3h0QO http://bit.ly/dEk80b http://bit.ly/frh8yu