Consumers are not the only ones who are budget conscious today. Due to soaring cotton and labor costs, retailers and designers are now being forced to rethink how they price and produce products. Some apparel retailers have turned to "deconstruction" methods to save on costs. "Deconstruction" in retail is the art of tearing garments apart and putting them back together with cheaper and fewer materials.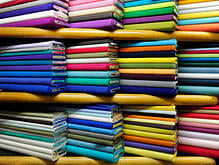 It is the redesigning of clothes. No wonder designers are turning to this method of "deconstruction" when fabric comprises 50% of a garments cost. Minor attributes of a garment starting with a cuff or pleat m
ay be eliminatedat first. But how do you know when a designer has gone too far? Making pants pockets that are so shallow that your change falls out is a big no-no. "Most garment manufacturers take care to make changes that won't be spotted easily by consumers," says Peter Brown, deconstruction expert.
A designer's objective is not to produce cheaply made clothes but instead they are asking, "Would dropping the watch pocket redefine this pair of pants. I don't think so. So knock of the watch pocket." The struggle lies between the designers who want to produce more expensive clothes and the manufacturers and executives who are telling them they have to keep things under $30. With fabric and labor cost projected to rise to 15% in the second half of 2011, "deconstruction" will continue to be a way of creating cost-efficient clothing for retailers.
To read more on the art of deconstruction please visit http://buswk.co/l4aKXG We are on Twitter! Follow us @FirstInsight to receive up to date content on the latest trends in retail.