The practice of showrooming — where customers visit a bricks-and-mortar store to see a product but then purchase elsewhere, generally from an online competitor — is quickly surpassing "phenomenon" status and becoming the new order of business. Chalk it up to technology: smartphones, tablets, and other handhelds are making it easier than ever for consumers to compare prices, features, and other product qualities in a matter of seconds.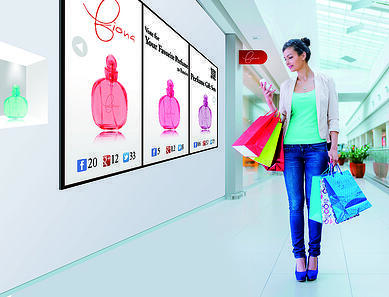 Think your store is above the fray? Think again. Studies of showrooming behaviors abound, with some surveys showing that up to 59% of U.S. smartphone owners engage in this practice. And consider this: Many consumers purchase from an online competitor while still in a bricks-and-mortar showroom. These types of behaviors will only become more prevalent — so it's best to accept and adapt.
Which Factors Drive Showrooming?
An AlixPartners survey completed in August 2012 questioned more than 2,000 adults about theirshowrooming behaviors during the prior 12 months. Some important takeaways:
33% of those surveyed purchased items online after viewing items in-store.
Showrooming was most common with consumer electronics purchases (43% of respondents); clothing and apparel purchases followed at 38%.
Top drivers for choosing an online purchase over a brick-and-mortar store included lower pricing, free shipping/home delivery, lack of in-store availability, the ability to check consumer reviews and ratings, and the opportunity to compare products and product options.
Interestingly, in response to a poll by financial consulting firm BDO USA2, 88% of retail CFOs said they are not concerned about showrooming. But that doesn't mean they are ignoring it. And neither should you.
Tips for Addressing Showrooming Head-on
The fact that potential customers are in your store means you're winning an all-important retail battle: You have something they want. Don't let those sales slip through your fingers. Instead, consider opportunities to capitalize on customer visits. Here are two ways some retailers are combating showrooming:
1. Address pricing from the beginning
Naturally, we at First Insight feel that accurate pricing is critical to overall success. Pricing is a primary driver behind showrooming behaviors, and some retailers have embraced price-matching as their primary combative effort. Best Buy and Target, for example, have already said they will match prices with some online sales outlets during the holiday season in an effort to keep sales in stores.
But matching seems reactionary rather than strategic. Retail Systems Research (RSR) released its Benchmark Report about pricing in April 2012, and it helped highlight the factors retailers are battling with regard to strategic pricing initiatives. For example, survey respondents named the following factors as pressures to lower pricing:
Increased price sensitivity of consumers (67%)
Increased price aggressiveness from competitors (51%)
Increased price transparency and the impact of comparative price shopping (47%)
Once you have the customer in your store, if you have set prices correctly from the outset, the need to price-match is greatly diminished. In "race to the bottom" scenarios, the end point is the bottom. And who wants to be there? Our white paper, "Determining Entry Price Points Using Consumer Insights" offers a step-wise approach to establishing optimal starting price points.
2. Think like a "luxury" brand
According to Joel Bines, managing director and co-leader of the retail practice at AlixPartners, luxury brands generally aren't susceptible to showrooming. Bines told Women's Wear Daily that two dynamics — scarcity of product and consistent pricing across channels — are key to negating the behavior.
The exclusivity of luxury brands and the overall brand experience also help drive a certain image and customer outlook. To truly embrace a luxury mindset, retailers need to go beyond tactics such as price matching and free shipping and commit to a brand promise. Some retailers are doing this by:
Cultivating exclusive offerings, both with established and up-and-coming designers.
Implementing rewards and loyalty programs
Holding private sales and giving early sales event access to preferred customers
Offering exclusive benefits (like personal shoppers) to preferred customers
Of these methods, the first strategy — offering exclusive products — provides the best long-term way for brands and retailers to avoid becoming showrooms for online retailers. Smart retailers and manufacturers are coming together to identify the specific products most desired by the customer base of each retail channel. With this approach, shoppers find the products they like, and they don't easily find the same products online or in other stores.
At First Insight, in our work with both brands and retailers, we are finding that this strategy is creating lasting competitive advantage and a win-win scenario. Read more in our white paper, "Developing Exclusive Fashion Assortments Using Consumer Insight."
Bottom Line – Strategy Counts
Showrooming is real, and it's here to stay (smart devices are not going away anytime soon!). Responding with tactics such as price matching may help retailers win a short-term battle, but they will definitely lose the war. Why? Consumers will know you will always lower the price, so they will wait or find the item somewhere else. Once you have engaged in price matching, you have lost ALL of your negotiating power. The consumer is then in complete control.
Retailers need to develop strategies that will create long term sustainable advantage and reinforce their brand promise.
1 AlixPartners Showrooming Survey polled a demographically representative sample of 2,010 U.S. adults between July 26 and August 1, 2012 about their purchasing behaviors online after shopping in-store
2 2012 BDO Retail Compass Survey of CFOs, conducting during August and September 2012