Over the past several weeks, I have spoken to a number of CEOs regarding what is arguably the most challenging aspect of the retail business: Pricing.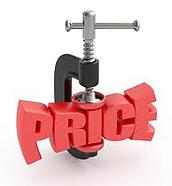 Regardless of their experience or perspective – specialty /vertically integrated retail, department store retail or brand manufacturing, the common concern is avoiding the "race to the bottom" on pricing. These retail CEOs all agree that a poorly executed pricing strategy can make the difference between success and failure. The time is right for new, innovative and more precise methods to determine optimal pricing.
During our panel discussion at the NRF conference in New York this year, Matthew E. Rubel, former CEO of Collective Brands and Cole Haan, now with private equity firm TPG Capital, stated: "The model that has been in place over many years was that you would look at your competitive set, and your distribution, understand the product category that you want to be in, understand what you can buy the goods for, and strive for a certain mark-up in aggregate. That's pretty much old school."
So what does Rubel think retailers need to do moving forward? He stated: "New tools which will help you set the right price up front… to me is the wave of the future that we have to get on with."
While speaking at the WWD Apparel & Retail CEO Summit earlier in January, Mickey Drexler made a critical point: "The real price of goods is always the selling price. The best price is to sell it for what it's worth." Drexler's statement is right in line with Matt Rubel's perspective. The results of "old school" pricing methods are already known – hyper-promotions, markdowns and clearance pricing. – a "race to the bottom."
With pricing such an important factor in retail organizations, one must ask: "who owns it?" Nikki Baird, Managing Director of RSR Research, reported some of the results of RSR's 2012 Benchmark Report on Pricing during the panel discussion. RSR found that a full 67% of "laggards" (poorer performing retailers) say pricing is managed by the buyer. Conversely, "winning" retailers are creating a separate pricing function and investing in tools to better manage the process.
Offering further insight, Baird stated: "Retailers have an opportunity, with more tools available than ever before, to make better decisions. It's just a question of everybody starting to use them."
So how do retailers avoid the "race to the bottom"?
Mindy Meads, Wet Seal Board Director, former co-CEO of Aeropostale and previous CEO of Lands' End, believes product differentiation is one way to avoid the race to the bottom. She stated: "You have to know your customer, who is that customer, you really have to understand who they are and what they are looking for."
Mark Cohen, Professor at Columbia University GSB and former CEO of Sears Canada, Lazarus and Bradlees, agrees with Ms. Meads about the importance of the customer. "There are no retailers in the world who have ever succeeded who have disregarded the behavior of customers and the presence of competition."
How can retailers know what the product is really worth, and what the selling price should be?
Greg Girard, program director for merchandising, marketing, and retail analytics at IDC Retail Insights, addressed this issue: "Avoiding the effect any race to the bottom on price has on revenue, margin, and unit sales erosion requires bringing the right products to market and setting their initial price right. These dynamics now put a premium on predictive analytics that complement merchant judgment."
In the end, I believe brands and retailers can avoid the race to the bottom in three ways:
Identifying their brand/product differentiation and sticking with it.
Understanding the customer "value quotient" – the combination of product desirability and price at which the customer will buy.
Setting and maintaining prices based on this value quotient, with 100% authenticity and transparency to the consumer.
As many of you know, at First Insight, we offer a solution which enables retailers to identify this value quotient. By applying predictive analytics to real-time consumer data, we help retailers and brands understand the price elasticity of a new product, months before it is launched. We also provide an accurate forecast of the full lifecycle AUR of a new product, as early as the design stage. This is helping designers and merchants make decisions on whether or not to move forward with a new product, and how to establish the promotional approach when the product is introduced.
The goal of retail is to sell more goods at full price, and 2013 will be a critical year which I believe will separate the winners from the losers. I look forward to your input and to helping you address the challenges you face moving forward.