As I walked the hall on Monday morning, it was clear this
truly is "The BIG Show."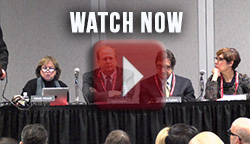 Attendance this year was up 8% from 2013, with 30,000 registered attendees – a new record. Eighty-two countries were represented and there were more than 70 delegations from countries such as Brazil, Argentina, Sweden and Russia.
While listening to Matthew Shay, President and CEO of NRF speak about the need for leadership, particularly from the government, my confidence in retail's representation by NRF with our nation's leaders was confirmed. Shay stated, "At NRF, we know that our job is to be your eyes and ears – to be your voice – on the most important issues of the day." Reforming the tax code, opening new markets for American goods, and fixing the broken immigration code so we can welcome new talent are three main areas Shay and NRF are focused on in 2014.
Switching gears, Forrester's Sucharita Mulpuru highlighted how successful 2013 was with regards to e-commerce. Average web growth was 29% in 2013, and 2014 promises to be even better. Retailers surveyed for the "State of Retailing 2014" ranked mobile projects such as responsive design, mobile site optimization, and tablet redesign as their top priorities.
With pricing such a hot topic these days, I was intrigued by her comment that "…half of consumers would be willing to pay a premium of 1 to 5 percent in order to get a the product on the spot in the store versus having to wait for an online order." The death of brick-and-mortar has been greatly exaggerated, and a unique mobile experience along with unique products and assortments "will enhance their chances of their mobile (and in-store) success and create a distinct competitive advantage."
Former President George W. Bush delivered this year's keynote. His comments echoed my own philosophy that I don't want to be the smartest one in the room. Bush stated, "By reaching out I learned that you can learn a lot by listening to someone else. It mattered when it came time to find common ground." As a CEO, I could not agree more with his statement. Only by listening to others can you truly create an executable vision and strategy that will ensure success.
The second keynote on day one included Footlocker CEO Ken Hicks. Wearing a pair of Nikes with his suit, Hicks hit on just how demanding the consumer has become. They are demanding because today's consumer is connected and educated. Hicks was spot-on when he stated, "The customer may enter the store knowing more about the product than the sales associate. You have to be flexible and you have to be aware of what is going on." Indeed, the consumer is educated, making it even more important to utilize today's tools and technology to listen and react to what the consumer is saying.
First Insight at NRF – Big Ideas and Breakout Session
As our Big Idea room began to fill before our panel discussion, "How Do You Successfully Price and Forecast NEW Products with No Sales History?" I was amazed at the diversity of the attendees. Retailers, solution providers, equity analysts, professors and students from around the world came to hear our panel speak.
I asked Mindy Meads, CEO of Calypso, and former CEO of several major brands including Aeropostale and Lands' End, about new, alternative solutions to introducing new products. "If you are a really smart merchant you're going to get some help when you can," she stated. "First Insight has created the algorithms that allow you to improve your track record in deciding what are the top 1, 2, and 3 in the assortment."
Regarding the importance of optimal opening price points and buy quantity optimization, she stated:"[First Insight] can also help you figure out what price, the optimum price for those new items. I think many times out there we are promoting and don't need to go so low to get through the season. And the next big one is how do you buy each item. I think that to me is the interesting thing that First Insight can provide."
TPG Capital Senior Advisor and former Collective Brands and Cole Haan CEO Matt Rubel spoke about tools and big data that enable retailers to speak to the customer and, more importantly, understand them. He commented, "The confluence of big data and what's going on today and what people want to do to understand their consumer is something that has created big wins over the past 5-7 years."
Matt went on to talk about the speed in which testing new products can be done compared to previous approaches to in-store testing. "The new tools enable us to go out digitally, to set the environment up, to tell the story, to show the garment, to show the shoe, to show the idea and to show it against its competitive set and then to price it. And to play things quite dynamically so in real time what you used to have to spend months to do you now can do in a matter of days and weeks."
Matt concluded by stating, "There are ways to go about testing what this tool will add to really go in conjunction with the other tools you have. So for me (First Insight) is another great enabler and something we all should embrace very thoughtfully."
You can watch the Big Idea session by clicking this link.
During our Breakout Session on Tuesday, our CMO Jim Shea moderated a panel discussion with Helzberg Diamonds and Vera Bradley, where these retailers discussed their experiences and success in applying big data and predictive analytics to fashion.
Scott Steever from Vera Bradley discussed how they used the First Insight platform to add a level of actionable data to their plan to enter a new market, baby products, in which they had no prior sales history to work from. You can read more about the process and their success here.
I also had the opportunity to attend the 24th annual Financo CEO forum on Monday night, where I heard some excellent comments and ideas on how brands need to adapt, maximize opportunities with their customers and control their own destinies in order to be successful in today's retail environment. My favorite quote of the evening came from Marigay McKee, the new president of Saks Fifth Avenue. Moderating a panel discussion that included Tommy Hilfiger and Andrew Rosen, CEO of Theory, the question was posed as to whether they thought Amazon would be a credible player in the fashion space in 10 years. Ms. McKee responded, "The successful companies in the future online will be ones who understand how to engage with the consumer, how to talk to them and how to give them what they want. You can't possibly be living in the world of discounts. It's not what makes the magic happen."
This statement sums up my thought mentioned at the beginning of this post: It's not about retail. It's about people. I encourage us all to engage them, to listen to them and to seek to understand them…that is what technology enables.