This year's WWD Apparel & Retail CEO Summit, held in New York on October 29-30, brought together retail's "Movers + Makers" to discuss driving the industry forward and navigating change. The featured speakers included a wide range of fashion leaders from the renowned Valentino designer Pierpaolo Piccioli to CEO and chairman of multibillion-dollar PVH Corporation, Emanuel Chirico. First Insight CEO Greg Petro presented alongside Cowen & Company's Oliver Chen to discuss the importance of diversity, the dual meanings of the word "value," the impact of launching offensive products and how to avoid these missteps, and how to build a more connected retail environment.
Here are the key takeaways from the event:
1. Delighting Customers Does Not Have to Be Risky
CEO Greg Petro took the stage with Oliver Chen, Managing Director and Senior Research Analyst at Cowen and Company to present "From Values to Value: Know Your Customer." Petro focused on the definition of value regarding customer principles and beliefs, and revealed the findings of our new consumer report, "The Diversity Disconnect Between Senior Executives and Consumers." Nearly all senior executives surveyed (92%) felt that consumers would continue to buy from their companies even after a launch of an offensive product with quick removal and an apology. However, only 27% of consumers responded that they wouldn't mind and would continue to shop at the retailer.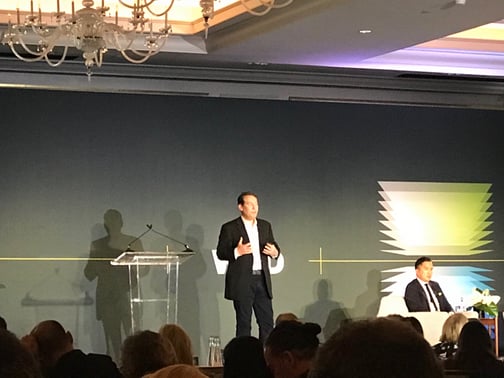 With this in mind, Petro stated, "Our job in retail in many ways is to delight the consumer, and we're doing this through creativity. Yet, those creative aspects sometimes trip us up." The creative, yet offensive and controversial mistakes made in an effort to delight the customer can destroy trust and devastate sales. Gucci paid the price for an offensive "black face" sweater by way of a 33% drop in earned media value and its first quarterly drop in North American sales since early 2016. Yet, these mistakes are preventable. By employing digital product testing to listen to the Voice of the Customer, retailers and brands can push their designs to be more creative while catching harmful missteps prior to launch.
2. Winning Retail Strategy: Connect + Context + Community
Oliver Chen discussed the future of the retail industry and the 3-Cs—Connect, Context, and Community—which drive customer lifetime value. Connect refers to creating a seamless customer experience across all touchpoints, including in-store and digital channels. Cowen estimates about 14% of America has already used curbside pickup at Walmart, combining online shopping with a drive-through experience. Connected retail requires actionable and integrated data and making quick improvements. As Chen commented, "It's important to test, read, and react." Companies like Kohl's have instilled this strategy, using First Insight to test, read, and react to improve their product assortments.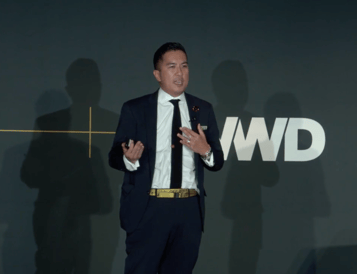 Oliver Chen's second C, Context, refers to the need to provide a personalized customer experience by leveraging collected data and processing it with AI and Machine Learning. He predicts that there will be a time in retail when data scientists outnumber merchants as they use the context of data to inform what merchandise decisions to make, using algorithms like First Insight's. However, the First Insight platform was not created to replace merchants, but to help them make better decisions informed by actionable and predictive data. Finally, Community in retail relates to an ongoing conversation between a brand and customer that is built on trust and authenticity. By building community, a brand can increase loyalty, reduce churn, and maximize customer-based innovation.
3. The Future of Data is Actionable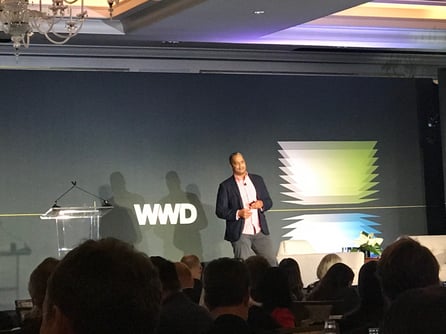 While retailers and brands find themselves with loads of POS and descriptive data, a low percentage of this data is actionable and used to make better business decisions. Mike Smith, the President and COO of Stitch Fix discussed their retail strategy utilizing online personal stylist services. Smith stated that Stitch Fix has 125 data scientists with only a few devoted to the Stitch Fix styling algorithm. The rest of the data scientists analyze the other aspects of the business to optimize for efficiency and make decisions based on their own meaningful and actionable data.
4. The Brand-Customer Relationship is Becoming Even Closer
Traditionally, the relationship between brand and customer has been transactional. Retail has now moved forward toward a more customer-centric business approach, and some brands are taking this engagement even further. It is now about engaging the customer in constant conversation, building a relationship, and, according to Golden Goose CEO Silvio Campara, creating a "Story of Love." The luxury hand-crafted sneaker company does not have customers as much as a "tribe," noted Campara. Golden Goose has built a unique relationship with its customers who treat the shoes as "rare and special" – leading to brand addiction rather than loyalty.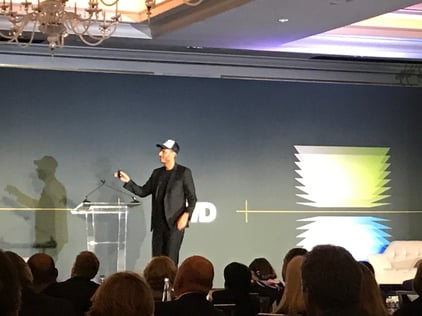 Other brands like lululemon are creating a lifestyle and engaging customers to become part of it. CEO Calvin McDonald attended the Summit wearing lululemon's next year's collection which features men's pants, a cotton long-sleeved t-shirt and a vest. He made a point to live out his athleisure brand's lifestyle—which he calls the "Sweatlife." McDonald shared lululemon's vision, "to be the experiential brand that ignites a community living the Sweatlife."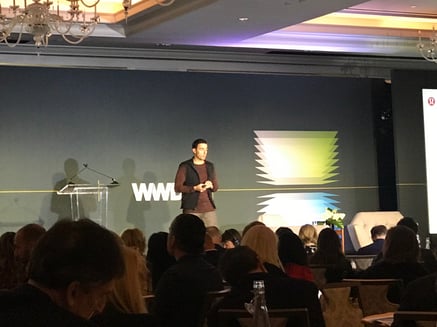 5. Doing Good: Purpose and Sustainability
Corporate Social Responsibility continues to become more pronounced throughout the retail industry as more retailers and brands strive to do good. Chairman and CEO of PVH Corporation Emanuel Chirico discussed the changing role of the CEO and the importance of purpose. While corporations have traditionally focused first on short term returns for shareholders, the priorities are beginning to shift. Chirico discussed the new idea that all stakeholders are equal and this new perspective will support long-term company health and growth.
Outgoing Gap Inc. President and CEO Art Peck tackled the topic of sustainability and how the $16 billion global company is embracing sustainable initiatives around lowering carbon dioxide and water consumption in production. Peck noted that "85% of apparel ends up in landfills" and that cotton is extremely water, herbicide, and pesticide intensive. As Gap consumes 1% of the world's cotton crop, they have taken it upon themselves to make a difference. Sustainability continues to become more important to consumers, and retailers and brands like Gap have looked for ways to reduce apparel destined for landfills. First Insight customers reduce or even eliminate physical samples and in-store testing by testing digitally with product CADs and 3D images very early in the product development cycle. Not only are they more sustainable and cost-effective, but they also get winning products to market faster with test results in 24 to 48 hours.
Peck closed his discussion on sustainability by stating, "Market share change is going to accelerate as brands push their values to the forefront."
WWD's Apparel & Retail Summit brought together the industry's Movers + Makers for two days to share expertise on the changing retail landscape and how to navigate disruption. The takeaways provide guideposts as we head into 2020.
Watch the full presentation "From Values to Value: Know Your Customer" by CEO Greg Petro and Oliver Chen, Managing Director and Senior Analyst at Cowen and Company, here
.