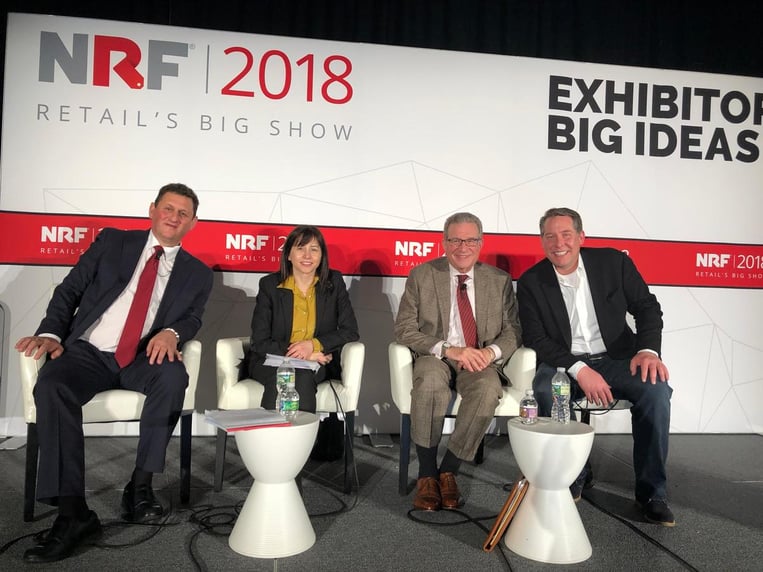 This year's NRF Big Show was bigger and better than ever. No surprise there. From artificial intelligence (AI) to the Internet of Things (IoT), robots and everything in between, technology was front and center for all attendees.
What is surprising is that all of this technology affects consumers and retailers in different ways. Some generate large benefits, while others pose complex challenges. One thing is certain – they are all disrupting the industry in unique ways.
Retail disruption was a key theme for the First Insight team and the topic of our Big Ideas session. Our CEO & Founder, Greg Petro, was joined by a powerhouse group including Richard Flaks, SVP Planning & Allocation, Chico's; Dana Telsey, CEO & Chief Research Officer, Telsey Advisory Group; and Les Berglass, CEO & Founder, Berglass + Associates.
Greg Petro said, "Product differentiation is more important than ever. 70% of Macy's product assortment can be found on Amazon. If your product isn't differentiated, you're relegated to competing on price, which will degrade your margins."
Consumers are more in control than ever before. They have the knowledge and the technology to make informed purchasing decisions. In fact, according to our recent survey, 60 percent of consumers check Amazon for products and pricing before looking elsewhere. Additionally, more than half of affluent smart speaker users, those making $100K or more, are using those devices to research prices. Furthermore, consumers have become addicted to promotions. Another survey from our team found that American women won't even enter a retail store unless there's a deep discount.
Our panelists shared a number of great insights on the topic. Here are some highlights:
"The keys to retail success are product innovation, execution or speed and having management be informed by data. Your customer rules everything. You have to be innovative, fast and unique." – Dana Telsey
"It doesn't make sense to just lower the price in fashion, your customer will pay for the fashion they want. Tools like First Insight and others help us to understand our pricing strategy for new products." – Richard Flaks
"Today, the merchant owns the product and the CMO or CCO need to collaborate. The merchant's role isn't diminished. It's just that they aren't the only ones on the block, they have lots of neighbors. Additionally, marketing alone doesn't 'own' the customer, they are the champion of the customer." – Les Berglass
"Personalization is emerging in importance. At Chico's we are putting the customer at the center of everything we do. Consumer segments are fragmenting and differentiating themselves from each other faster than ever, and retailers must adapt." – Richard Flaks
"In the apparel world, there's been a lack of newness. There used to be four occasions for women to buy – work, leisure, fitness/active, special events. Today it's only two. Retailers and brands need to adjust their strategies accordingly." – Dana Telsey
"Merchants need data to make more informed decisions, but expertise is still crucial in predicting what's to come." – Les Berglass
2017 was a record-breaking year for bankruptcies and store closings. 2018 could be a repeat if more retailers and brands don't concentrate more on their product offerings and pricing strategies. It's never been more important to understand your customer's expectations and what compels them to buy.
- Contact us to learn how your product success rates benchmark against your industry peers.