Once again, we kicked off the new year with Retail's Big Show, NRF 2020 Vision. This year's theme of Vision differed from the past because it signified the importance of preparing for retail's future with visionary ideas, partnerships, and technologies. 40,000 attendees gathered in Manhattan for the biggest retail conference and expo in the world.
Several of our customers made appearances as keynote speakers including Chairman and CEO Chris Baldwin from BJ's Wholesale Club, CEO Michelle Gass from Kohl's, and CEO Neela Montgomery from Crate and Barrel. Each shared their own perspectives on the future of retail and how to win, whether by improving customer experiences, or taking a risk and accepting Amazon returns—in the case of Kohl's.
While many of our customers shared insights on the main stage, we also had a strong lineup of customers and partners present in our booth for 30-minute speaking sessions. These sessions were packed with wisdom and key insights, applicable to all areas of retail.
Speaker Sessions
Sean Coxall – President of Supply Chain Solutions, Li & Fung Limited
Sean Coxall teamed up with our CCO Jim Shea to explain how Li & Fung and First Insight have partnered to build the supply chain of the future. By combining Li & Fung's 3D technology and sourcing expertise with First Insight's Voice of the Customer platform, the companies drastically shorten the time to a buy decision, and create products that consumers want to buy. Using the traditional supply chain, it takes around 20-24 weeks to get to a buy decision. However, with 3D CADs and Voice of the Customer analytics, it now only takes 72 hours total.
Sean Coxall closed with this statement, "We truly believe that this is going to be the only way to work. You will not be able to work in the traditional way. You will be too slow. Together we are creating an exciting new way of doing business."
Janice Brown – President, Entertainment Licensing Group, Centric Brands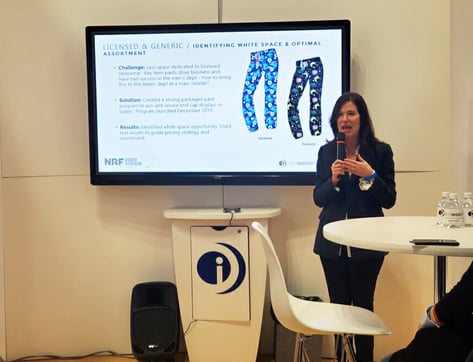 Janice Brown offered an interesting perspective as the President of the Entertainment Licensing Group at Centric Brands. By digital product testing through First Insight, Centric Brands now understands if customers prefer a color, character, fabric, or silhouette and the reasons behind the sentiment. This information allows Centric to tweak and improve the designs, so when the time comes to pitch these products to their retail customers they can present strong designs and the data behind them with confidence.
Janice shared a story about how Centric Brands lost their Spring business at one of their largest retail customers, and found it was due to space. Centric Brands needed an innovative solution that utilized less space. They decided to test packaged ladies' sleepwear pants with First Insight and found the customer would be willing to buy the packaged pants merchandised in end cap displays priced under $10. Taking this information, they designed a strong assortment and sold it into the retailer. The sales proved the initiative successful, far exceeding expectations.
Dr. Mark Chrystal – Chief Analytics Officer, rue21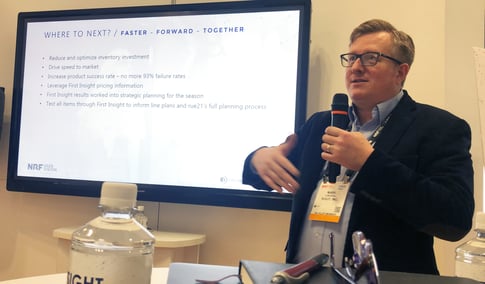 Dr. Mark Chrystal, the Chief Analytics Officer at rue21, has a long history of success and partnership with First Insight. We first started working with him when he was the Chief Supply Chain Officer at David's Bridal years ago. There, he conducted an analysis on First Insight's results and found that we were 100% accurate in identifying David's Bridal's underperformers. Therefore, when he joined rue21 after the company declared bankruptcy, he turned to First Insight to help turn around the company—whose failure rate on in-store testing was 93 percent.
Dr. Mark Chrystal explained how First Insight helped rue21 become a customer-centric and data-driven organization, by inputting the Voice of the Customer analytics into product decisions. "We've used First Insight across the board at rue21. Our markdown inventory is down 35 percent because we're doing much more testing, we're being very customer-centric, analytics-centric, and we're using this toolset to inform us and listen to our customer and go where our customer is telling us… at the speed of retail."
One success story Dr. Mark Chrystal discussed was the red kitten heel boot. While this particular boot style was considered the next big trend, when the fast fashion retailer tested it through First Insight it completely failed. This style did not resonate with their customers. Qualitative feedback revealed to the merchant team the broad-based learning that their cost-conscious customer wanted a more versatile style that they can dress up or dress down for multiple occasions. Rue21 used this information to redesign the boot with a block heel, saving $10 million in in markdown and inventory costs.
Due to the success of First Insight testing, rue21 has completely eliminated in-store testing—saving tens of millions of dollars—and continues to increase utilization across the organization. Chrystal closed stating, "I'd like to test 100% of our items through First Insight and that's what we're working to next."
Greg Flinn – Planning and Optimization Product Solutions Manager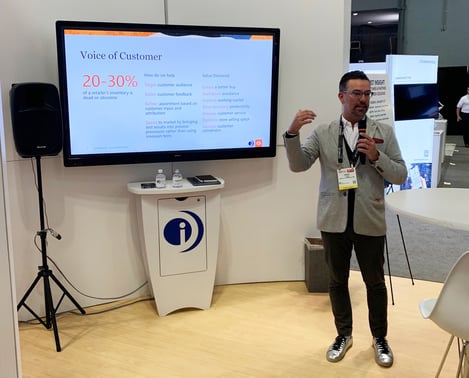 Our partner, Greg Flinn, the Planning and Optimization Product Solutions Manager at Oracle Retail, discussed how First Insight and Oracle work together to create better buys. The First Insight tool integrates with Oracle's planning system to bring the Voice of the Customer into buy recommendations and forecast demand.
Greg Flinn explained, "Traditionally, plans have always been built on three dimensions: product, time, and location—always looking backwards. Now, by bringing in the Voice of the Customer as the fourth dimension— you can see forward-looking demand rather than simply basing future demand on the past."
By combining our systems, retailers and brands can make better buy decisions backed by the customer and data analytics and in turn reduce markdowns, increase inventory productivity, and sell-through.
Sergio Martinez – Partner, Kalypso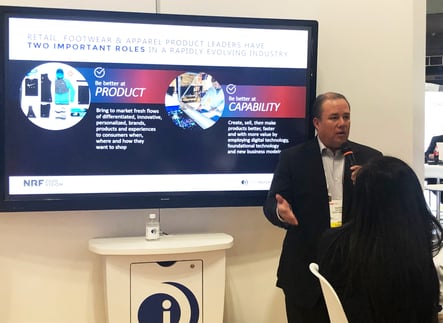 One of our valued partners, Kalypso presented about creating a seamless digital product creation process. Sergio Martinez, Partner at Kalypso, spoke about the integrated digital platform and the state of the retail market. Sergio has helped clients improve their product development success using new processes, tools, and technologies for the last ten years.
At Kalypso, he helps transform clients' end-to-end product development capabilities to keep up with the speed of retail. One way to do this is by integrating First Insight's Voice of the Customer Analytics into the digital product creation process. Retailers and brands are able to create 2D and 3D CADs with Browzwear or Optitex, then easily load them onto our platform for digital product testing, then move the winning designs into production and distribution.
Sergio shared many key insights on implementing a seamless digital product creation process retailers and brands can utilize to move strategically and quickly—ultimately leading to better, more successful products and satisfied customers.
---
We thank our customers and partners for their excellent presentations, and for helping NRF 2020 be the best NRF yet. The insights provided at our booth were invaluable.
Fill out the form below to learn more about how First Insight can help improve your product development and decision-making.
Photos from NRF 2020: