A while back I signed up for one of those digital coupon sites. They only asked me my gender and to pick out some stores I like to shop. And VOILÀ, here come the emails.
Lots of them.

As with any relationship, I expected it to take time for this site to get to know me—who I am, my interests, what I like, and what kind of offers will get me to buy. I'm not talking best friends here. I just expected a little more intimacy than sending a 46 year-old male, without kids, countless offers for $50 off a prom tux rental.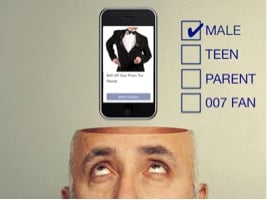 Three times a day that "Just for You" subject line promised an email offer I couldn't refuse. But each time I opened them there was that same offer, $50 off a prom tux rental.
I felt like Charlie Brown burned again and again by Lucy pulling back the football. Unlike Charlie, it only took me a few misses to stop being a blockhead. I quit opening the emails and eventually unsubscribed to them altogether.
I kept receiving this offer because they didn't have enough information about me to know that I didn't meet the ad's target profile. Simply knowing my age, that I don't have teenage boys, and I don't attend Comic-Con dressed as James Bond would have been enough to cross me off the list for that campaign.
Instead, they lost me forever.
Unfortunately, similar exercises in targeted marketing futility are repeated millions of times each day. According to digital marketing provider Silverpop, retail is particularly bad at sending ads to the wrong people, leading to some of the worst email open (18%) and click-through rates (2.9%) of any industry.

Staying north of these statistics requires demonstrating that you truly get me, and every other me in the world. And proving it with every email you send.
Here are three tips to improving targeted marketing efforts, based on First Insight's work with world-class retailers and brands:
Get segmentation right. Customer segments need to be so well defined that you can close your eyes and immediately picture someone you know; maybe your mom, spouse, or coworker. These segments need to clearly define not just who they are (demographics), but also how and why they buy (buyer behavior), what and how much they buy (purchase history), and what they love to do (lifestyle).
Get me right. Modern Man. William. I really don't mind if you label me as long as the shoe fits. This means that once you have nailed your segments, you need the data to accurately assign shoppers to them. If your CRM system is missing pieces of the puzzle on shoppers, you may need to go out and find data to fill the holes.
Less is more. A recent study by The Relevancy Group found that half of marketing executives believe that email marketing accounts for at least 15% of their overall revenue. These results make it easy to view emails as cash cows to milk for all they're worth. Resist this temptation. As my prom tux rental example demonstrates, hitting send more often on poorly targeted emails will not improve the results.
Use these simple guidelines to make sure you are effectively addressing your target market. By taking the time to learn more about your customer segments, you will be able to entice shoppers with offers that speak directly to them. The email open and click-through rates – and the resulting sales - will speak for themselves.