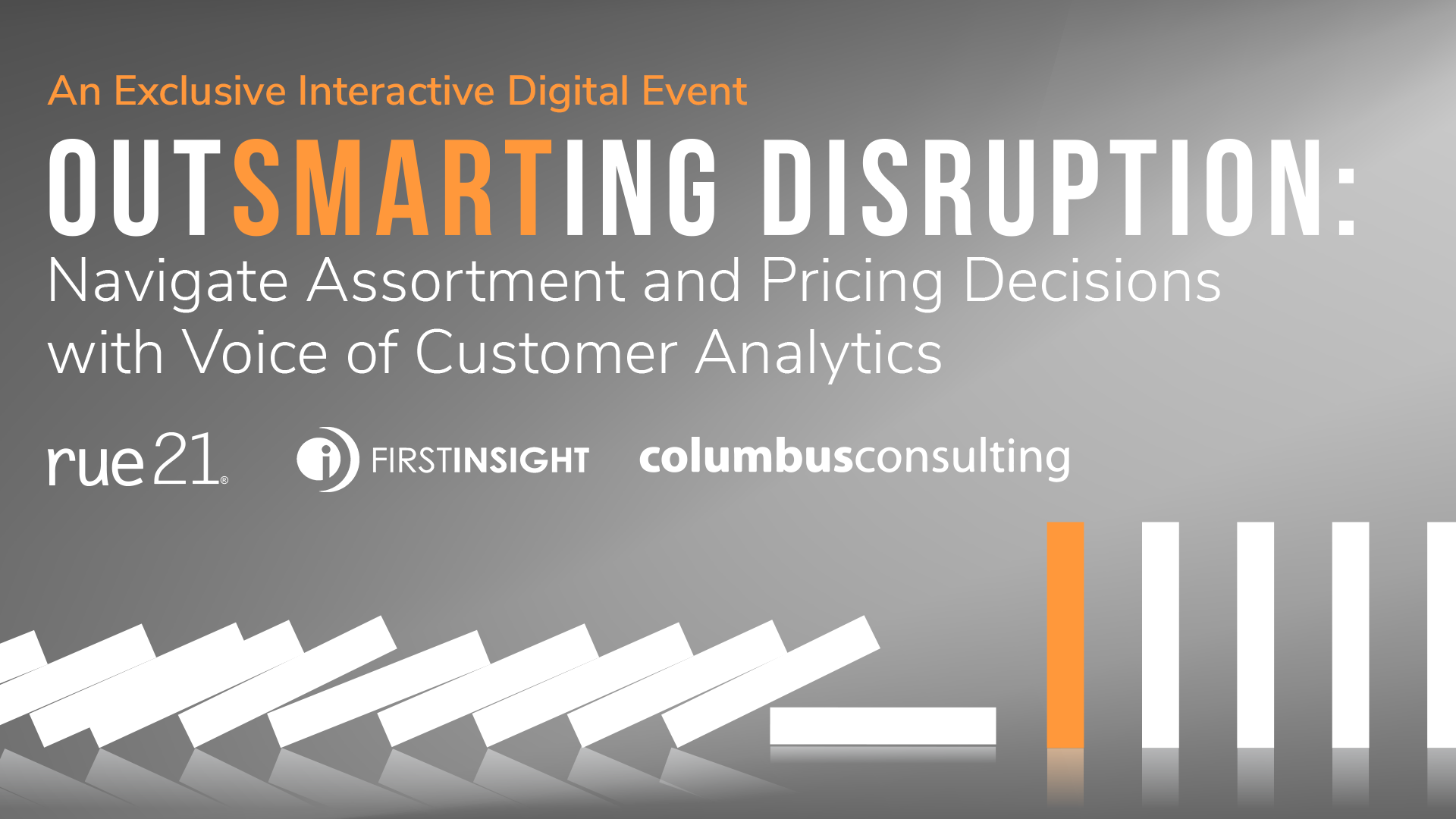 More about our speakers:
Jim Shea leads the global marketing and sales efforts for First Insight as Chief Commercial Officer. Jim's role spans all market and customer-facing functions, including strategy, product management, corporate communications, demand generation, sales and business development. Jim has held CMO and General Management roles in multiple industries, including medical devices, research laboratory products, telecommunications and enterprise software.
Mark Chrystal has an extensive portfolio of driving results and sales through innovative solutions and process improvements with more than 20 years of experience in financial and executive management. In his current role as Chief Analytics Officer at rue21, Mark oversees the Information Technology and Merchandise Planning & Allocation functions at the 750-store specialty retailer. Prior to rue21, Mark held various executive leadership roles with David's Bridal, American Eagle Outfitters, The Disney Store and Victoria's Secret.
Kate Gorman is a Managing Partner and Board Chair at Columbus Consulting with a focus on Organization Design & Efficiency, Merchandising & Marketing, MP&A and Interim Leadership roles. Prior to joining Columbus, Kate held various executive leadership roles throughout her 30+ year career in retail and retail software and services. Kate has worked with various retailers on process transformation, strategic process design, solution mapping, and organization capabilities to deliver the business ambition. Most recently, Kate was Executive General Manager of JR/Duty Free in APAC, in this role Kate led the business from infancy to the leading travel retailer in the region.
Daniel Binder is a Partner at Columbus Consulting focused on Merchandising and Supply Chain strategy, has +35 years of global retail experience across Department Stores, the world's most demanded Luxury Brands, Travel Retail, Wholesale, and Digital Channels. Daniel was formerly President of DFS, a Luxury Travel Retailer across 16 countries and division of LVMH, based in Hong Kong, leading their global Retail Planning and Allocation functions, Warehousing, Freight Management and Regulatory, and was enlisted to lead the company's Digital Transformation and develop its Omni-Channel strategy.
Brad Eckhart is a Partner at Columbus Consulting with a focus on Merchandising, MP&A and Business Analytics. Prior to joining Columbus, Brad held various executive leadership roles throughout his 30+ year career with both global and national retailers including Ralph Lauren, J. Jill, Finish Line, Juicy Couture and Warner Bros. Studio Stores. He has worked with various retailers on system selection, design, integration, and implementation of Merchandising, Business Intelligence and Business Analytics systems, as well as assisting in business process optimization and change management. Brad is currently enrolled in the Business Analytics Program at Harvard University.
Rich Pedott is a Partner at Columbus Consulting and has 34 years of experience in the retail industry He has held senior level positions including Chief Supply Chain Officer and SVP of Planning and Allocation for leading specialty retailers. Most recently Rich was the Chief Executive over the Retail, Wholesale, and Direct-to-Consumer business for The Metropolitan Museum of Art. Rich led the MP&A function during the Great Recession of 2008.