In this fast retail landscape, retailers and brands don't have time to conduct lengthy in-store testing with questionable results. Speed to market and accurate testing is the difference between original and differentiated products and those that missed the mark, yesterday.
First Insight's InsightSuite Platform allows retailers and brands to increase speed to market and make the right product decisions by providing actionable, accurate product test results within 24 - 48 hours.
Kohl's, one of the leading department stores in the U.S., has reduced time-to-market by 20 weeks using First Insight
Michael Gilbert, EVP, Product Development at Kohl's discusses how Kohl's modified their internal processes by incorporating technology and data to reduce cycle times and react more quickly to the market demand.
Michael Gilbert | NRF 2019 Feature Stage Panel
'Product Paradigm Shift: Customer-Centric Merchandising in the Age of Data and Decision Agility'
How does our retail software accomplish this?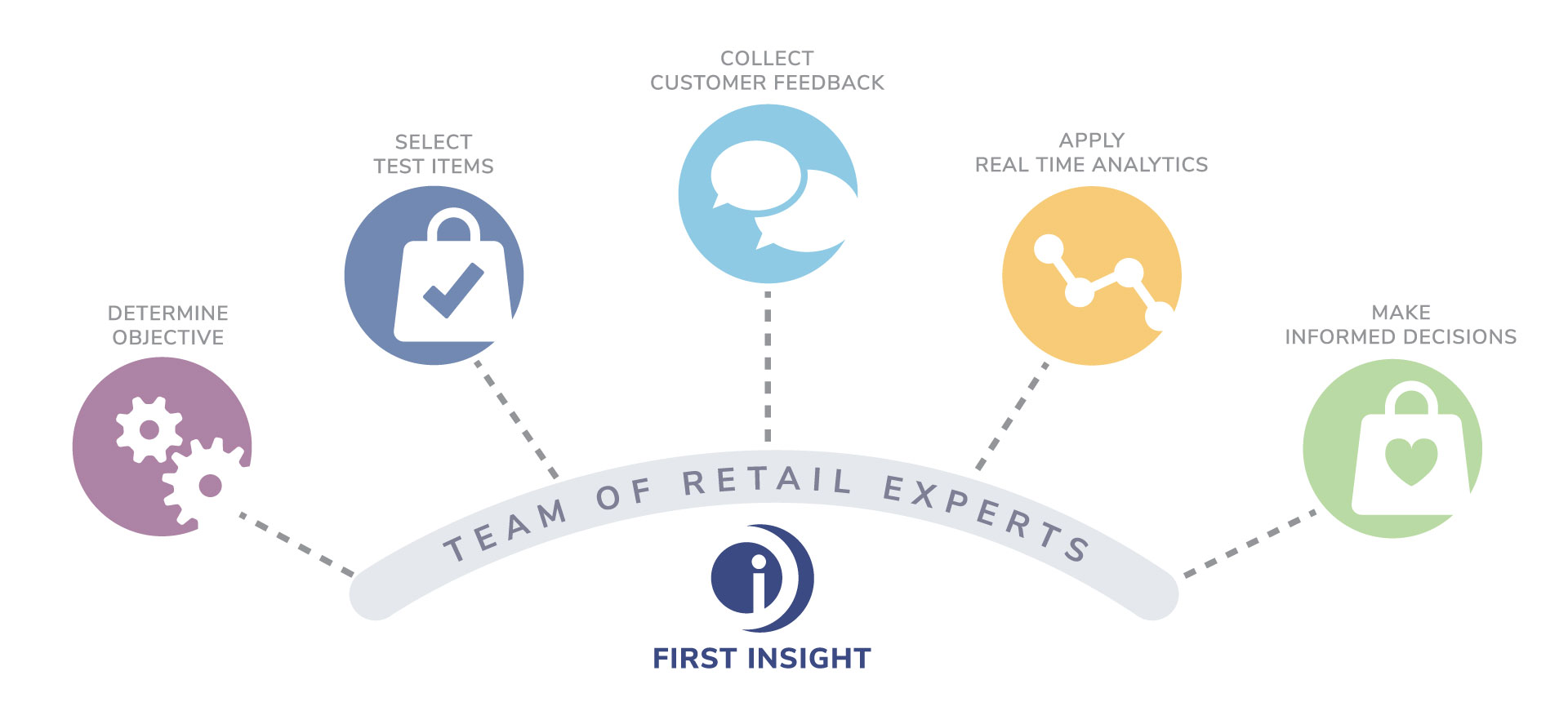 First Insight's platform gathers customer input on new product designs through social media, email, and third-party panels to collect a sample size that is statistically significant. Then our retail software applies predictive analytics to examine the responses and forecast the outcomes and guide key product decisions. Retailers and brands then gain access to clear product recommendations, hundreds of customer comments, and price sensitivity data. Retailers and brands realize results that are faster, less expensive, and 50-100% more accurate than in-store testing. It all adds up to faster speed to market while also benefiting from a higher level of confidence in your retail product decisions.
Significant Cost Savings through Reducing In-Store Testing
In addition to improved speed to market, First Insight has saved retailers like David's Bridal millions of dollars through reducing - and sometimes eliminating - in-store testing. Instead of creating thousands of samples of products, First Insight enables retailers to test using 2D or 3D CAD images, or photos of samples. Customers then evaluate the CADs and photos in our InsightSuite software as if they are shopping online—optimizing speed to market and reducing costs.
More Accurate than In-Store Testing
When customers engage with our platform to evaluate your products, they give feedback that in-store testing simply does not provide, leading to 50-100% more accurate results.
This feedback includes:
A product rating from "love it" to "leave it"
What they believe a customer would pay for the item
Comments that explain their responses, so you learn why they like or don't like the item.
Answers to specific survey questions, so you can segment the results by customer type.
The First Insight Platform analyzes the responses to provide the answers you need to make better product decisions, identify retail trends in near-real-time, and create differentiated products your customers want to buy now.
The Customer Results Speak for Themselves
On average, our customers from wholesale to specialty retail:
Improve new product success rates by 30-80%, improving the accuracy of their forecasts.
Increase gross profit by 3-9%.
Accelerate speed to market by cutting product launch time up to 30%.
The retail industry is evolving rapidly, and retailers and brands must make quick decisions based on accurate data to stay ahead.
By using First Insight's InsightSuite Platform, you can improve your retail speed to market while reducing costs and increasing test accuracy.