First Insight's InsightSuite Software Platform utilizes two vital components, The Voice of the Customer and Predictive Analytics, to enable brands, manufacturers, retailers, and licensees to make better product decisions on new products by answering questions that include:
Which design elements and attributes are most valued by consumers?

Which products should be in the assortment, and which should be eliminated?

How should a retail product be priced, even without any sales history?

How much inventory should retailers/brands buy or manufacture?

How should a product be targeted to specific customer segments, retail channels and geographies?
How Our Software Works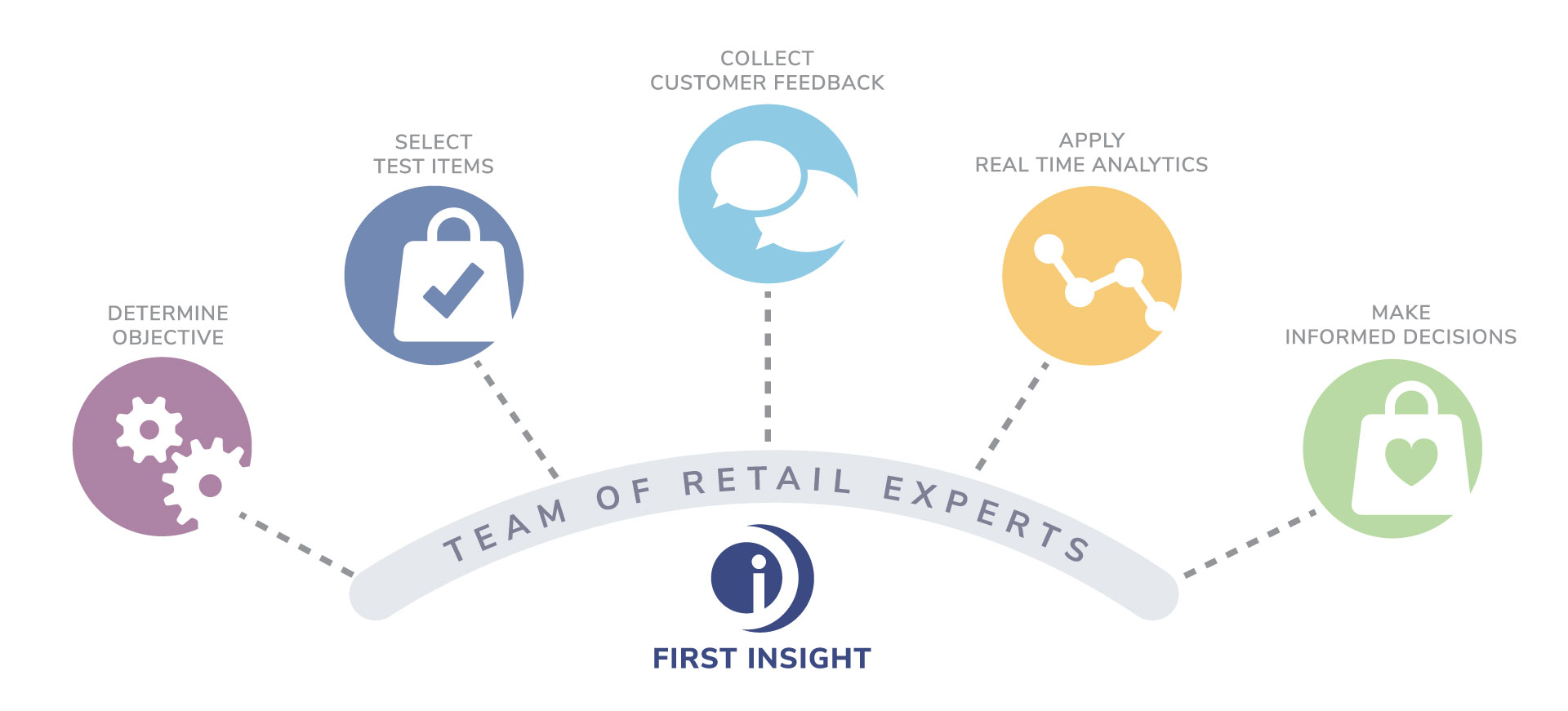 First Insight's platform collects customer feedback on new product designs through social, email, and third-party panels to gather a statistically significant sample size. Retail predictive analytics then analyze the responses and forecast the outcomes for key product decisions within 24 to 48 hours. We use industry leading machine learning and artificial intelligence systems to interpret customer feedback and triangulate the data with industry trends using predictive algorithms.
The Fastest & Most Accurate Retail Predictions in the Industry
The results provide clear product recommendations, aggregated customer comments, and price sensitivity data. If an item does not perform as expected, simply drill down to read specific customer comments and survey responses to make design changes.
Want even more detail? First Insight's Predictive Analytics platform breaks the responses down by age and gender to show how each product resonates by segment. Our AI is also region specific and can tell you how your products will perform in different countries or states. We collect over 8,000,000 data points per month from consumers and retail manufacturers in 30+ countries to feed into our machine learning algorithms.

Through First Insight's predictive analytics, we gain visibility into our customers' preferences in a way that hasn't been possible for us before, We validated the ROI of the First Insight solution through measuring a direct increase in online conversions and full-price sales.
Mike Gaumer, President



There is no history on a brand new product. When you're innovating new products, you can't use POS historical data — you have to predict behavior. That's what's so powerful about this.
David Katz, CMO

First Insight's analysis of consumers' merchandising preferences, print favorites, and style trends provides our teams with pre-season insight into new product performance, giving them more confidence in the buying decisions and allowing us to tailor our assortment to match our consumers' needs.
Kate Kenny, VP of Merchandise & Planning
First Insight's Predictive Analytics takes the guesswork out of your retail decision-making
On average, our retail and brand customers:
The expertise of your merchants and designers will always be invaluable to your retail business. Pairing their expertise and historical sales data with the Voice of the Customer, Predictive Analytics, and Artificial Intelligence will provide your team with the tools they need to succeed in the competitive retail environment. With our retail Predictive Analytics software suite, designing and selecting winning products has never been easier.