XM Testing Helped francesca's Launch A New Brand and Products

How can you be confident a new brand is going to succeed? Uncertainty abounds around the name, logo, aesthetic, and new product categories. When these factors are tested and analyzed correctly using the voice of consumer tools, you can launch without hesitation before you invest.
During the pandemic, francesca's was looking to gain a broader understanding of future business possibilities. Leadership knew that they had an opportunity to introduce a tween girl's line of clothing that is fun, fantastic, and affordable. They had very important questions to answer in reaching that younger shopper.
francesca's Considerations Before Launching New franki Brand
What

messaging would engage them?

In a crowded and competitive market, how could francesca's successfully position itself?

What product categories piqued the interest of this younger demographic?

What logo should we use?
Logo Testing
francescas' leadership had a name for the new brand in mind, but they needed guidance from their customers on how that brand should be presented. First Insight's predictive analytics enabled fast testing of logo options, ensuring that the new brand launched on time. With a logo that 66% of consumers loved and 54% ranked as their number one choice, the winning franki logo was established. francesca's was able to optimize its customer brand experience prior to launch through the voice of consumers. Andrew Clark, francesca's CEO, described the experience as "art met science and a new brand was born."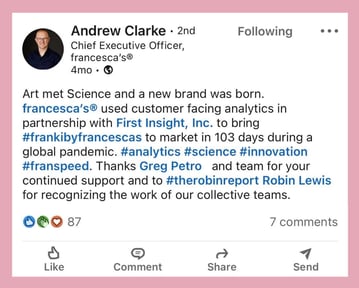 Product Testing
Initially, graphic tees and one-piece jumpers were the two product categories francesca's needed to examine through ProductXM; previously these two categories had struggled the most within their product lineup. Understanding the winning products that spoke to consumers allowed the brand to position itself more effectively as a result of the data obtained. With great successes in product testing with First Insight, francesca's has expanded its reach and is now testing almost all new categories launched within franki and francesca's.
Marketing franki by francesca's
When addressing a new brand from a marketing perspective, franki by francesca's needed to position itself in a slightly different manner than francesca's. Through product testing with First Insight, specifically graphic tees, First Insight was able to provide actionable, quantitative data on attributes such as color schemes, fonts, messaging, and imagery. All these voice-of-consumer responses were then utilized to support a marketing initiative of a young, agile, and fun new brand.
Outcome
Using First Insight's XM solutions, francesca's was able to effectively launch a new brand in just 103 days amid a pandemic and reposition itself effectively in two struggling product categories. Showcasing that we are fast, accurate, and will provide actionable results based on the voice of consumers.
Discover how First Insight's BrandXM solutions help companies create winning brand, product, and customer experiences!