Consumers are talking. Are you listening?
Every day, billions of consumers engage with brands and retailers online.

Social media has given retailers a window into what consumers think and feel about their products

.



With First Insight, you engage your consumers through online games which are presented to them through social media, email campaigns, or on your website.

These online engagements are fast and fun, and they can be played from a desktop, tablet or mobile device.

You ask consumers for input through an invitation to "Help Us Pick Next Spring's Assortment" or "Tell Us What You Think." By asking consumers to engage with the brand and not to make a purchase, they are 2 to 5 times more likely to engage and give feedback.

As consumers play the games, First Insight's solution is filtering and weighting the input in real-time. Within 24-72 hours, you have actionable, forward looking data on new product performance, presented through our InsightSuite.

---
Would you like to play a game?
In "What Would They Pay?" consumers try to guess what the average person would pay for a new product. They also give qualitative feedback which helps retailers identify what consumers like - and don't like - about the product.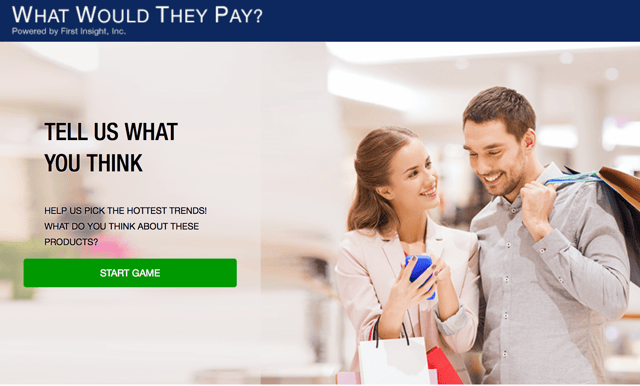 ---
In Sold! players have the opportunity to manage their own store by selecting the right inventory at the right price and quantity. The goal: to outsell the competition (or your friends!)