First Insight and Women's Wear Daily (WWD) recently conducted a survey to gauge shoppers' and retail business leaders' sentiments on the economy and spending. The research also zeroed in on executives' business priorities and investment plans for 2023.
The research found that consumers' perceptions of the economy and other issues may be out of line with what retail and brand executives believe those perceptions to be. This disconnect—according to First Insight CEO Greg Petro—could lead retailers and brands to take a risk-averse approach in their business.

The silver lining is that nearly half of executives polled (42%) view solutions that can bridge the gap between data and business intelligence, including voice of the customer predictive analytics, as "very important."
"The U.S. apparel, footwear, and accessories categories go into the holiday season facing the macro disruptions being seen across the economy," said James Fallon, Editorial Director for Fairchild Fashion Media, which includes WWD, Footwear News, Beauty Inc., and Fairchild Live Media. "Although the challenges presented by supply chain issues, inflation, and workforce shortages are significant, pricing strategy was cited by 40% of retail leaders as the one variable within their control. Given that, a well-developed pricing strategy will make all the difference in retailers' end-of-year performance."
The survey was conducted at a time of great significance for both consumers and retail executives. With the holiday shopping season looming, merchants are struggling with inventory issues, ongoing supply-chain disruptions—and price-sensitive consumers who have been traumatized by inflation. Additionally, they face shortages in the workforce and risk of global recession by 2023.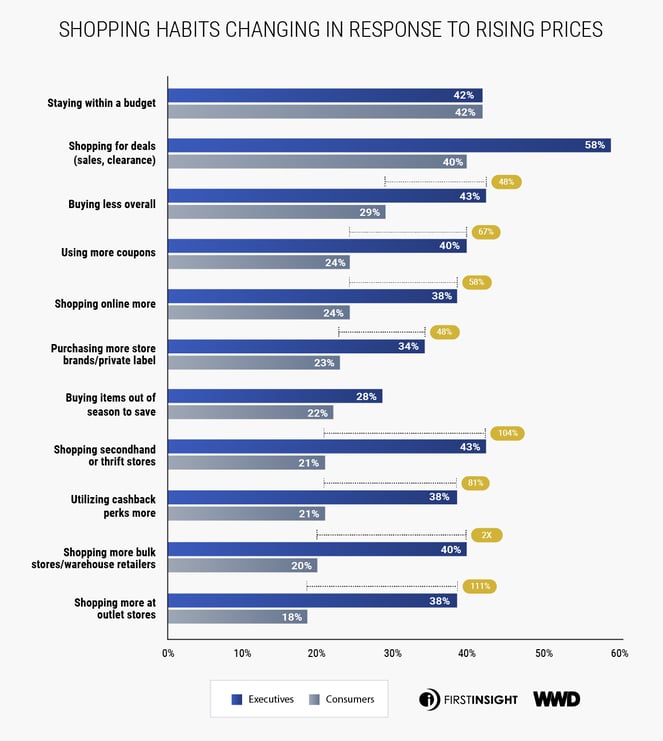 There is also the competitive landscape, which continues to change as online sales soar and pandemic fears die down. As consumers return to stores, seeking out the brands they love in person, retailers and brands must consider how best to meet these new demands.
It is no surprise, then, that executives polled cited growth strategies , customer acquisition and retention, and store operations as their top three priorities for 2023.
Analyzing consumer versus executive data makes clear that there are sizable gaps in several areas. For example, 77% of executives said that shoppers were "extremely or moderately concerned" about the possibility of a recession — while only 57 percent of consumers polled felt the same way. Eighteen percent of executives polled believe shoppers are "somewhat or slightly concerned" about a recession, which compares to 36% of consumer respondents.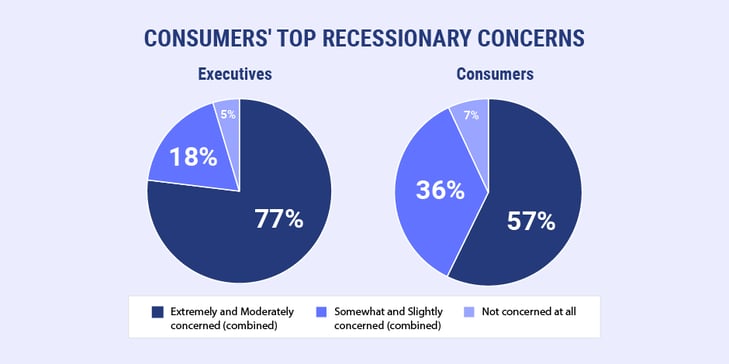 When asked if they think the country is currently in a recession, 66% of consumers answered yes, compared to 75% of executives polled. There were other, more profound disconnects. When asked how they believe current economic conditions are impacting consumer savings behavior, 29% of shoppers said they are saving less versus 15% of executives who believe shoppers were saving less. Regarding the resiliency of the American consumer, 94% of executives think shoppers have less confidence to spend versus 79% of the consumer respondents.
There was an even bigger disconnect among shoppers and executives about the impact of current economic conditions on consumer savings behavior. While 29% of shoppers said they are saving less because of the economy, only 15%—about half as many people—believe this to be true among executives. When it comes to consumer confidence, executives are more pessimistic than consumers.
There were also clear disconnects between what people are spending and how inflation is affecting their purchases. Executives in the apparel and footwear industry are more pessimistic than consumers about shoppers' willingness to spend money on jewelry, casual wear, and handbags, as well as professional work apparel and dress shoes.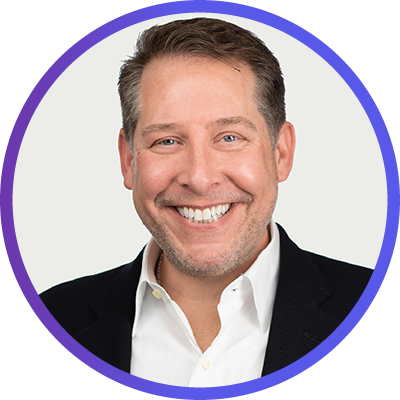 "The data clearly indicate that Executive Decision Makers are not in sync with the consumers they serve, most likely due to a lack of information. The Retail Executives' perspectives demonstrate a risk-averse approach leading to a suboptimal outcome. In this case, I hope they are not getting their 'head over their skis' in anticipating a situation which may never transpire."
- Greg Petro, CEO of First Insight
Still, executives know what they must do. Sixty percent of the executives polled said voice of the customer and predictive analytics were "important or very important," including listening platforms like First Insight.

It's crucial that retailers and brands pay attention to consumers' mindsets, but they also need to make sure their business strategies match what people want. In addition to consumer behavior, retailers must also contend with macroeconomic forces that are beyond their control, such as inflation and supply chain disruptions. Looking to the future, retail leaders name growth strategies—such as expanding their businesses and attracting new customers—as key concerns.