Well, the results are in...according to a recent First Insight study, on average 75% of ALL generational groups from Gen Z to Baby Boomers care about retailers being sustainable and offering sustainable products.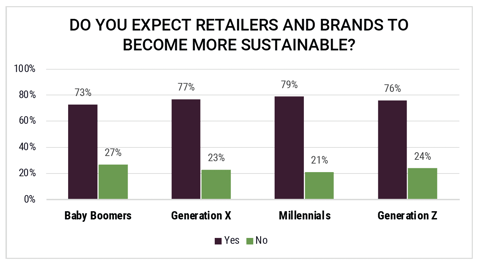 The same report shows that consumers are NOT willing to pay enough more for sustainability to cover the costs.
Further, the information indicates that the industry has not done a great job educating consumers on what sustainability means or how to identify it properly so that a consumer can correctly relate to the initiative or product.
Does this come as a surprise? Not really.....
What it does do is beget the question that if consumers are not willing to ante up the money to pay for sustainable products, do retailers and brands have the intestinal fortitude to maintain a path forward into a sustainable future or is it just another interesting trend to go by the wayside?
In order to understand what might occur, I think it best to look at what might happen if a retailer or brand were to invest (or not) on a sustainable future and how customers are likely to react given how the competitive landscape may respond. What does that mean? Let's look at an example.
at Forbes (subscription required) or download below.