Fung Global Retail & Technology co-hosted a "Breakfast with The Disruptors" panel event with First Insight on July 18 at the PROJECT New York conference. Panelists questioned how important millennials really are as a demographic, as Generation Z, the generation born after 1995, influences more than $600 billion worth of commerce.
The panelists agreed that successful brands use data analytics to understand and deliver customized and personalized products. Brands today have so much information about consumers that they should use it to target specific customers.
When asked about messaging, the panel noted that customers are open to receiving messages when the messages are targeted, relevant and directed.
With regard to technology, the panelists are focused on fit technology, personalization, microsegmentation, augmented reality and product testing, and on tools that allow a single view of the customer and the inventory system.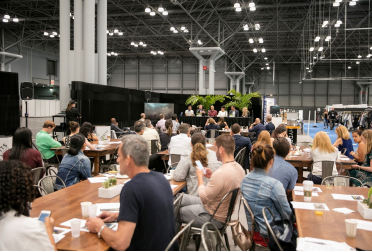 Fung Global Retail & Technology co-hosted a "Breakfast with The Disruptors" panel event with First Insight at the PROJECT New York conference. PROJECT is held twice annually in New York, in January and July, and offers a buying experience for the contemporary menswear market. The panel took place at P1VOT, a new showfloor area highlighting innovative, tech-based business solutions for designers and retailers. P1VOT was founded by Erik Ulin, President of Men's at UBM Fashion Group, and Luis Fernandez, CFDA Member and Creative Director for menswear brand Craft Atlantic.
Deborah Weinswig, Managing Director of Fung Global Retail & Technology, moderated the panel discussion. The panelists included Greg Petro, CEO and Founder, First Insight; Scott Lux, VP of Digital and E-Commerce, John Varvatos; David Yi, Fashion Editor, Mashable; Lisa A. Gavales, CEO, Things Remembered; and Joe Ferrara, Co-Founder and Co-CEO, Resonance Companies, and Board Member, Body Labs and Tommy John.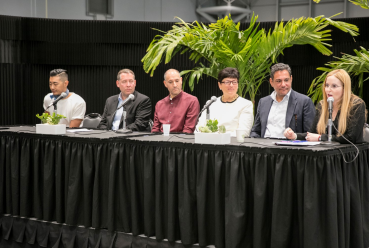 Ulin, of UBM Fashion Group, kicked off the breakfast session. The panelists covered topics that included the millennial market, the omni-channel store shopper and the rise of customization, data analytics, retailtainment and the future of the in-store experience, and retailers in the media.
There Is a Question About the Importance of Millennials as a Demographic
First Insight's Greg Petro commented that maybe millennials are not as important as has been suggested. He said that we are discovering millennials at a specific stage in life mostly because there are data and technology available today that were not available in previous generations. He suggested that the buzz regarding millennials may just be about patterns of behavior that we all go through as we grow up and into adulthood—and that these are not specific to any one generation, but life stages common to all. Petro advised the audience to tap into and use all the data available to understand and segment groups of people.
"Millennials are boring. Gen Z are so much cooler," David Yi, Fashion Editor of Mashable, said. He said that we should be focusing on Gen Z because that generation influences more than $600 billion of commerce a year and is notable for being independent, discreet, genderless, empowered, not brand loyal and into cool brands. Yi said Gen Zers do not care about quality or social cachet, and that they do not want to be creeped on. He also said that they actively delete their Instagram posts and do not tend to allow others to see their Snapchat stories.
Successful Brands Use Data Analytics to Understand and Deliver Customized and Personalized Products
The panel discussed data analytics and the importance of using data to drive decisions. Joe Ferrara, Co-Founder and Co-CEO of Resonance Companies and a professor of entrepreneurship at New York University, spoke about microcommunities and microsegmentation. He said that brands today have so much information about consumers that they should use it to target specific customers. He cited cart abandonment to illustrate his point. He said that retailers and brands have visibility into which consumers get right up to the point of purchase and then abandon their carts. Ferrara recommended that brands learn as much as they can about these customers, including what sizes they are buying, their ages, where they live and other details. He said that if you do not understand and have hypersliced and hyperfocused content for your customers, your competitors will. He recommended calling these customers and asking, "Why did you leave your cart?"
Scott Lux, VP of Digital and E-Commerce at John Varvatos, said that you have to understand the data and capture the insights the data point to. He said that it is very important to get back to the basics and not be distracted by all of the tech options in the industry. Lux also advised that retailers remember what is relevant to consumers and what will have a direct benefit for the end customer.
First Insight's Petro said that data analytics is only one piece of the equation and that retailers have to be true to the consumer in terms of balancing data with their intuition when they make business decisions. Petro's company provides clients with a platform for testing new products and uses metadata to help retailers understand what will resonate with their customers. In advance of the breakfast, First Insight analyzed a number of menswear categories and found that menswear prices in eight out of nine categories had decreased, by 27.8% on average between 2013 and 2016. Petro said that prices are decreasing in most of retail, but that men's underwear prices are up by 34% during this same timeframe. He added that menswear as a category is doing well. The trade-off is unit sales versus volume. Petro said that First Insight found that more than 50% of the products it tested could bear a higher price, which indicates customers are willing to pay full price for items that have value for them.
Customers Want to Receive Personalized Communication Moderator
Deborah Weinswig asked Things Remembered CEO Lisa Gavales about how far is too far in proactively reaching out to customers. Gavales said that we live in a personalization space, and so need to make sure that customers receive messages that are personalized for them. She said that it is a fine line between catering to customers and showing that you know exactly what they purchased. She added that customers see the value in sharing information if it is used in a way that is personalized for them.
Lux highlighted John Varvatos's strategies for marketing to different generations, such as baby boomers, Gen Zers and millennials. Lux echoed Gavales's comments about sharing information, and said that he felt that customers are open to communication if it provides value to them. He said that John Varvatos creates a holistic customer brand experience connecting all of its social media. For example, the company sends out email communications and then tracks how many customers visit the store the following day. It makes assessments based on the email content to determine which messaging resonates with customers. Lux added that the brand uses Instagram to engage its customers and keep them interested as an added component of brand storytelling. He said the goal is for the customer to walk by the store and connect to the brand, and advised the audience to engage customers rather than push them.
Technology Focus for the Future
Weinswig wrapped up the discussion by asking the panelists to comment on the one technology on which they are most focused.
Ferrara said that fit technology, personalization and microsegmentation will be around for the next 20 years. He added that Body Labs is another technology that is off the charts. Ferrara said that it is very difficult to use algorithms to deliver a product that is personalized and truly customized.
Gavales said that Things Remembered is focused on having one view of the customer and one view of the inventory system, which sounds simple, but, in fact, is not. She said that very few have all of the pieces connected.
Operational decision management, fraud control and real-time decision-making capability are priorities for John Varvatos in the future, Lux said. He also said the company is seeking opportunities to help personalize the customer experience with fashion looks.
Petro said that customer segmentation, testing products and augmented reality in the store are the focus for First Insight.
Yi said that he is focused on the wearable technology market and how to infuse the technology into shoppable experiences and make it less gimmicky and more fashionable, so that people will want to wear it.