Retail Industry Leaders Mindy Meads, Matthew E. Rubel, Mark Cohen and Robin Sackin to Discuss How to Price and Forecast New Products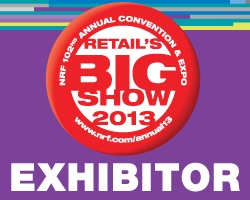 PITTSBURGH , January 2, 2014– First Insight, the world's leading solution provider empowering retailers and manufacturers to introduce the right new products at the right price, today announced its Big Ideas Session at National Retail Federation's (NRF's) 103rd Annual Convention and EXPO. The panel will bring together four of the industry's leaders to discuss how retailers can solve one of the industry's greatest challenges - accurately forecasting products that are new to the market. First Insight's Big Ideas session will take place Monday, January 13, 11:00-11:45am in Room 3, Expo Hall Level 3 of the Javits Center in New York City. Retailers and manufacturers registering on First Insight's website by January 5 will receive a free EXPO Hall pass.
The panel, entitled "How do you Successfully Price and Forecast New Products with No Sales History?" will be moderated by Greg Petro, CEO of First Insight, and will include four of the retail industry's most influential leaders:
Matthew E. Rubel - Senior Advisor of TPG Capital and former CEO of Collective Brands and Cole Haan
Mindy Meads – CEO of Calypso, Wet Seal board director, former co-CEO of Aeropostale, former CEO of Lands' End, and previous Federal Reserve Bank board member
Mark Cohen - Columbia GSB Professor and former CEO of Sears Canada, Lazarus and Bradlees
Robin Sackin – Chairperson of the Fashion Institute of Technology's Fashion Merchandising Management School
Each of the panelists will offer their perspectives and lessons learned on this important topic. According to Mindy Meads, "In a highly promotional environment, the key to the value equation is having the right combination of all three factors – fashion, quality and price."
"Forecasting new products is a huge challenge," said Greg Petro, CEO of First Insight. "Retailers have traditionally applied historical models to forecast demand for new items, but these methods typically result in excess inventory or out-of-stocks. I look forward to exploring these challenges and, more importantly, to discussing solutions which will enable retailers to more accurately match supply with demand."
First Insight invites retailers, manufacturers, media, analysts, and other attendees to visit them at the EXPO and pre-schedule a meeting in the company's conference room at booth #2548. Please contact Brady Dolan at Brady.Dolan@firstinsight.com or 724-759-7141.
About First Insight, Inc.
First Insight empowers retailers and manufacturers to drive new product success by introducing the right products at the right price. Through the use of online consumer engagements, the First Insight cloud-based solution gathers real-time consumer preference and pricing data and applies a predictive model to create actionable insights, which inform new product decisions. Companies use the First Insight solution to select the most profitable new products for improved sales, margins and inventory turnover. Implementing First Insight's predictive analytic solution gives retailers guidance for product design, buying, assortment planning, pricing and marketing decisions. Customers include leading department stores, specialty retailers and manufacturers. For further information, please visit www.firstinsight.com.
Media Contact:
Michael McMullan
Berns Communications Group, LLC
(212) 994-4660
Company Contact:
Jim Shea
Chief Marketing Officer
First Insight, Inc.
(724) 759-7141