Pricing is one of the most important strategies in retail and can give consumers the reason to flock to a store in droves or to stay away. Pricing during a recession is an even bigger deal, as tougher times create the need for retailers to take a greater share of market just to stay even as consumer spending declines.
Many of us who have set our alarms to go off before sunrise on Black Friday have been willing participants in one extreme pricing strategy known as "the doorbuster". This gimmick is intended to drive a huge surge in traffic, leading to greater sales, through limited-time offers on highly desirable products that people will storm the store just to buy. Doorbusters are pricing strategies on steroids.
For the other 364 days a year, however, pricing strategies should be much more scientific, using software that combines predictive pricing analytics, voice of customer data, and AI. Outdated methods of pricing like keystone or gross margin pricing are still used by many retailers today. Twenty years ago, consumers spent lots of time and energy searching for the best deals in local stores. Now, all they need to do is a quick Google search.
How can retailers today remain competitive, yet offer consumers the best possible pricing to keep them coming back in the long run?
Price optimization tools and product experience management are two ways to make data-driven decisions to establish the ideal pricing strategy. For instance, one of the hardest products to price can be one that is new to market. In fact, more than 50% of all new products fail. First Insight's industry leading price optimization software improves the odds of success and ensure the highest gross margin from day one, even without historical data. Cost of goods, competitive landscape, geographical region, selling costs, and target consumer are all factored in, allowing retailers and brands to optimize the potential of new offerings before costly investments are made.
Other pricing considerations need to occur over the lifetime value of the product:
What kind of product is it?

What is the perceived value?

How does it fit into the mix of other products within the assortment?
Maximizing the value across the full lifecycle of the product—from launch to final clearance—is the only way to drive the highest return on investment.
Price optimization tools can predict a product's price elasticity curve to forecast the average selling price over time. This information allows retailers to utilize dynamic pricing models during periods of high or low demand. It can also give the marketing team the ability to be more creative with promotions to reduce inventory or attract new customers. "BOGO", "Buy Now Save Later", and "Spend More/Save More" are a few examples of various offers that can be targeted to different customer segments or utilized across various channels to increase demand, especially during a recession.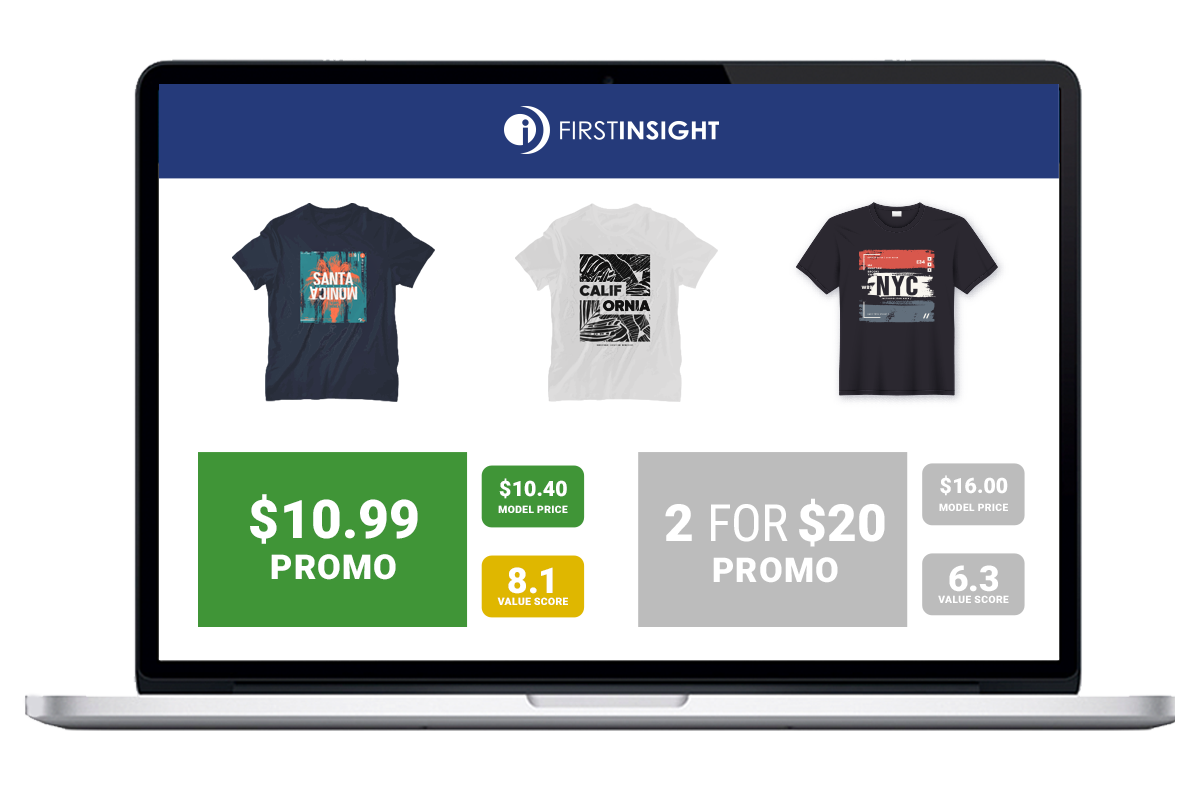 Identifying how any one product fits into an overall assortment is another pricing consideration. Is it a traffic driver, like a Doorbuster? Or is it a basket driver which leads to incremental sales of other products? Knowing the difference and knowing what ancillary products are basket drivers can inform many critical decisions ranging from merchandising to promotions.
Improving sell-through using voice of the customer analytics can prevent retailers from leaving money on the table by identifying the margin-moving products which command higher price points. Under-pricing can be just as detrimental to a product's success as over-pricing. First Insight's Product Experience Management Solution allows brands to identify the pricing strategy that will best capture the most market share and deliver the highest revenue and margin.
Tapping into voice of the customer data also provides retailers with the insight needed to cull laggard or undesirable SKUs from an assortment. Predictive consumer data allows retailers or brands to select the winning concepts and eliminate under-performing products before any investment is made.
Too many factors are in play even in the best economic conditions to rely on old pricing strategies. Software tools like First Insight's price optimization platform allow retailers to test different price points in real time, determine the ideal depth on any particular buy, eliminate product features that add no value, and maximize sell-through. Data-driven pricing strategies can empower retailers not only to stay one step ahead of their price-conscious consumers, but also to protect margins and bottom-line results in challenging economic times.