Voice of the Customer (VoC) tools are applications, programs, or processes that gather opinions, views, and feedback from a customer base. The data gathered directly or indirectly from customers help companies make more informed decisions by better understanding the end buyer or user. These tools can be as simple as easy mobile surveys or as sophisticated as the use of predictive analytics to show which products to choose and how to price them for the greatest return.
There are countless VoC tools in the marketplace. According to Gartner , VoC solutions combine multiple sources of feedback, such as direct and indirect communications with customers. With the combined technologies of social media monitoring, enterprise feedback management, speech analytics, text mining, and web analytics, companies can view their customers' voices in a more comprehensive way. As this market continues to grow, more and more businesses will need the help of professionals to adopt new VoC tools.
When deciding whether to use a particular type of VoC solution, it is important to take time to consider how that tool might fit with your company's needs. Many VoC tools are great at gathering mass amounts of descriptive information, but do not help a company understand how to make that data actionable. Other tools can be hard to implement and use with little customer support. When selecting a VoC provider, it is important to make sure you choose the right one. Running with the wrong solution can be costly in terms of time and money as well as lead to frustrations within your organization. Here are some of the key benefits that come from listening to the voice of your customers.
Benefits of Using the Voice of the Customer Software
Understanding the Buying Journey
To craft the best experiences, you must know what your customers want and how they will react to changes to their buying experience. By understanding your customer's journey, you can optimize the path to purchase. Retailers can receive feedback from their customer base to find out which in-store displays resonate with them the most and what motivates them to buy. Having the measured insights into which store layouts consumers find the most convenient can improve the experience and lead to actionable data.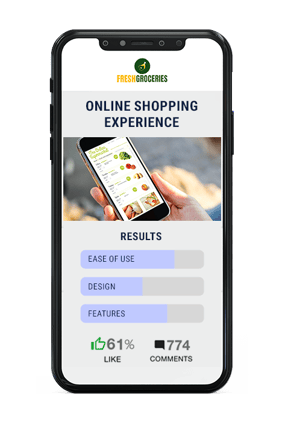 For example, an eyewear retailer wanted to find out the best way to display eyeglasses within their brick and mortar store. They sought to understand if customers preferred displays that organized glasses by shape or by brand, and how that preference differed between children's and adult glasses.
By using VoC software to survey consumers, the retailer was able to determine their customers have a considerable preference to shop for size over brand when it comes to children's eyewear. For adult eyeglasses, customers did not have a strong preference about the brand but instead preferred glasses to be organized by shape. Since then, the eyewear retailer has changed their in-store displays to reflect their customers' preferred display layout, allowing for a more seamless purchase journey.
Customer experience testing with voice of the customer tools goes beyond just brick and mortar shops. Direct to consumer, ecommerce-only businesses as well as large retailers are using VoC tools to optimize their digital channels by gathering consumer feedback and applying insights to the online shopping experience.
Creating Products and Services Customers Love
New products and services are the lifeblood of most businesses, but over half of them fail. You can create new offerings that customers love by asking them what they want and more importantly, what they value. Knowing which products will succeed is paramount to success in the retail industry. But how can merchants, planners and designers know what consumers want and how much they are willing to spend in today's environment? Supply chain disruption, inflation, COVID, and the rapidly changing landscape of today's world has created the need for advanced analytics that aren't just based in historical sales data. Understanding what customers want to buy and at what price right now has never been more important.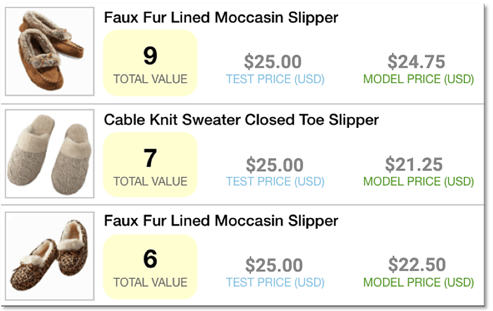 VOC tools offer the capability buy smarter and make informed, data-driven decisions. There are endless options when it comes to selecting designs, colors, patterns, and styles for new products. Retailers and brands can fully optimize these factors and adjust their buy quantities to better reflect the demand for products. Not only does this save costs, but it can assist companies in their sustainability efforts by keeping unwanted products out of the landfill.
Sustainability is prevalent in the minds of today's consumers, specifically among younger generations. Gen Z and Millennials are driving this movement and creating higher demand for sustainable products. With growing awareness of the impact that a product's manufacturing, distribution, and disposal have on the environment, retailers are changing their practices to become more environmentally responsible.
In a recent case, a women's swimwear brand was looking bring a new swim line to market that was made from sustainable materials. The brand needed to first decide on a custom logo and branding for the new line. They also wanted to narrow down the pattern and style options to save on production costs and reduce waste.
Using First Insight's voice of customer collection software, the brand's product teams deployed customer engagement surveys that leveraged 3D models of the designs collect consumer feedback. By testing in concept and analyzing the data, the brand eliminated low-performing ideas and selected a winning brand identity for the new line. Prints and silhouettes were also tested early and finalized in the pre-production stage, allowing the company to save on sample costs and reduce waste. By listening to their customers, the swimwear brand was able to introduce a line of products that resonated with the target audience while reducing their carbon footprint.
Building a Successful Brand
Understanding how rebranding will effect a business is not easy task, furthermore, marketing teams must try and predict how new products or marketing messages could impact their customers' perception of their current brand. The cost of failure can be enormous—and devastating to the business' bottom line. One offensive product or ad launched at scale can destroy consumers' trust in the most established brands.
VoC tools help brands avoid such missteps. The continuous stream of brands missing the mark with offensive product launches or tone deaf messaging has demonstrated the dramatic consequences: lost revenues, negative press, and destruction of brand equity. Listening to the voice of the customer helps businesses avoid risky product launches and protect their brand identity.
How can you be confident a new brand will succeed - and won't hurt your current one? francesca's relied on VoC data from First Insight to help launch an entirely new brand targeting an untapped market.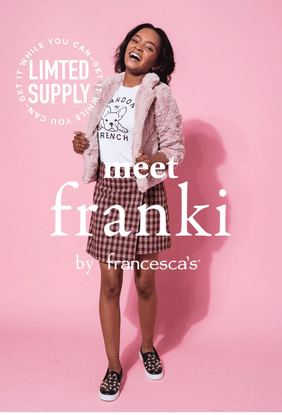 In the face of the pandemic, francesca's sought to gain a broader understanding of future growth prospects. Leadership knew that they had an opportunity to introduce a tween girl's line of clothing that is fun, fantastic, and affordable. They needed to answer several questions: What messaging would engage them? In a crowded and competitive market, how could francesca's successfully position itself? What product categories piqued the interest of this younger demographic? What logo should they use? "We had to pivot our organization to reconnect with the customer," said Andrew Clarke, CEO of francesca's.
francesca's used voice-of-customer responses to test and launch a new logo that 66% of consumers tested 'loved' and 54% had ranked as their #1 choice. The feedback was utilized to create a young, agile, and fun new brand: franki. By using the voice of the customer, francesca's was not only able to effectively launch a new brand in just 103 days, but also reposition itself effectively in two struggling product categories. franki by francesca's was able to optimize the brand experience for it's target audience ahead of its launch by leveraging the voice of the customer. Understanding the winning identity that spoke to consumers allowed the brand to position itself more effectively from the day one.
Forging a Company Culture that Thrives
People join a company because they believe in its mission and offerings. They stay because they feel valued, heard, and a part of the process. The voice of the employee is arguably as important as the voice of the customer. As the saying goes, "Your employee should be your #1 customer." The best way to make your employees feel important and valued is to listen to them. If you want your employees to take a more active role in your business, you need to listen to what they say and respond appropriately.
Effective communication requires the two-way exchange of feedback. Managers and supervisors should be open to hearing employees' opinions, and employees should feel comfortable speaking up when they disagree with a supervisor's point of view. By receiving feedback from employees, you can get a better sense of what motivates them and how they approach their work. You can find out what their goals are, if they're on track to achieving them, and how you can help. Employees who feel supported and well-equipped to do their jobs are more likely to contribute a positive outcome. This helps keep communication lines open and fosters an environment of trust.
What's more, you can use this information to help you make decisions about the future of your business. Take for example if the feedback collected from employees with children is that they are struggling to find a work-life balance, it could be a sign to consider implementing childcare as an employee benefit. By soliciting feedback and acting on it, you can create a more positive company culture and foster an environment where employees are happy to come in each day.
Finding the Right VoC Platform
More than a decade ago, First Insight revolutionized the retail industry by developing and launching a system that allowed retailers to accurately project sales data for newly-created products with no sales history. Since then our mission has expanded to meet the ever-changing challenges that our customers face. Going beyond just product experience, our teams help leaders across multiple different industries optimize how their customers and employees experience every facet of their business using VoC technology.
InsightSUITE works by collecting VoC data directly from the target audience using digital engagement tools - like a survey but with far more advanced data collection. From there, AI separates the signal from the noise by churning through the response data to output clear and actionable information; with the entire process taking less than 48 hours. This industry-leading speed and accuracy allows our customers to make key business decisions quickly, and with confidence.
Updated September 2022