2020 has been a year of unprecedented challenges and change. With large gatherings still suspended due to the pandemic and at-home workspaces becoming the new norm, it's hard to know when we'll be back to a life of face-to-face meetings and handshakes with business partners.
The retail industry is no exception to the impact of COVID-19. Organizations have had to shift direction, pivot strategies and practice agility in the face of these new roadblocks. With NRF's Big Show on the horizon, you may be wondering how a trade show of this magnitude can still go on. The answer: NRF 2021 Virtual Expo.
Unprecedented global circumstances required an unprecedented solution for NRF. This will be the first year the expo is in a fully virtual format. That means on Jan. 12-14, 19 & 21-22, you'll be able to experience Retail's Big Show like never before. NRF will take you into a virtual experience that will provide many of the benefits of an in-person show along with a multitude of new benefits.
With our excitement for the new format, we've put together a guide for the NRF virtual show. Here's what we'll cover in this article to help you get the best experience out of Retail's Big Show in its new virtual format:
8 Companies You Can't Miss at NRF 2021
Looking ahead to the NRF virtual show, we put together a list of the 8 companies you can't miss. This is a collection of the biggest influencers in our industry along with some of the most forward-thinking solution providers. Here's a quick breakdown of who these companies are and what they'll have to offer at the show.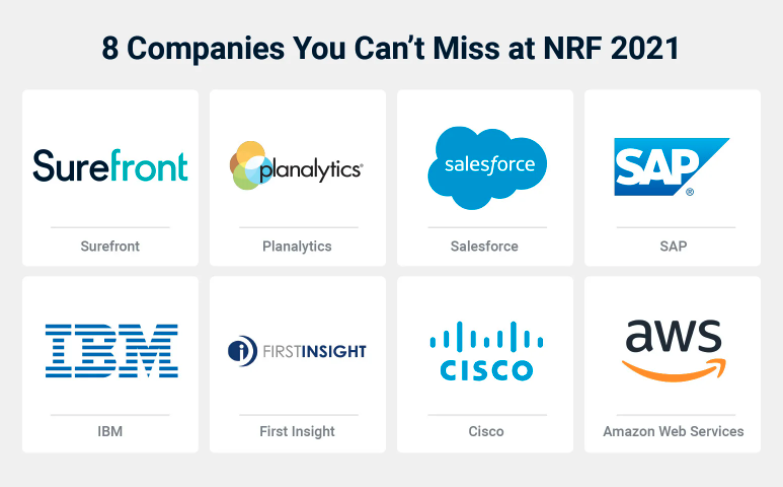 1. Planalytics
Once a data provider and consulting firm turned SaaS platform, Planalytics has pioneered climate-driven solutions over the last 3 decades. They empower companies to use weather as a metric in their everyday business practices. When it comes to forecasting retail demand, weather can be a critical factor in the purchasing process. Check out their NRF page for more information on their virtual booth.
Planalytics has a fascinating interactive discussion on the books. Executive Vice President, Evan Gold will be leading the discussion focused on gauging performance and planning ahead after a year lacking meaningful comps due to COVID-19. "Coming off a year where consumer buying behavior changed so dramatically makes this difficult, but there are COVID-proof demand signals, such as weather, that retailers are using to clearly evaluate results and to identify opportunities for sales growth."
You won't want to miss this one. The discussion is limited to 50 individuals on a first-come, first-serve basis. Mark your calendar:
1/19 | 1:30 – 2pm EST
Planalytics Interactive Discussion: Forecasting and managing 2021 performance without meaningful comps
2. Salesforce
It's always key to keep up with the world's largest CRM. Their organizational focus is helping marketing, sales, ecommerce, service and IT teams work from anywhere – so you can keep your customers happy anywhere.
At the NRF virtual show, Salesforce will be showcasing Salesforce Customer 360 for Retail, which "allows retailers to build loyalty with seamless shopping experiences from awareness through advocacy, supported by a comprehensive set of innovative solutions, products and expertise." You'll want to stop by their virtual booth and mark your calendar for a few exciting sessions with their experts:
1/12 | 2 – 2:30pm EST
Exhibitor Big Ideas – The future of digital: Engaging customer beyond the buy button produced by Salesforce
1/12 | 2:45 – 3:15pm EST
Exhibitor Big Ideas – The future of customer loyalty: Connected, personalized experiences produced by Salesforce
1/13 | 12:30 – 1pm EST
Exhibitor Big Ideas – Salesforce Unlock the Shopper Journey Lunch and Learn Session: How e.l.f. Beauty builds lasting customer loyalty with Salesforce + Google
3. Surefront
You can locate Surefront at virtual booth #182. When it comes to an all-in-one platform for brands and retailers to collaborate on Merchandising and Product Development, this platform goes beyond your traditional tools. Surefront is a Unified Collaboration Management (UCM) platform to streamline product development, merchandising and purchase orders.
Surefront's solution bridges ERPs, PLMs, PIMs and other enterprise systems with a streamlined solution that keeps all of your work in one place, so you can save time better spent on growing sales and increasing margin. Decades old tools like email, PDFs and spreadsheets are likely creating chaos in your operations and slowing down your time to market. Surefront's patented technology unifies retailers and suppliers by combining communications and product information.
We highly suggest you stop by virtual booth #182 and learn more about how this cutting-edge technology can accelerate your organizational growth. For more information on Surefront's presence at NRF 2021, visit our exhibitor page.
4. SAP
Originally known for their enterprise resource planning (ERP) software, SAP has become a mainstay in the industry. They have evolved to become a market leader in end-to-end enterprise software, database, analytics, intelligence technologies, and experience management. In other words, with so many touch points across such a vast variety of enterprises, it's always important to pay attention to what SAP has to offer.
For the show, SAP will have a range of their divisions represented including:
SAP Consumer Products
SAP Customer Experience
SAP Digital Supply Chain
SAP Human Experience Management
SAP Retail
5. IBM
Another titan of industry, IBM will have a large presence at the NRF virtual show. Their strategies and technologies are centered around hybrid cloud and AI that can accelerate customer engagement with products and services. That should be music to any retailer's ears. Large ideas mean a big presence at Retail's Big Show and this year is no exception for IBM.
IBM will be represented by their experts at 6 virtual booths, each with a distinct theme:
Retail is open with hybrid cloud
Move at the speed of the consumer with smart, flexible options
Agility: Never more important and never more attainable
Engage customers everywhere with experiences that earn loyalty and trust
Harness the full power of your enterprise applications
Differentiate through a dynamic and resilient supply chain and smarter, safer spaces
6. First Insight
First Insight is a leading Experience Management (XM) platform. They lead the voice-of-customer predictive analytics industry. Their XM platform helps enterprises make decisions on product and service offerings, pricing, branding, and marketing.
In new pandemic norms, it is highly valuable to have tools that help you forecast what you'll need to best engage your consumer base. "Through the use of online consumer engagement tools, the First Insight platform gathers real-time consumer data and applies predictive analytic models to create actionable insights to power decisions which drive measurable value." We suggest you stop by their digital booth and leverage their industry insight and thought-provoking content. Here's what they have to say about their presence at the show.
7. Cisco
Again, we arrive at a ubiquitous industry name. Cisco specializes in networking, security and collaboration products designed to grow with your business. "Cisco solutions digitize and secure your entire retail environment for a more connected customer experience." Their solutions on show at NRF will be focused on building a bridge between the needs of a customer and the agility of a retailer. Through network management and visibility, along with various capabilities and integrated solutions, Cisco elevates their retail touch points. Here's more from Cisco about the Virtual Big Show.
Mark these dates on your calendar to learn and engage with Cisco experts:
1/12 | 1 – 1:30pm EST
Exhibitor Big Ideas – Delight your customers with experiences they can count on featuring PVH produced by Cisco
1/19 | 1 – 1:30pm EST
Exhibitor Big Ideas – Create meaningful community impact with connected retail operations featuring The Co-Operative Group produced by Cisco
8. Amazon Web Services
It wouldn't be retail if we didn't mention Amazon. The titan of ecommerce will have AWS on display at NRF 2021. "As the world's most comprehensive and broadly adopted cloud platform, AWS serves the industry's leading retailers – innovators and pioneers – who expect more from their technology partners."
Their virtual booth will have plenty on display with tons of food for thought. Their industry thought leaders will be out in force ready to engage with attendees. We suggest you take advantage of this; take a closer look at their exhibitor page here. We've also earmarked couple events to put down in your calendar:
1/13 | 2 – 2:30pm EST
Exhibitor Big Ideas – Jumpstart 2021 with touchless experiences produced by Amazon Web Services
1/14 | 1 – 1:30pm EST
Exhibitor Big Ideas – How Burberry is enabling digital transformation to transform customer experiences produced by Amazon Web Services
at Surefront