Design and functionality are key factors, but price must be right for market to move beyond niche appeal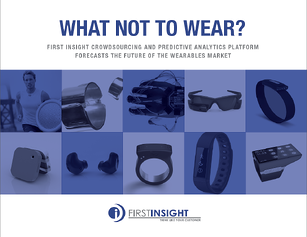 PITTSBURGH, PA-- (July 31, 2014) – Smart glasses, fitness bands and smartwatches are predicted to sell 10 million units in 2014, generating $3 billion. By 2020, sales are predicted to surpass 100 million units (source). Companies large and small are scrambling to enter the market, but which products will succeed and which will fail?
Today, a new report from First Insight, the world's leading provider of technology solutions that empower retailers and manufacturers to introduce the right new products at the right price, forecasts which soon-to-be released wearables will be all-stars, and which wearable tech fads may fizzle on store shelves.
Through First Insight's proprietary crowd-sourced testing, participants were queried on 15 wearable products and asked for feedback on the accessories, including input on pricing and likelihood to purchase. First Insight's predictive analytic algorithms assigned the wearables a Value Score of 1-10, 10 indicating a predicted sales success, and 1 indicating a consumer flop. Generally any score ranking under 6 is predicted to be a sub-performing product.
Key findings include:
Fitness wearables scored highest versus social or safety-focused wearables, in part because of their lower pricing.
First Insight's Value Score is determined by an algorithm applied to price, consumer preference, and responder relevancy (see: methodology). Value is more important than design alone: If the price is right (or wrong), it is the biggest variable that will influence a consumer's buy or no-buy decision. Contrary to popular belief, positive consumer sentiment alone doesn't match up with the likelihood that a product will sell or not.
On average, women were willing to pay more for wearables than men, and prefer smaller wearables versus larger, "clunkier" watches.
There is a mass market for wearables according to the report. Despite a Silicon Valley slant with early adopters in the technology industry, many fitness wearables tested the best in the Midwest.

It's a pass on "Google Glass" for athletes: Just because a new product taps into an existing trend doesn't necessarily mean it will be successful. Reconjet Glasses, an upcoming "Google Glass for athletes," fall short of the finish line: The market isn't ready to pay the high price demanded, so these high-tech goggles tested lowest of the 15 wearables assessed in First Insight's report.
"It's a bit counterintuitive that value is a more critical factor than design, and price is a major component of the value of a product," says First Insight CMO Jim Shea. "Designers tend to think more about making something people will love instead of thinking about the price, but the value quotient – the combination of price and features – is a better predictor of whether or not a product will sell."
The Next Wearables Winners: What You'll be Wearing This Fall
The overall predicted top seller of the tested products is the Nabu Razer Smartband – a smart watch and fitness band in one — which scored an overall 9/10 Value Score. The second biggest predicted seller is Kickstarter-backed pint-sized fitness tracker Goccia (7/10), followed by Acer Liquid Leap (7/10) and a heart-beat based passcode device NYMI from Bionym (7/10). Predicted successes don't always map back directly to popular consumer sentiment. Surprisingly, the Dash Headphones, the device consumers raved about the most and had the highest positive feedback (53 percent)—received a Value Score of 4/10. Why the low score? The asking price is nearly twice what consumers said they'd be willing to pay, which means the product isn't something consumers are likely to buy.
Is the Price Right for Wearables?
On average, the wearable testing group's expected retail prices are 41 percent higher than what consumers are willing to pay.
Fitness wearables scored highest in overall value, in part because of their more reasonable pricing: $75-$125.
In general, there is unwillingness to pay proposed sales prices for new-to-the-world products, particularly at price points over $200, reflecting mainstream market versus early-adopter reactions.
Pricing is key: The Dash headphones, for example, could be a huge consumer success if offered at the right price: on average, consumers are willing to pay about half of the $299 proposed price tag. Consumer sentiment for this product is highest (53 percent), but without price alignment, these headphones only scored a 4/10.
Nabu Razer Smartband was priced the most appropriately: Model Price of $76.50 matched up with MSRP of $75, which makes the product most likely to sell and top of the heap among the test group.
Size Matters: What Women Really Want
The Goccia—a fitness tracker the size of a coin—scored best with women (Value Score of 9), while men only gave it a 6/10. Women also gave it 47 percent positive sentiment (versus 34 percent from men), specifically citing the small size as a positive.
Women also preferred Commbadge, a small wearable communicator, more than men: It received 35 percent positive sentiment from women versus only 29 percent from men.
Watches tended to do better with men, and negative sentiment referenced the bulky appearance and size. The Samsung Simband was preferred by men (29 percent positive sentiment versus 23 percent from women). Similarly, the Rufus Cuff did better with men: 35 percent positive feedback versus only 20 percent from women.
Location, Location, Location
Despite wearables' reputation as mainly a Silicon Valley darling, fitness wearables tested the best in the Midwest, and the Nabu Razer was highest scored in the Midwest (earning a 10 Value Score, versus a 9 nationwide). The Midwest also gave it the highest positive feedback (33 percent), and was willing to pay the most: $93 versus the average of other regions of $76.
However, the Valley still may have more excitement for new product categories. The NYMI from Bionym— which lets you use your unique cardiac rhythm as a passcode for your phone or car—received a 9/10 Value Score in the West versus only a 5/10 Value Score in the Midwest.
Significant regional differences surfaced in other areas:
In the West:
Top item: Heart rhythm passcode creator Nymi from Bionym (with the Nabu Razer at #2)
Bottom item: Recon Jet- sporty sunglasses likened to a "Google glass" for athletes
In the Midwest and Northeast:
Top item: Nabu Razer Smartband
Bottom item: Recon Jet
In the South:
Top item: Acer Liquid Leap—a fitness tracker, as well as an Acer-phone compatible notification band (with Nabu Razer at #2)
Bottom item: Cuff—a fashionable bracelet whose main function is keeping an eye on loved ones, and offering a safety "distress alert" feature
Today, First Insight announced a new addition to its cloud-based InsightSuite platform: InsightPlanning. Adding to the InsightSuite offering, InsightPlanning offers retailers and manufacturers valuable data derived from consumer insights so they can make informed decisions on product production and inventory quantity. With more direct and forward-looking insights—rather than just industry-standard historical-trend analysis—the predictive analytics employed by InsightPlanning can result in net retailer margin gains of 3-9 percent, and First Insight guarantees its results. More information on InsightPlanning can be found here.
First Insight Solution Methodology
First Insight's predictive analytic approach goes beyond a simple survey: it's an engaging gamification mechanism, as well as an algorithm that weighs individuals' answers differently depending on their accuracy while rating already-released "constants" that are known as high-sellers or sales flops. For the fitness wearables testing, for example, some of the constants selected included the Fitbit Flex fitness trackers (success) and heart rate monitors Scosche Rhythm and Under Armour Armour39 (not successes).
About First Insight, Inc.
First Insight empowers retailers and manufacturers to drive new product success by introducing the right products at the right price. Through the use of online consumer engagements, the First Insight cloud-based solution gathers real-time consumer preference and pricing data and applies a predictive model to create actionable insights, which inform new product decisions before products hit the market. Companies use the First Insight solution to select the most profitable new products for improved sales, margins and inventory turnover. Implementing First Insight's predictive analytics solution gives retailers guidance for product design, buying, assortment planning, pricing and marketing decisions. Customers include leading department stores, specialty retailers and manufacturers. For further information, please visit www.firstinsight.com.