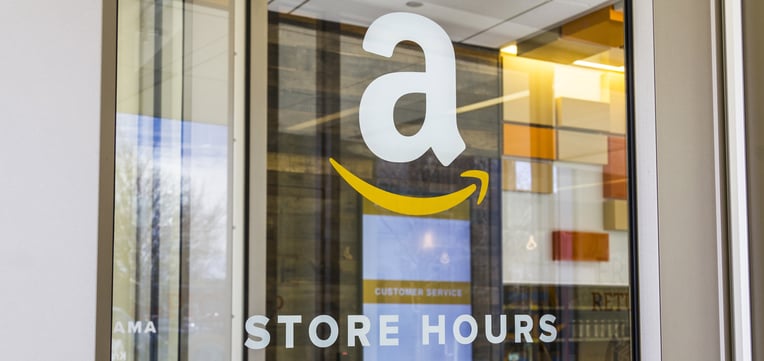 Credit: Jonathan Weiss / Shutterstock.com
"The most important opportunity on the horizon is not growing online sales in isolation but rather helping traditional retailers upgrade into a brand new retail model," Zhang wrote in the letter. "The consumer retail industry as a whole is experiencing a radical disruption driven by digital transformation."
There has long been talk of the demise of brick and mortar retail, but recent moves by online retail giants tell a different story.
Amazon and Alibaba made headlines recently when they introduced physical locations, despite the fact that they built their businesses around eschewing brick and mortar and the traditional retail landscape. Both companies have made moves to become hybrid-commerce companies – combining the best of eCommerce with the best of physical stores.
So what does this mean for the retail industry? What are Amazon and Alibaba doing differently in their approaches to brick and mortar and how, if at all, will this affect traditional retailers and the retail landscape as a whole?
Amazon Tests the Waters
Amazon has a history of shaking up the retail industry. In 1995, Amazon.com rang the death knell for the traditional booksellers when it made its first online book sale, and then again for Border's, Circuit City and RadioShack when it expanded into electronics and toys in 1998 and 1999.
Fast forward to November 2015, when Amazon announced it would be opening brick and mortar bookstores. After successful rollouts in Seattle, Oregon and California, Amazon is looking east to New York, New Jersey and Massachusetts for the next round of openings.
However, these locations bring up the debate of the impact of showrooms. With the rise of pure-play eCommerce companies, there was a lot of doom and gloom talk about how showrooming was eating into the profits of retailers, and that there was nothing they could do to combat the impact. So why would Amazon open bookstores in the first place, after two decades of training consumers to buy online, when they benefited the most from showrooming?
For all intents and purposes, Amazon's physical stores are effectively showrooms. The stores are using books as the "entry drug" to bring an educated, somewhat affluent stream of customers in store who are then exposed to additional offerings such as Echo, Fire TV, Kindle and the Fire tablet.
Jeff Bezos has not gone on record stating why they are making this move but Amazon CFO Brian Olsavsky did give one clue. "We think bookstores ... are a great way for customers to engage with our devices, to see them, touch and play with them, and become fans, so we see a lot of value in that," Olsavsky said during a recent earnings call.
Meanwhile, the premium grocery market is on tenterhooks awaiting the impact of Amazon's planned acquisition of Whole Foods….
Alibaba Jumps into the Deep End
On the opposite end of the spectrum is Alibaba, which dove in head first with acquisitions that gave it an immediate footprint in brick and mortar. In a letter from CEO Daniel Zhang to shareholders, he stated that the company is planning to integrate physical stores into its operations in an effort to overcome the "tremendous challenges" inherent in pure-play eCommerce.
The eCommerce giant announced a strategic partnership with Bailian Group, one of the largest retailers in the world in terms of store count, as part of its efforts to seize a bigger share of the physical retail market. It also spent $4.6 billion on a minority stake in appliances retailer Suning Commerce Group, is leading a $2.6 billion bid to take department store and shopping mall operator Intime Retail Group private and has bought a stake in grocery chain Sanjiang Shopping Club.
"The most important opportunity on the horizon is not growing online sales in isolation but rather helping traditional retailers upgrade into a brand new retail model," Zhang wrote in the letter. "The consumer retail industry as a whole is experiencing a radical disruption driven by digital transformation."
Why Traditional Retailers Shouldn't Sound the Alarms – Yet
While some suggest traditional retailers must put up a fight for their territory, there is no need to panic. Amazon and Alibaba's respective moves into brick and mortar are still in the experimental phase, and retailers still have a leg up on big online commerce players as they have more experience in the day-to-day operations of running a successful store. After all, eCommerce, although certainly growing, is still less than 10% of all retail sales.
However, this is not a time for retailers to sit idly by while these two eCommerce giants perfect their approach. If anything, this only further validates the need for all retailers to adopt a hybrid-commerce strategy. Bob Hetu, Retail Research Director at Gartner, has identified this as a critical success factor for retailers.
"As retailers migrate beyond multichannel to a unified commerce model, customer expectations also are evolving. Customers expect consistency and flexibility when shopping across and between channels because ultimately they are shopping a brand," he wrote. "Disparities between channels will no longer be tolerated by the customer; instead, such disparities will cause customers to choose retailers who can support a truly unified experience." 1
At First Insight, we believe the most successful retailers are those that incorporate the voice of their customers into their product decisions. This practice will be the saving grace of traditional retailers. Happy customers are loyal customers, and there's no better way to ensure your customers keep coming back than to provide them with the products they want at the prices they want.
Our take: Amazon and Alibaba always seem to be one step ahead in the game of retail. However, through a commitment to getting the right product at the right price, traditional retailers can successfully navigate these choppy waters.
1Gartner, Transforming from Multichannel to Unified Retail Commerce Primer for 2017, January 2017