More and more, we've seen retailers falling into the trap of using markdowns and discounts as a pricing strategy. This strategy is on full display for the 2022 holiday season. In the current economic state, retailers and businesses alike cannot afford to take a wild stab at their markdown strategy.
Big-box retailers like Target and Amazon appear to be leading the charge in this markdown mania to entice consumers with tighter budgets. Target's third quarter profits are down 52% and the store began running their deals in early October. Amazon had its first "Prime Early Access Sale" in the second week of October.
What's Causing Retailers to Markdown Inventory?
Changing spending patterns, the rising costs of food, gas, clothing, entertainment, and more has consumers prioritizing how they spend. But the markdown pricing "strategy" is not prevalent only during the holiday season. It is a constant battle throughout the year, especially with the inflationary pressures persisting longer than expected.
Markdowns are at their worst levels and are especially high when they are a last-ditch effort to get rid of "dogs" – those items that didn't fit the desires or needs of consumers. Maybe the retailer didn't have the right sizes or colors, or perhaps another hot product came along, and demand shifted to that product. If merchandising mistakes are kept to a minimum, the effect of moving the excess inventory created by the dogs is minimized. But if too many mistakes are made, deeper markdowns to move higher quantities of undesirable merchandise will inevitably cut into the retailer's profits.
In addition to using markdowns to beat the competition and to sell slow-moving inventory, retailers have conditioned customers to expect discounts. Our Holiday Promotions and Returns Report indicated 29% of consumers expect the minimum promotion of 15-20% off to entice their purchases. In all categories including electronics, beauty, footwear, apparel, and accessories, over 50% of consumers are shopping for deals in 2022 compared to 2021.
Retailers tend to bring in merchandise that has a high initial markup with the plan of offering big markdowns, hoping that sales at the initial price will cover any future markdowns. But when loyal customers see the deep markdowns, they begin to wonder just how much the merchandise is worth. New customers begin to shop there based solely on bottom-line pricing and the store brand suffers, while loyal customers start looking elsewhere because the retailer's competition has not gone away. This phenomenon leads to a cascading effect where a retailer's markdown strategy has outsized downstream effects on the overall business.
As belt-tightening becomes the norm, retailers and brands globally will need to work harder to identify greater opportunities to offer targeted promotions and incentives to engage with customers, while honing pricing and promotional strategies to safeguard margins.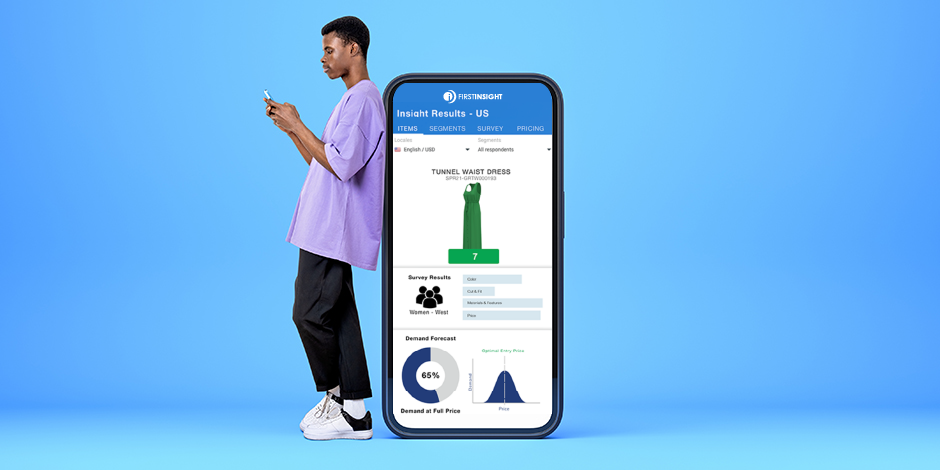 How to Avoid Markdowns in Retail
Tap Into the Voice of the Customer:

Voice of the Customer (VoC) tools are applications, programs, or processes that gather opinions, views, and feedback from a customer base. The data gathered directly or indirectly from customers help companies make more informed decisions by better understanding the end buyer or user. These tools can be as simple as easy mobile surveys or as sophisticated as the use of predictive analytics to show which products to choose and how to price them for the greatest return. By understanding your customer's journey, you can optimize the path to purchase and avoid unnecessary markdowns.
Identify Consumer Target Segments:

Customer experience is not a one-size-fits-all proposition. The typical consumer no longer shops in one place, at one time, or even from the same location. They want to shop on their own terms in a way that best suit their needs and preferences. With this in mind, it's important for retailers to identify and understand their ideal customer. Engaging your target consumers from the start of the journey can help you understand how they value your product. Having this information in hand is key to pricing products optimally.
Forecast Inventory Demand:

Inaccurate inventory planning based on historical data costs the retail industry over $818 billion each year. Making informed and accurate buy-depths is crucial for your bottom-line. By using consumers' feedback to determine how much inventory is needed, you can avoid discounting overstocked product.



Price Right From the Start:

Reducing markdowns by getting the product and price right starts with involving customers in merchandising decisions. Combining this customer data with merchant expertise enables retailers to make the most accurate decisions on pricing, products and more. Luckily, consumers do most of the work by telling us exactly what they want -- retailers just need to listen. This customer insight is incredibly valuable in helping retailers to pick the winners vs. the losers from a product perspective.
Consider Your Brand's Integrity:

Price consistency and brand value play a critical role in maintaining customer loyalty. Customers have been conditioned to think that higher prices mean a brand is more valuable, so discounting products can have the inverse effect. Before you discount your products, take a look at how that new price will be perceived by your customers.
The markdown-focused mindset is hurting the retail industry at large, especially with the holiday season looming. It's time for retailers to stop treating markdowns like a fix-all pricing strategy. Instead, they must re-examine their product and pricing strategies and look to the voice of their customer to determine optimal pricing throughout the product lifecycle.
Companies need to understand and adapt to the new norm of rising prices, supply chain disruptions, and changing consumer behavior. How can decision-makers effectively optimize assortments, demand, markdown strategy, and sell-through? Fortunately, there's a straightforward solution. First Insight's Price Optimization platform empowers retailers to test different price points in real-time, determine the optimum buy depth, eliminate product features that don't add value, and maximize sell-in and sell-through.