The United Kingdom and United States are not united when it comes to sustainability in retail. Key differences emerge around the secondhand market, defining sustainability, purchase decision factors, and packaging. According to our research, 85% of UK shoppers expect retailers to be more sustainable compared to 76% of US shoppers. UK consumers were also found to be more skeptical and demanding on transparency than those in the US. Understanding the differences between these markets will help you make your sustainability initiatives more profitable.
These findings are based on our recent report, The State of Consumer Spending: UK Shoppers Are Motivated by Recommerce, Reducing Carbon Footprint, and Sustainable Packaging.
Recommerce, Secondhand Shopping, and Resale
When it comes to thrifting, 84% of US consumers utilize recommerce shopping compared to 76% of UK consumers. About 60% of UK shoppers sell used items compared to about 40% in the US. Overall, the UK market is more interested in selling used items, while the US is more interested in purchasing used items. For both nations, resale/consignment like ThredUp and Poshmark are used the most, followed by retailer or brand resale programs. US shoppers lean more towards subscription boxes like StitchFix while UK shoppers prefer peer-to-peer marketplaces.
Our study also examined the specific types of items people prefer to purchase secondhand. We asked consumers from both countries what items they purchase through resale and US shoppers led the way in almost every category. The most purchased category in both countries is apparel, followed by footwear, handbags, and jewelry. Overall, the largest disparity was in clothing. Far less UK consumers purchase used clothing compared to the US.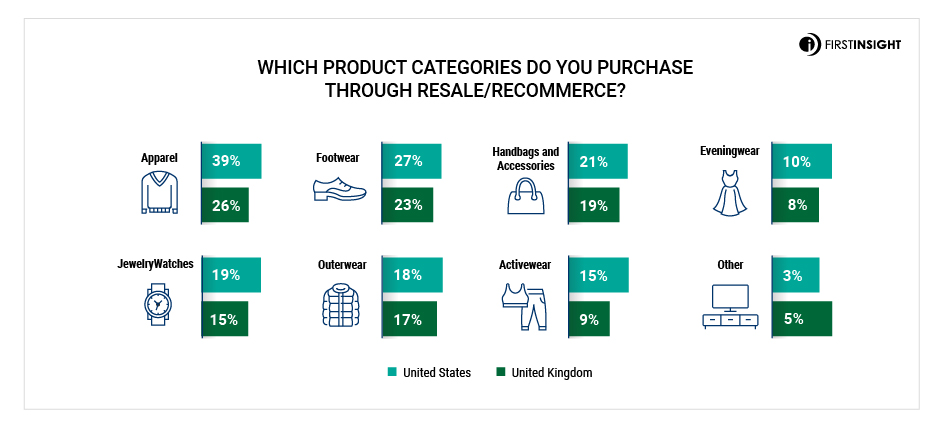 Defining Sustainability
Two questions always come up when businesses want to know about sustainability: will shoppers pay more and how is sustainability actually defined? To get to the bottom of the first question, check out our recent study, The Sustainability Disconnect Between Consumers & Retail Executives. When it comes to how shoppers define sustainability, overall, both countries agree that it means products made from recycled, naturally harvested materials. Does this mean businesses should only focus on turning our plastic bottles into ski jackets and our milk jugs into playground equipment? Not necessarily. Both the UK and US also define sustainability as sustainable manufacturing followed by environmental responsibility. Product material is top of mind for consumers, but so is how it's made and making sure that process has a minimal impact on our environment.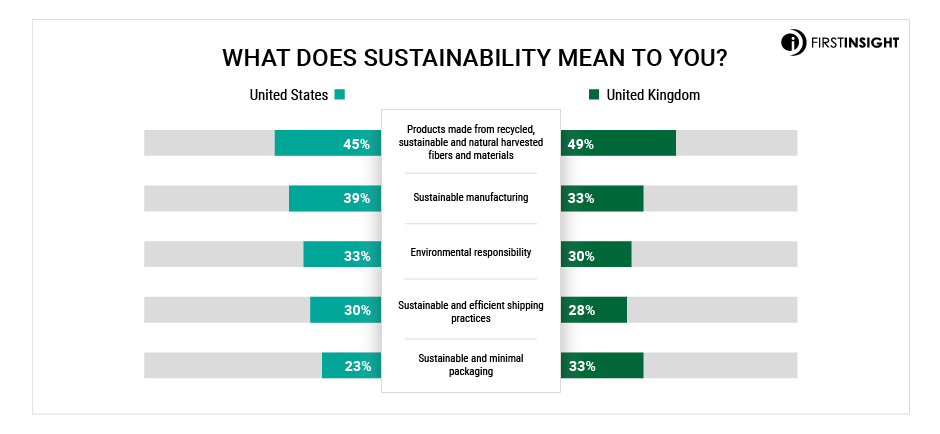 Purchase Decision Factors
Consumers in the UK and US have different motivations that drive sustainable purchase decisions. UK shoppers indicate environmental concern as most important, while US consumers are more motivated by quality. The most significant disconnect between nations is brand authenticity; UK consumers are much more concerned about businesses being transparent and authentic in their efforts to help our planet.
Our research also explored key differences in why UK and US consumers prefer to shop sustainable brands. The main consensus for both nations is to improve the environment. A close tie and top of the list for UK shoppers is also to reduce production waste and carbon footprint. When US consumers shop sustainable brands, they are interested in brands that align with their values and durability of products. Businesses marketing to the US should focus on building brand equity while those marketing to the UK should understand this audience is concerned about reducing carbon footprint.
Sustainable Packaging
Online shipments are notorious for including excessive packaging. It wouldn't be a surprise to anyone today if a camera card ordered online arrives in packaging the size of a shoebox with spools of bubble wrap. Although this is common in shipping, the differing opinions between UK and US consumers on packaging are surprising. According to the data, sustainable packaging is more important to those in the United Kingdom compared to those in the United States. About 80% of UK shoppers believe online shipments contain excess packaging vs about 70% of the US. The UK also prefers environmentally friendly packing materials more than the US.
There is a major disconnect between nations on defining sustainability when it comes to packaging. Roughly 33% of the UK defines sustainability as sustainable and minimal packaging compared to 23% of the US. Either businesses shipping to the UK are terrible at packing online orders or UK consumers have some serious eco-guilt. Businesses should evaluate their packaging to best align practices with consumer expectations.
Conclusion
Consumers are driving change and it's forcing businesses to pay attention. Sustainability in the retail industry is no longer a PR powermove, but an opportunity to capitalize on consumer demands. Download the full report for free to access all our key findings and research on the key sustainability differences between UK and US consumers.
Interested in a solution to help you reach your sustainability goals?
First Insight helps companies sell more and waste less. Our predictive analytics can help you achieve your ESG goals by reducing inventory, maximizing profits for sustainable products, and reducing sample costs. Learn more how First Insight can help you build brand equity and capitalize on sustainability trends.