Global retail leaders from around the world gathered recently in Rome for the World Retail Congress. No matter where they were from or what sector they were in everyone had similar topics top of mind. Yet wherever you turned and whoever was speaking, the unofficial theme was summed up very nicely by Silvia Rindone from Ernst & Young when she said, "Uncertainty is the new certainty."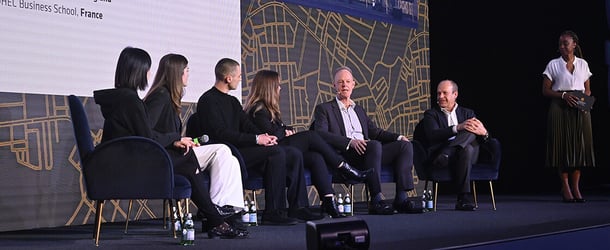 Below are four key takeaways from the World Retail Congress
Unpredictability
The war in Ukraine. Ongoing supply chain disruptions. Rampant inflation. China's continued COVID lockdowns. To paraphrase Albert Einstein, the only thing we can be certain of is that we can be certain of nothing. We've witnessed first-hand how the unpredictability of the broken supply chain has irrevocably altered the retail landscape. However, unpredictability can be navigated with the right leadership. The new brand of retail leaders must be agile, empathetic, and authentic. We heard from many of these new leaders, including Shekar Natarajan, the EVP and Chief Supply Chain Officer at American Eagle Outfitters, on his innovative new thinking around a more sustainable, and more reliable, supply chain. Collaboration, thinking boldly, and understanding that success is not a zero-sum game are just a few of the ways leaders can improve speed to market today and in the years ahead.
Sustainability
Sustainability conversations cover a lot of ground and encompass myriad critical issues such as reducing carbon footprints, clean manufacturing, cutting down on production waste, and even a more effective supply chain. Sustainability is one of the top concerns of consumers in the US and the UK according to a series of reports by First Insight and the Wharton Baker Retailing Center. While Gen Z leads the way, all generations, including Baby Boomers, place a higher priority on sustainability over brand name. Brands and retailers must be more sustainable in order to not only achieve their ESG goals but literally to survive as Gen Z gains strength and enters the workforce.
Changing Consumer Behavior
Technology is one way consumer behavior is evolving. Web 3.0, blockchain, and the metaverse are rapidly changing the future of fashion, especially in the luxury sector today. There is a huge appetite, especially in the luxury market, to launch NFTs. But no one is sure if the current fascination with the metaverse is just a fleeting moment or if it's here to stay. Another profound difference in consumer behavior is that the rise in ecommerce has made it easier than ever to have nearly any product in the world at the tap of a finger. Consumers know that they have the upper hand today—the abundance of choice is forcing retailers to work harder. Brands and retailers must know their customers much better today than ever before while still optimizing speed to market and delivering on price, personalization, and service. One thing that everyone at WRC agreed on was that we are seeing the future of fashion unfold in ways that no one imagined even just a few short years ago.
Harnessing Data and New Technologies
Data, and the best uses for it, are always hot topics at retail conferences. Everyone knows that the only way to make unbiased decisions is through the intelligent use of data, yet so many retailers continue to be mired in decision-making by committee, or by gut feelings. Retail predictive analytics—marrying historical data with machine learning—can help mitigate many of the challenges facing brands and retailers today, especially when it comes to price optimization and assortment optimization. Using a voice of customer platform and data can help brands and retailers avoid markdowns and dead stock by knowing, before manufacturing, exactly what consumers want to purchase and what price they will pay.