A few miles south of First Insight headquarters lies one of the most popular and bustling lifestyle centers in the Pittsburgh area, The Block Northway. Complete with off-price chains Marshalls, Nordstrom Rack, and Saks off 5th, discount grocery store Aldi, arcade and bar Dave & Busters, and restaurants like Wahlburgers, it has all you need for a suburban night out. The scarce open parking spaces and heavy foot traffic come as a shock to locals, as it has not been this way for quite some time. From a booming 1962 mall to a shopping center on life support in the early 2000's and now booming again, the rich history behind this mall offers an interesting case study into brick-and-mortar retail's transformation over the decades. Track with us as we explore this retail renaissance in our own backyard.

It all began in 1953 with the development of Northway Shopping Center, a small strip mall. After renovations, the mall became Northway Mall in 1962—Pennsylvania's first fully-enclosed mall. Northway Mall was geared toward suburban families, who flocked from crowded cities to affordable housing and land during the postwar baby boom. It was outfitted with two anchor stores: Woolworth and Joseph Horne Co. department store—an iconic regional chain—with 60 stores in total including National Record Mart and Parklane Hosiery. It was impressive, and one of the largest in the country. It featured skylights, a glass elevator (one of three in the country), and a large tropical bird cage among 7000 semi-tropical flowers and plants. The Mall boasted, "It is always Spring at Northway" with its plant décor, air conditioning, and freedom to walk between stores. This was the beginning of the traditional mall.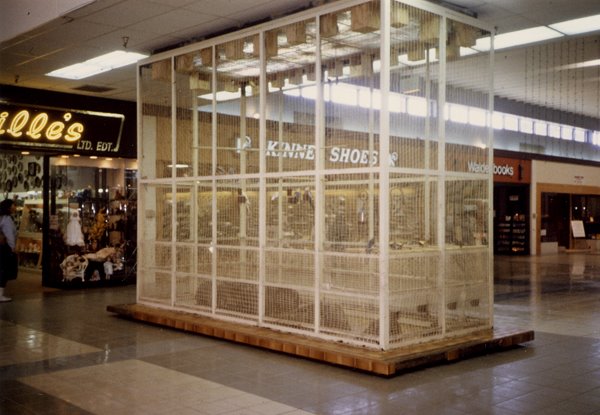 Northway Mall enjoyed prosperity for about two decades. There are countless websites and blogs dedicated to memories of the bird cage and hanging out in National Record Mart. I grew up about ten minutes from Northway Mall, and some of my earliest memories include visiting Santa there. In high school, this was where I went to shop and hang out with my friends, and I cut my teeth in retail working at Horne's at Northway Mall. But, retail's competitive landscape has always been tough, and with the rise of nearby competitors in renovated North Hills Village (1976) and the new Ross Park Mall (1986), Northway began to decline. No one in 1962 at Northway Mall's grand opening could have predicted the turn of events for this historic mall. Despite a few cosmetic refreshes, many of the original anchor stores like Joseph Horne company and Woolworth closed their doors between 1987 and 1993.With many changes in management and store turnover, the mall was never the same.
In the mid 90's, management removed the bird cage and added stores like Borders, Dick's Sporting Goods, and Marshalls, a food court, and a discount movie theater. This was the time period many of our millennial employees remember fondly. By the time Northway Mall celebrated their 40th anniversary in 2002, the tide was turning. A Pittsburgh Post-Gazette article highlighted the fact that Northway had become a destination for shoe repair or the barber shop rather than a place to socialize. The mall became emptier and emptier in the years following.
In 2007, the mall continued to decline and new management decided to try a different tactic—to reverse America's first enclosed mall. The pendulum swung back to a strip mall feel, and one side of the building became open again. The cinema closed, but Shoe Carnival and the Kid Company family center were added to the tenant list. A freestanding Aldi was added, which remains today. The Mall was even renamed the Shoppes at Northway. But, despite the renovations and changes, the strip mall element made the mall even less traveled. Many shoppers would stop by Marshalls or Dick's Sporting Goods then leave rather than visiting the stores in the enclosed portion. The Great Recession in 2008 was another nail in the coffin as stores like Old Navy, Value City, and others closed poor performing locations. Borders Books filed for bankruptcy in 2011, leaving the mall barely breathing.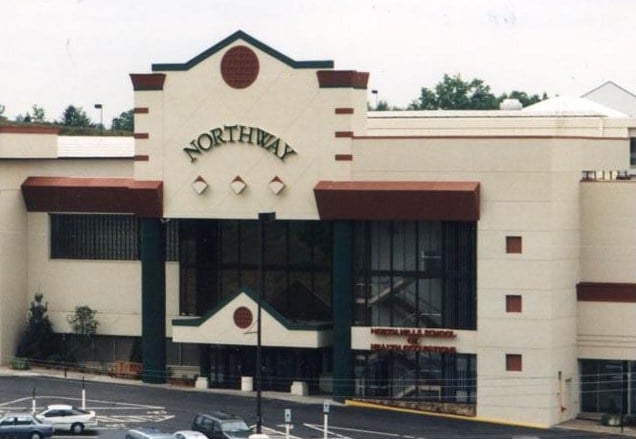 One of our employees worked at Shoe Carnival in 2012 and has vivid memories of her time there. From day one, her boss told her they may move locations as management kept increasing the rent every time a tenant left. The tactic was meant to force lower performing stores out of the shopping center to do a major renovation. Our employee recalls the daily atmosphere: "The parking lot was regularly empty with only a handful of cars by Marshalls and Aldi. We had occasional customers, with slightly more during a weekend. The craziest thing about working there was taking the rickety, original freight elevator in the back of the store to an outdoor alley with a dumpster to throw away boxes. I felt like I was in a haunted house in a ghost town." Needless to say, this same employee was one of the most shocked at the mall's turnaround.
As time passed, the same management from 2012—LRC Realty—put their renovation plan into action. With all tenants but Marshalls, PetSmart and the freestanding Aldi gone, LRC got to work. Major construction and renovation transformed a dead mall into the booming lifestyle center it is today. Trendy restaurants, an arcade and bar, and off-price clothing stores bring steady traffic to the mall. The mall even achieved celebrity status with Mark, Donnie, and Paul Wahlburg swinging by last summer to check out their new Wahlburgers location. After this 2019 Retail Renaissance, what is next for the lifestyle center? With the turnaround project basically complete, LRC Realty put the Northway Block up for sale. It will be interesting to see what the future holds for this historic mall as the retail landscape continues to change, but right now the future looks bright.