AI and Amazon are Driving Greater Price Sensitivity and Shifting Affluent Shoppers to Lower-Price Channels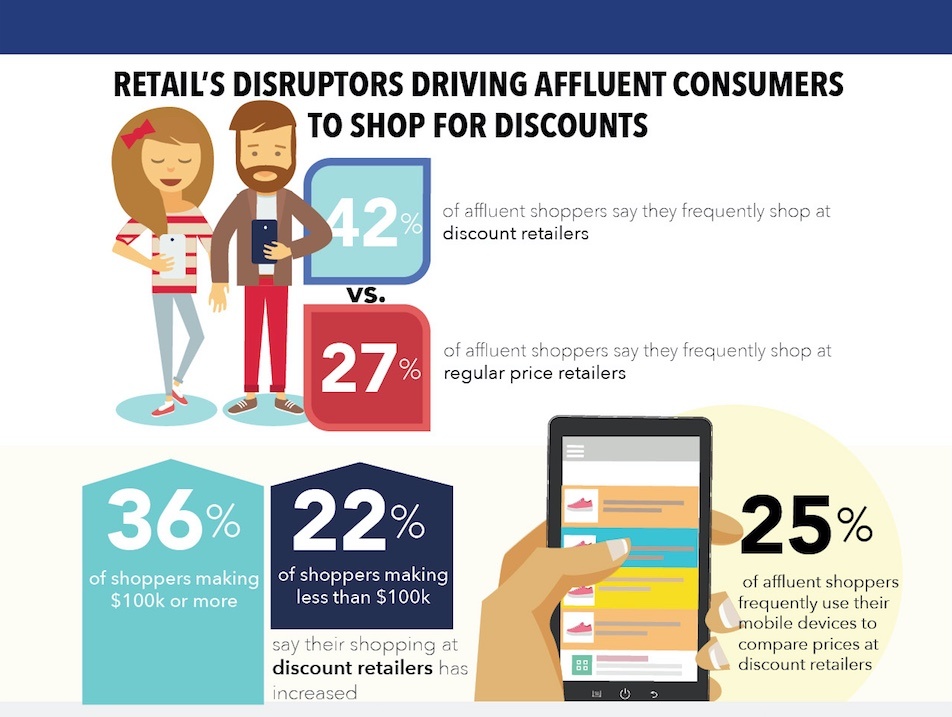 January 15, 2018 -- Affluent consumers -- those making more than $100,000 annually – are becoming more price sensitive as they embrace industry disruptors such as artificial intelligence (AI), Amazon and mobile technology to compare prices, according to the results of a new survey by First Insight, a technology company transforming how leading retailers make product investment and pricing decisions. In fact, 42 percent of affluent shoppers now frequently shop at discount retailers versus only 27 percent at full price retailers, with 36 percent saying their discount shopping has increased. Twenty-one percent of affluent respondents also reported they were more inclined to visit online discount retailers, compared to only 12 percent of overall respondents.
Results of the survey, which queried 1,000 participants in the U.S. on their shopping habits, purchase behavior and influences driving purchase decisions, were announced today during the NRF Big Show 2018 in New York City.
The results of the survey indicate that industry disruptors are impacting the behavior of affluent consumers and changing the way they make purchase decisions," said Greg Petro, CEO and founder of First Insight. "A growing number of affluent consumers shopping at discount retailers over full priced retailers is an important finding, as it indicates they have already become more price sensitive. It is more critical than ever that retailers and brands offer differentiated products at the right price in order to attract the informed, affluent shopper on the hunt for deals both in-store and online."
Download the infographic that illustrates the key findings of the survey here.
Other significant findings of the survey include:
Affluent Shoppers Check Amazon Before They Look Anywhere Else, But Won't Pay For Two-Day Shipping
According to the findings, a vast majority of affluent consumers (74%) check Amazon.com for products and pricing before looking elsewhere, versus 60 percent of overall consumers. This is likely driven by the affluent shopper's view that product pricing online is better. Half of affluent respondents felt that prices of products in physical retail stores are increasing, while slightly less (46%) felt online retail stores' pricing was increasing.
Of note, while 61 percent of affluent respondents said their number of Amazon purchases increased in the past year, 80 percent said they were unwilling to pay more for two-day shipping, underscoring growing sensitivity to prices.
Affluent Shoppers Are Using AI to Research Electronics and Apparel Pricing Most
Forty percent of affluent respondents surveyed own a smart speaker such as Amazon Alexa or Google Home, compared to only 24 percent of overall survey participants. Amazon Alexa or Echo is the most popular smart speaker among affluent shoppers, owned by 24 percent. More than half (53%) of affluent users are utilizing their smart speakers' AI technology to research pricing, with the most popular items being electronics (65%), apparel (48%), shoes (42%), home appliances (38%) and jewelry (31%).
Affluent Shoppers Are More Likely to Price Compare at Full Price Retailers Than Discount Retailers
Affluent shoppers are also much more likely to price compare using mobile devices while at full-priced retail stores. According to the study, 44 percent of affluent respondents (compared to 38% overall) are more likely to price compare at full priced retail stores, while only 19 percent are more likely to price compare at discount retailers (versus 15% overall).
Favorite discount retailers include TJ Maxx (30%), Marshalls (28%) and HomeGoods (23%).
In-Store Price Comparing on Mobile Devices Is Growing With Affluent Shoppers
Thirty-nine percent of affluent shoppers are using their mobile devices to price compare while in-store, compared to only 26 percent overall, and the need is growing. The result of the study indicated that more than half (52%) of affluent respondents noted that their need to price compare while physically in-store is increasing, versus 46 percent overall.
Price Promotions Don't Bring Affluent Shoppers In-Store
While the affluent are price checking in-store, the survey found that the two most important factors that would make them want to shop in a physical store versus buying online are being able to see and touch the product (36%) and being able to take a product home (26%). Price promotions and coupon availability were important to only 10 percent of affluent respondents, and only 12 percent said they felt they'd find better prices in-store, compared to 17 percent overall.
Notes on Survey Methodology and Analysis
First Insight's findings are based on a targeted sample of 1,000 respondents. The survey was fielded in December of 2017, and was completed through proprietary sample sources amongst panels who participate in online surveys.
About First Insight, Inc.
First Insight is the world's leading provider of solutions that empower retailers and brands to incorporate the voice of the consumer into the design and merchandising of new products. Through the use of online consumer engagement, the First Insight solution gathers real-time consumer data and applies predictive analytic models to create actionable insights, which drive measurable value. Retailers, manufacturers and brands use the First Insight solution to design, select, price and market the most profitable new products for reduced markdown rates and improved sales, margins and inventory turnover. Customers include some of the world's leading vertically integrated brands, sporting goods companies, department stores, mass merchant retailers and wholesalers. For further information, please visit www.firstinsight.com.
Contacts
First Insight
Gretchen Jezerc
VP, Marketing and Product Management
gretchen.jezerc@firstinsight.com
Media
Michael McMullan
Berns Communications
(212) 994-4660