New Study Finds 59 Percent of Consumers Less Likely to Shop at Essential Retailer That Has Employees Come to Work Sick
Men and Millennials Most Impacted By Retailers Not Considering Health and Safety
Pittsburgh, PA - April 14, 2020 -- How essential retailers treat their employees during the Coronavirus is having a significant impact on consumer shopping decisions according to a new study by First Insight. The company found that overall, 59 percent of respondents surveyed in early April stated that they would shop less at an essential retailer that has sick employees come to work.
The study also found that men feel most strongly about this, with 68 percent of male shoppers compared to 50 percent of female shoppers responding that it was impacting their purchase decisions. Millennials are also showing the greatest impact when compared to their generational counterparts. Sixty-five percent of Millennials were less inclined to shop at an essential retailer that would make this choice, compared to 58 percent of both Generation Z and Generation X, and 54 percent of Baby Boomers.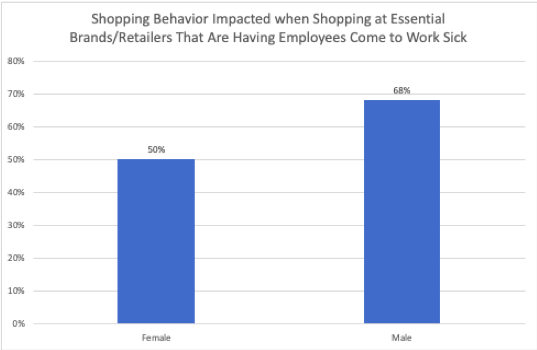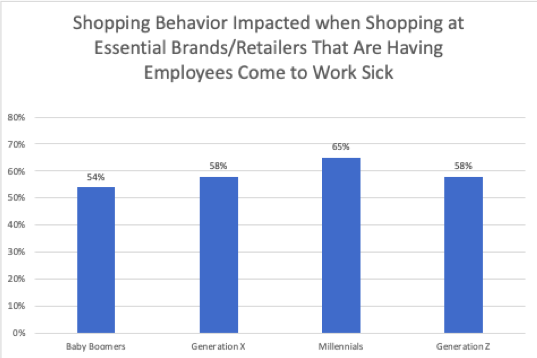 "Retailers and brands are under a microscope right now. And those that are sending in sick employees rather than keeping their workers and consumers safe are starting to be noticed," said Greg Petro, CEO of First Insight, the world's leading customer-driven digital product testing solution for brands and retailers. "Essential retailers and brands need to know that while consumers may be desperate for goods and resources in some cases, just being one of the few open stores isn't enough. How these companies treat employees and consumers, particularly when it comes to health and safety, will likely have a lasting impact that will endure beyond the Coronavirus pandemic, and consumers are acting with their wallets already."
The new findings were revealed as part of First Insight's ongoing series of consumer sentiment studies entitled, "The Impact of Coronavirus on Consumer Purchase Decisions and Behaviors." Now publishing the third study in the series, the company has been tracking consumer data since February 28, 2020, fielding additional studies on March 17 and April 3, 2020. Each survey sample is balanced by gender, geography and generation. Studies are completed using proprietary sample sources among panels who participate in online surveys. Definitions of birth year ranges for each generation are listed below:
Baby Boomers (1946-1964)

Generation X (1965-1979)

Millennials (1980-1994)

Generation Z (1995-2012)
About First Insight, Inc.
First Insight is the world's leading digital product testing and decision-making platform that empowers retailers and brands to incorporate the Voice of the Customer into the design, pricing, planning and marketing of new products. Through the use of online consumer engagement, the First Insight solution gathers real-time consumer data and applies predictive analytic models powered by machine learning and AI to create actionable insights, which drive measurable value. Retailers, manufacturers and brands use the First Insight solution to design, select, price, plan and market the most profitable new products for reduced markdown rates and improved sales, margins and inventory turnover. Customers include some of world's leading vertically integrated brands, sporting goods companies, department stores, mass merchant retailers and wholesalers. For further information, please visit www.firstinsight.com.
Media Contact:
Berns Communications Group
Stacy Berns/Michael McMullan 212-994-4660
sberns@bcg-pr.com / mmcmullan@bcg-pr.com
First Insight Contact:
Gretchen Jezerc
SVP of Marketing
gretchen.jezerc@firsinsight.com