COVID-19 has affected and challenged the retail industry in countless ways. Consumer spending and confidence have ebbed and flowed based on numbers of cases, mandates, vaccination rates, and the general reopening of the economy. Keeping up with the constantly changing consumer is no small task.
First Insight was founded fourteen years ago to empower companies to hear and act upon the Voice of the Customer. We felt it was critical to put our convictions into action in these challenging times. To support the retail industry through COVID-19, First Insight has been tracking consumer purchase behavior and spending since February 2020. As part of our ongoing series of consumer studies, we produced a highly detailed COVID-19 timeline infographic. The timeline illustrates how consumer sentiment and the retail sector were affected by wider external events such as the spread of the pandemic, government mandates, closures, stimulus checks, the rise of the delta variant and other COVID-19-driven milestones.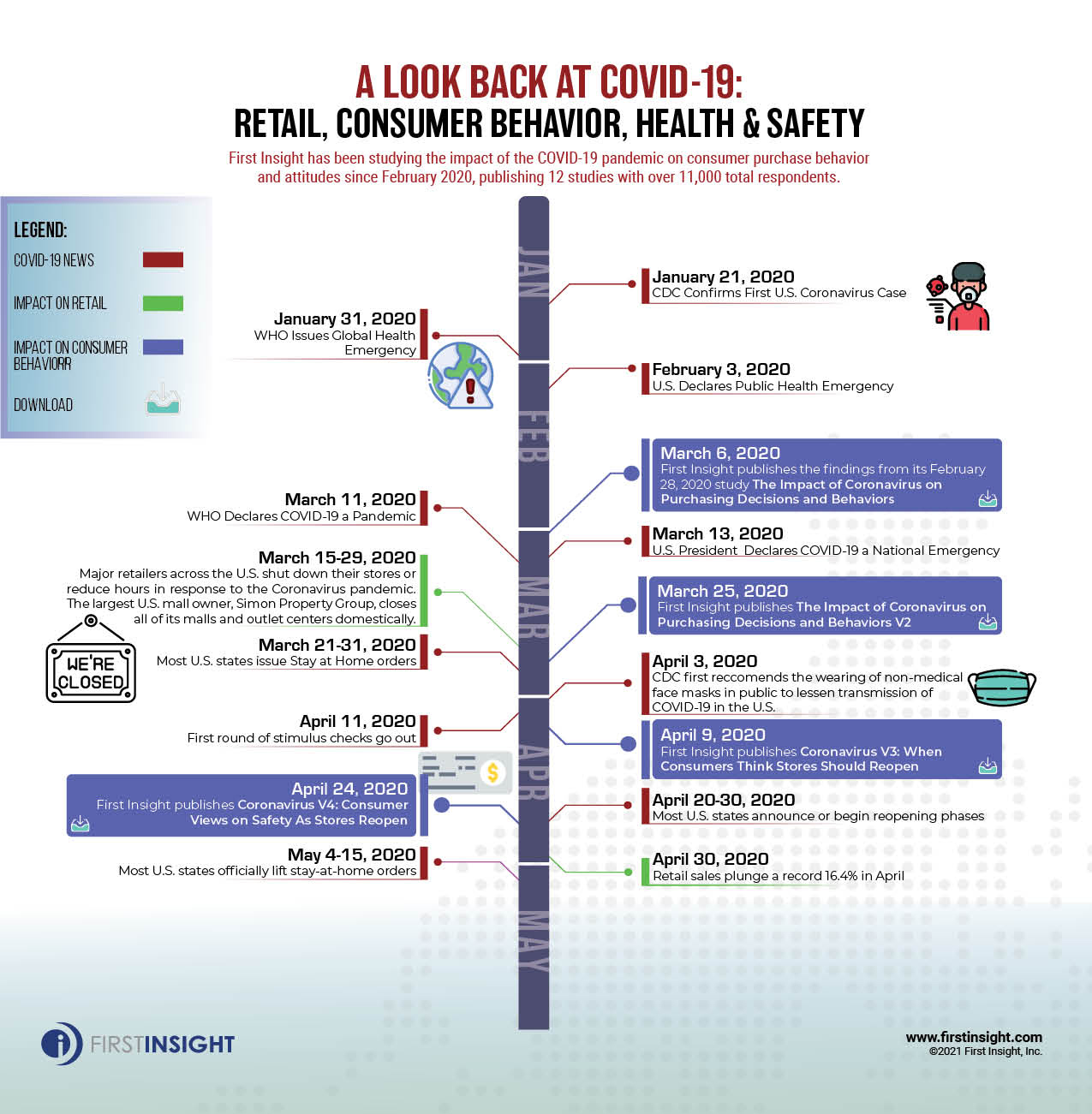 Download to view the full infographic and for a deeper look at the retail industry, consumer behavior, health & safety as they relate to COVID-19.
First Insight is staunchly committed to customer understanding and offers customer-driven predictive analytics solutions for today's toughest business challenges. As inflation and supply chain disruptions continue and demand outpaces supply, retailers and brands are turning to First Insight for decision support in identifying substitute products and optimizing pricing based on real-time consumer price elasticity data.
Our longitudinal study of more than 11,000 respondents is the only one of its kind. It started at the very beginning of the pandemic—February, 2020—with data collected through August, 2021, as COVID-19 cases continue to rise due to the delta variant. These studies have measured consumer sentiment around shopping in-person and online, safety precautions in-store, spending on big-ticket items, traveling, and other consumer behaviors. This infographic shows in detail how various external events directly affected the American public's overall likelihood and interest in returning to normal day-to-day activities, as well as the impact of the pandemic on retail.
As it relates to COVID-19, things continue to change and fluctuate daily, weekly, monthly. First Insight's COVID-19 timeline provides a digestible overview of the progression of the pandemic and its impact on consumer behavior at every stage.
As reported by the Wall Street Journal, there are early signs that the spending slowdown is bottoming out as COVID-19 cases decline. According to Dr. Scott Gottlieb, former commissioner of the Food and Drug Administration, "close to 90 percent of the United States may have some form of COVID-19 immunity by the time the current delta variant wave finishes." Gottlieb told CNN that the delta wave will likely end by Thanksgiving.
With the U.S. economy slowly accelerating to pre-pandemic levels, consumer spending is likely to get a shot in the arm as consumers are eager to shop as we head into the holidays. As we continue to face uncertainty First Insight will continue to track and report on consumer behavior and the impact of the pandemic on retail.
Download our infographic and read our press release for more. Click here for additional information on survey methodology. The full series of consumer studies can be accessed here.