Millennials — individuals born between (approximately) 1982 and 2000 — are the coveted new face of commerce. Also known as "Generation Y," these 13- to 30-year-olds number somewhere around 80 million and represent a huge market. But they remain an enigma to many.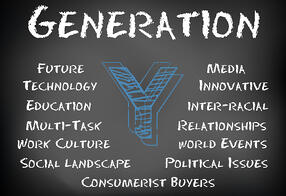 The study results and the lists of "defining characteristics" of Millennials are as wildly varied as they come. For all those who call these individuals spoiled and self-centered, an equal number term them socially conscious and inclusive. And while some analysts look at lagging employment figures and say Millennials are broke, other analysts show them spending robustly (even beyond their means).
Whatever the adjectives of choice, the sheer size of the population makes them a force to be reckoned with. And unlike Baby Boomers, they will be reckoned with for generations to come. So given that Millennials are a bit of a moving target from a marketing perspective, how do more traditional retailers create a strategy that will connect with this segment?
Redrawing the Retail Landscape
With many traditional retailers, reaching Millennials will require a concerted effort to rethink their approaches or, in some cases, completely reinvent their images.
A great example of this is the Gap, a company and brand almost inexorably tied to Baby Boomers since its launch in 1969. The Gap became a victim of what Robin Lewis, CEO and Editorial Director of The Robin Report, calls "positioning drift" — when a brand unwittingly ages along with an original target audience. With its average customer age now sitting at 39, the Gap needs to become relevant to younger buyers in order to secure its staying power.
As CMO Seth Farbman looks to reshape the Gap's image, he is targeting some common Millennial touch points: optimism, energy, quality, and sustainability. His goal is to not only attract younger buyers but to get the average Gap customer thinking younger.
Farbman's efforts kicked off in earnest last fall with an ad campaign targeting millennials and a push in stores and online, including videos that showcased the 1969 denim manufacturing process and displays that attempted to evoke an image of artistry and creative design. This spring, the focus turned to quality; Bloomberg News reported the company "invested in upgrades of its merchandise" and brought that message front and center in stores, on product tags, and in employee training.
Creating a Customized Space
Macy's is another company that's making a huge and very public push for Millennials. Rather than taking a top-down approach, Macy's is carving out niches for its target audiences.
The retail giant has developed two sub-brands to reach Millennials: Its mstylelab focuses on customers between 13 and 22, while its Impulse brand is designed to resonate with 19- to 30-year-olds. These "store within a store" concepts will house exclusive lines and feature products and brands that Macy's feels will capture the interest and imaginations of the customers they seek.
In all, Macy's will be introducing 13 new brands and expanding another 10 brands across all its departments in the hopes of harnessing Millennial monies. It could certainly prove to be a lucrative pursuit as WWD estimates this age group to have an annual spending power of $65 billion for product at Macy's price points.
With Millennials, It's All about Engagement
With all the varying stats and descriptions, there's one thing everyone can agree about with Millennials: They are connected. Yes, part of that is because Millennials are the children of the digital age. But this connectivity isn't just about technology. Millennials embrace brands that embrace them, and they respond to personal exchanges and a sense of community.
Brands that are winning the Millennial battle include:
Target, which conveys a joyful spirit and delivers quality at a reasonable price
Amazon, a marketplace seemingly tailor-made for this audience, with easy comparisons, user-generated reviews, and competitive pricing
Facebook, the ultimate platform for sharing opinions, building communities, and socializing
We Can Help You Connect
At First Insight, we recognize how important it is to engage with your customers — from Millennials to Gen Xers to Baby Boomers — and make them feel they are valued and that their feedback matters. Engagement is a critical step in our
testing solution
, which is designed to give retailers a real-time view of customer demand and merchandise profitability. With data that is directly derived from your customers, First Insight helps you see exactly what they value and at what price.