To compete effectively with other retailers and provide a better shopping experience, you need to understand your customers' needs. The holiday season is a critical time for retail that can make or break how you finish the year.
First Insight's report, The State of Consumer Spending: Holiday Shopping Trends 2022, reveals some surprising information about consumers' willingness to spend despite inflationary pressures.
Early in the season, retailers began offering deep discounts to clear their excess inventory—partly due to the exuberance surrounding last year's record-breaking sales. However, most consumers (70%) say they only need a discount of 30% or less to entice their holiday shopping spree.
Here are key takeaways from the report:
1. Consumers Prefer Hybrid Shopping Experiences
Nearly half of all consumers will engage in hybrid gift shopping, shopping both in-store and online. Online retailers should use this opportunity to engage their customers and encourage them to purchase items that are difficult or impossible to find in stores.
Electronics, toys, and accessories are the most popular online purchases for consumers. For those shopping in-store: footwear and casual wear are at the top of the list. Of those who shop in person, about 2/3 prefer to visit big-box retailers such as Walmart and Target.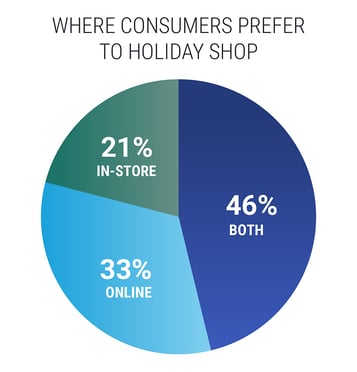 Top Online Gifts
Electronics

Toys

Jewelry & watches

Casual wear

Athletic footwear
Top In-Store Gifts
Casual footwear

Athletic footwear

Casual wear

Jewelry & watches

Electronics
The retail sector will continue to change as consumers' shopping habits shift. The key is for retailers to keep up with these changes and adapt their strategies accordingly. They must offer a seamless experience across all channels, from online to in-store. With more than half of all shoppers expecting a digital experience that mirrors what they would find in stores, retailers cannot afford to ignore the customer experience anymore.
2. Price and Quality Are Top of Mind
No matter how shoppers plan to buy their gifts, they are primarily motivated by price and quality. Consumers believe they are more likely to receive a deal and higher quality products by shopping in-store. Convenience is more important to online shoppers compared, but surprisingly not by much when compared to buying gifts in-store.
Top Five Drivers of Holiday Purchases
Price

Quality

Ease of shopping

Selection

Brand name
Our holiday research reveals that affluence shoppers with a household income (HHI) of $200K+ rated quality as the reason why they shop online, while other earners are more motivated by price. Higher earners are 48% more likely to shop online for good customer service 42% more likely for a loyalty program.


Despite the economic downturn, 42% of people say they will purchase a luxury item for the holidays. Jewelry is the number one luxury gift purchase this season across all generations of shoppers with footwear as a close second.
Offering quality products at a great price will be important to consumers as they shop. Gifters will be looking for quality, value, and convenience during the holidays. Regardless of whether they are buying gifts or for themselves, shoppers want to get the best deal possible on their purchases. Using price optimization tools will help you reduce costs and set optimal price points for your customers' needs.

3. Deeper Discounts, Inflation, and Availability Concerns Mean Earlier Shopping
Half of shoppers started holiday shopping before Black Friday and Cyber Monday this year—a trend that reflects growing concerns for retailers trying to capture share-of-wallet. Even with the glut of inventory plaguing many retailers, more than half of all consumers are concerned about the availability, rather than cost savings of products during this season.
The good news is that 38% of respondents expect an average of 3-5 business days to receive orders either placed online or in-store, and businesses shouldn't worry too much about shipping costs. Just 13% of consumers overall are not willing to pay for shipping, but differences can be seen across generations.
4. Where Consumers are Cutting Back



Among all consumers, electronics is the number one category in which people are most likely to cut back their spending this holiday season. A growing number of Gen Zers plan to spend less money on entertainment purchases. A similar trend is emerging among Baby Boomers who are planning to cut back on purchasing luxury items this year.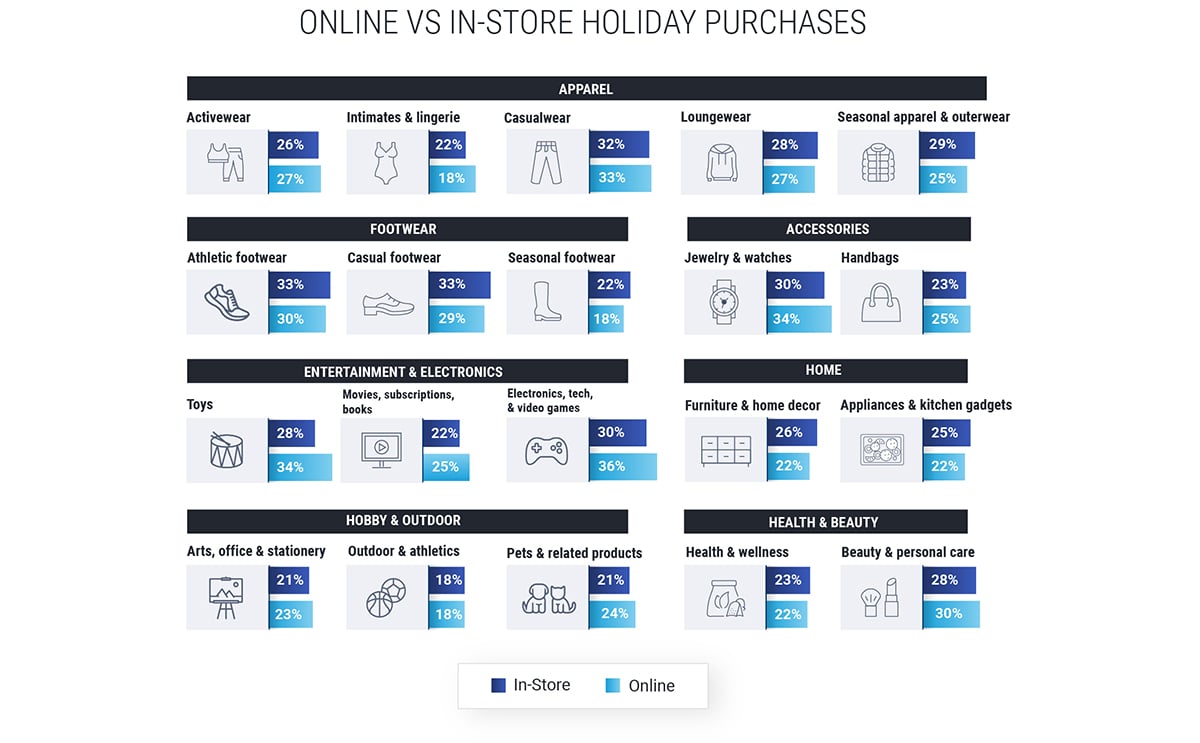 5. Don't Underestimate the Power of Social Media
Social media strategies remain essential for brands and retailers to capture the attention of shoppers—especially during the holiday season, with nearly two-thirds of consumers using it to research gifts. Facebook leads at 63% as consumers' preferred platform and TikTok gains popularity among Gen Z at 64%.
Retailers should consider their target consumers' channel preferences when planning marketing campaigns, to reach as many potential customers as possible. Brand experience management tools allow marketers to test creative and messaging to select winning ads that drive conversion. Retail price optimization software can also help teams predict promotional strategies that maximize sales and margin.
Why react when you can predict?
The disruption retail has seen in the front half of the 2020s has been one for the books. Don't risk getting it wrong when the ground shifts from under you.
Retailers who embrace technology and make intelligent decisions based on data successfully weather the storm. You need the right tools and information like digital product testing and experience management can help you combat today's challenges and future shockwaves to come.
Learn how predictive analytics and voice of customer data can help you keep a pulse on your customer and stop relying on instinct alone.
Schedule a meeting with us to see how First Insight can help grow your business.