People in France, Germany, Italy, Spain, the UK, and the US can all agree on one thing: right now, it is more expensive to live than it was a year ago. That's because the global cost of living crisis is affecting most countries across the world. Consumers' budgets have never been so stretched in modern times. In response, people are cutting back on spending in areas such as brand name products, travel, and entertainment. It's crucial for retailers to understand how inflation is impacting consumer spending. Here are five takeaways from our report, "The State of Consumer Spending: Inflation's International Impact."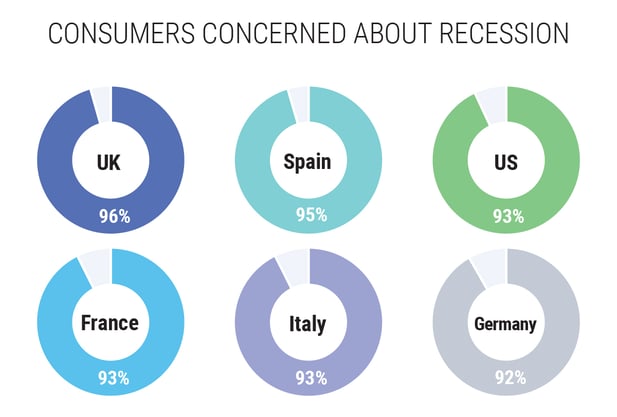 1. Recession Fears
The definition of a recession is two consecutive quarters of decline in a country's real gross domestic product (real GDP). Most consumers believe that an economic recession is inevitable or already underway. As a result, consumers are worried about meeting their basic needs—especially the rising costs of food and housing.
Rising food prices have every country we surveyed the most concerned at 70%. The UK, Spain, and Germany lead with over 70% being worried about the rising cost of putting food on the table. Compared to the average of all six nations, Germans are 46% more concerned about housing costs and Spanish consumers are 39% more concerned about losing their job.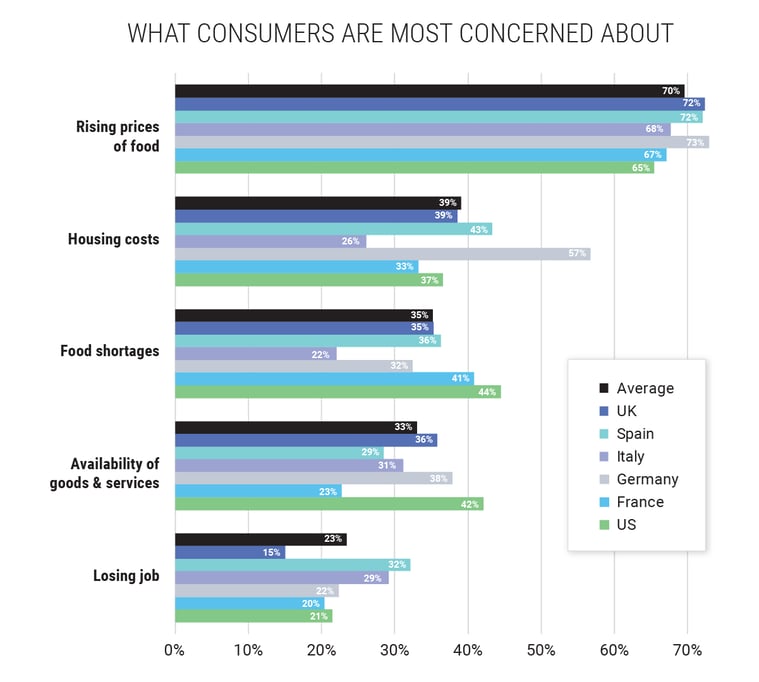 A large majority of US and European consumers are less confident to spend as prices continue to climb in all areas. Confidence is lowest among German, Spanish, and Italian consumers with France being impacted the least. Being able to meet basic needs, especially with the rising prices of food and housing, has left consumers worried.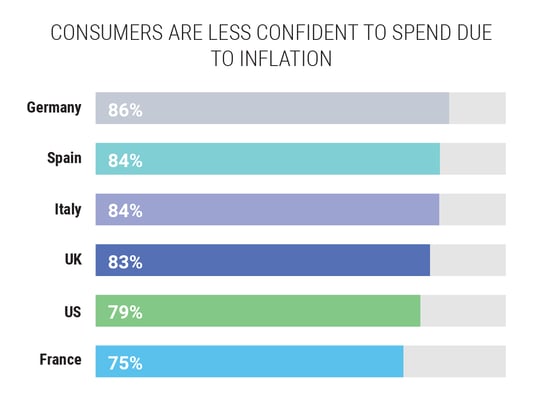 2. Drastic Changes in Shopping Habits
The economic downturn has changed consumer spending priorities. A vast majority of consumers in Europe and the US report that they feel less confident to spend due to rising prices. Germany is the most concerned about the inflation issue, with 86% of consumers saying they feel less confident to spend.
Consumers are feeling the pinch of rising prices in essential categories such as groceries and gas. As a result, an average of 47% of consumers seek out deals and discounts to help them stay on budget. Germans are the biggest bargain hunters with 57% shopping for deals, 35% using more coupons, and an increase of 35% in utilizing cashback perks. Those in the UK are staying within a budget the most at 45% and those in Spain are the least budget-conscious.
These trends are creating a need for businesses to rethink the way they price and market discounts to entice consumers.
3. Discretionary Cutbacks Leave Less Room for Fun Purchases

With an average of 87% of consumers looking for less expensive ways to shop, people are doing less. The reality of global inflation is that consumers are cutting out less essential, but more fun, things such as:
Dining out
Name brands
Jewelry
Movie theaters
Nightlife
Vacations
Most notably, Spanish and German consumers have cut back on organic and name-brand groceries to save a buck (or a Euro). More than 20% of Germans also opt out of their morning cup of joe from specialty coffee shops—speaking once again to the concern many people feel about their economic future.

There are some bright spots. The report points out that while many people have cut back on luxury items, they haven't changed their spending habits drastically in the entertainment and trendy fashion categories.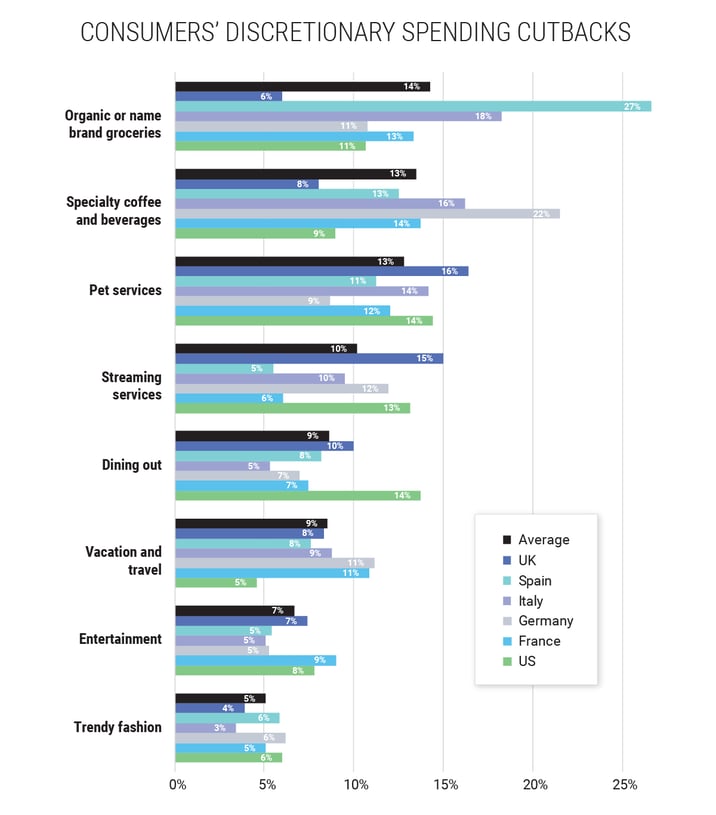 4. Staying Local
Fuel prices, inflationary concerns, and recession worries have led to an exodus from vacationland. A new survey shows that over half of Italians are choosing not to take vacations so that they can save money—43% of consumers overall are also following suit.
We can see this trend supported by the responses collected regarding travel. Most consumers are cutting back on vacations followed by driving less overall. Compared to the average, Italian consumers are reducing vacations 23% more and Germans are cutting back driving 25% more.
5. Inflation Isn't Going Anywhere Fast
For now, most consumers think that inflation will last more than two years. However, although many people are worried about a recession — particularly Germans (42%) —most consumers in every nation surveyed say that they are saving less. French consumers are continuing to save at the same rate, while Italian consumers report saving more.
US consumers are most optimistic about the end of inflationary times within six to twelve months. German consumers, on the other hand, are concerned with an inflationary period stretching well into 2024.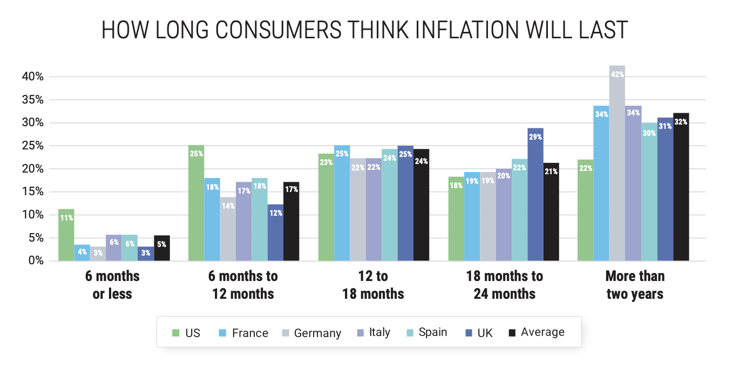 As we continue to face inflationary pressures, consumers will also keep adjusting their shopping behaviors. Discounts and appealing to a price-conscious customer will become increasingly important in businesses' strategies for attracting and retaining customers. With so many switching to private labels, retail leaders should explore this opportunity to expand their private label offerings.
Conclusion
In a time of great change, forward-thinking companies can use this research and other voice-of-customer insights tools to establish a reputation for helping consumers meet their needs in new and interesting ways. The best strategies for inflationary times consider how such economic conditions impact consumer behavior. As the global economy grows less stable, companies that use predictive analytics in combination with customer feedback will be better prepared for future challenges. This will allow them to meet consumers' constantly changing needs while staying afloat amid tumultuous economic times.
For more information on our key findings, download The State of Consumer Spending: Inflation's International Impact.