Greg Petro sells confidence to retailers and manufacturers who sell almost everything else.
Clothing, household goods and electronic gadgets. Shoppers have made their opinions known on all those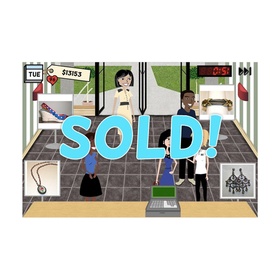 types of products using the video game-like surveys that Petro's South Side-based market research company, First Insight, has been developing for three years.
The latest is "Sold," a store simulation game that lets consumers create and manage their own virtual shops: choosing merchandise and setting prices to generate maximum sales and profits.
First Insight ran standard consumer surveys early on. Then "we had the notion that games could be used in a very engaging way to collect a tremendous amount of information, and people enjoyed it," Petro said.
Ten retailers so far are paying subscriptions to Petro's company to run games for them and analyze consumer responses that provide quick clues to tastes and trends.
Games can take on a different look for each retailer. Consumers encounter them through an e-mailed invitation, a store's website or a Facebook page, for example, and if they opt to play, they spend several minutes looking at and reacting to products and possible new ones.
Petro recalled that when he began his retail career at Kaufmann's in the mid-1980s, "you could walk down on the selling floor and have a conversation with customers about products and what they were thinking,"
The Pittsburgh-based department store chain had 14 locations then. Kaufmann's later was absorbed into Macy's Inc., with more than 800 stores, an example of a large, modern retailer that has a tougher time chatting with customers about what's on the shelves.
Shoppers may consider surveys and focus groups to be a chore.
"We decided to leverage the idea that people are online. They don't mind interacting at their own pace" if what they're doing is fun, said Petro, a former Saks Fifth Avenue executive.
Response rates typically are two to five times higher than a retailer gets with a typical e-mailed promotion, he said.
Retailers sometimes provide a coupon or other reward for playing the game. But shoppers mainly jump in for fun and because they see a chance to influence clothing styles and other brand details, he said.
First Insight's initial game, introduced about six months after the company was founded in 2007, was called "What Would they Pay?" Think of TV's "The Price is Right" on a computer screen, with players tagging diamond bracelets and shoes with what they think are correct prices.
"E-mail was the answer back then" in terms of getting the game out to potential players, he said. "Now social media has taken a big form with Facebook, and there's mobile (through Internet-connected smartphones), so you can reach people however you want to reach them."
The privately held company does not disclose customer names, sales or staff counts in its South Side and other offices.
One customer is a $5-billion-a-year national retailer with multiple merchandise lines that views game data as a competitive advantage, helping avoid buying mistakes that lead to deep markdowns or shortages, Petro said.
First Insight clients increase their store sales by 10 percent to 15 percent as a result, he said.
Formal wear retailer David's Bridal has said it works with First Insight. And Ed Schmults, CEO of Wild Things LLC of Newport, R.I., said he has learned how quickly First Insight can get feedback as he prepares to introduce a consumer line for his outdoor gear business.
Wild Things, which sells mostly military gear, reworked its logo recently.
"We used (a game) to get perspective on color and logo type," the former FAO Schwarz chief executive said. In two days he had more than 800 responses that could be sorted by age, sex and geographic region, he said.
"It was tremendously useful and pretty astonishing," Schmults said.
Also vital: First Insight's ability to identify game players who may be predicting trends.
Players who choose past best-selling items as their virtual purchases, for instance, become a focus as they consider next season's styles.
First Insight's concept gauges opinions of people who are comfortable with shopping online, Los Angeles-based retail expert Roger Selbert said, and while that's not everyone, it's a growing segment.
Well over half of the U.S. population has shopped online, he said, "and that is becoming a more and more important part of retail."
Read more: http://triblive.com/x/pittsburghtrib/business/s_709167.html#ixzz2SdGVrgwh
Follow us: @triblive on Twitter | triblive on Facebook