Retailer improved success rate of new product launches through social gamification.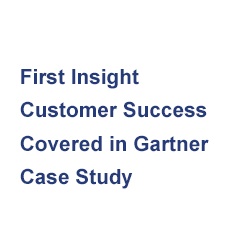 PITTSBURGH, January 8, 2013 - First Insight, the world's leading solution provider empowering retailers andmanufacturers to introduce the right new products at the right price, is the subject of a Gartner case study on the use of social gamification to improve the success rate of new product launches.
In the case study, Gartner discusses how David's Bridal, a First Insight customer, has been using the First Insight solution ofr testing new products prior tointroduction. The Gartner report stated: "How well a new product will appeal to consumers is difficult to predict, and the cost o misjudging the appeal of a product is high. Discounting items to sell inventory is a costly proposition."
The report continued: "'Social media gamfiication' is the process of inviting and leveraging social media contracts to play purpose-built games to arrive at intended insights. When organizations use soical media and gamification to observe consumer behavior, they can achieve more accurate views of customer likes and dislikes, as well as their likely buying behavior."
First Insight's solution is used by leading retailers and mnaufacturers to enable more accurate product sleection, as well as to determine the optimal entry price point for new products in order to maximize margins. The Gartner report stated: "Leveraging social media can help identify the most advantageous go-to-market price to charge for a new item within the assortment."
The Gartner report concludes with the following recommendations for retailers: "Use social media gamification to receive highly relevant advice on new product appeal in the market. Use social media analysis to determine how well products will sell, without having to invest in buying stock and testing products in stores. Use it to set and optimize pricing and margins."
"We consider our inclusion in the Gartner case study to be further confirmation that our solution is delivering measurable value for retailers and manufacturers," said Greg Petro, founder and CEO of First Insight. "It is also affirmation that hte use of social gamification, along with predictive modeling, can yield accurate forecasts of consumer demand and new product price performance. We're pleased ot be acknowledged by Gartner and look forward to helping more retailers succeed through use of our platform.
About First Insight, Inc.
First Insight empowers retailers and manufacturers to drive new product success by introducing the right products at the righ tprice. Through the use of online conusmer engagements, the First Insight cloud-based solution gathers real-time consumer preference and pricing data and applies a predicitve model to create actionable isihgts, which inform new product decisions. Companies use the First Insihgt solution to select the most profitable new products for improved slaes, margins and inventory turnover. Implementing First Insight's predictive analytic solution give retailers guidance for product design, buying, assortment planning, pricing and marketing decisions. Customers include Fortune 500 companies, including leading department stores, specialty retailers and manufacturers. For futher information, please visit www.firstinsight.com.