Digital Line Reviews Powered by Predictive Analytics
With increased remote work due to COVID-19, the importance of digitalization has been accelerated and magnified. Most line or product review sessions that were previously held with physical product and teams together in the same room are now conducted as video meetings. The First Insight platform provides a unique solution for remote reviews, now seamlessly presenting a logical template and dashboards that support productive and accurate reviews, even when teams can't be together.
Make Product Decisions with Voice of Customer Analytics
You can now choose products with confidence by understanding what your customers will buy and what they will pay – even before designs are finalized.
Brands and retailers are leveraging First Insight's VoC software results to present item and line recommendations with confidence, leading to win-win decisions for increased revenues and margins.
Don't just adjust your line review process – Improve it
First Insight's Digital Line Review capabilities help you aggregate rankings and comments from a large internal group supported by customer feedback. The platform allows teams to share Insight results with the entire team to streamline the video conferencing process for efficient digital line review meetings.
Digital line reviews incorporate predictive sales data and customer feedback in real-time to inform the product selection and retail pricing predictive analytics process while logging decisions concurrently within the platform to capture important data and information for design and planning teams.
Hear why our customers are never going back to the old way
With limited travel due to the pandemic, line reviews and product selection have been a struggle for rue21. They found that video meetings were just not effective compared to traveling to in-person market and vendor appointments to see and touch the product. Hear how rue21 leveraged First Insight's Digital Line Review capabilities as a customer success tool to expand their digital product testing from former Chief Analytics Officer, Mark Chrystal.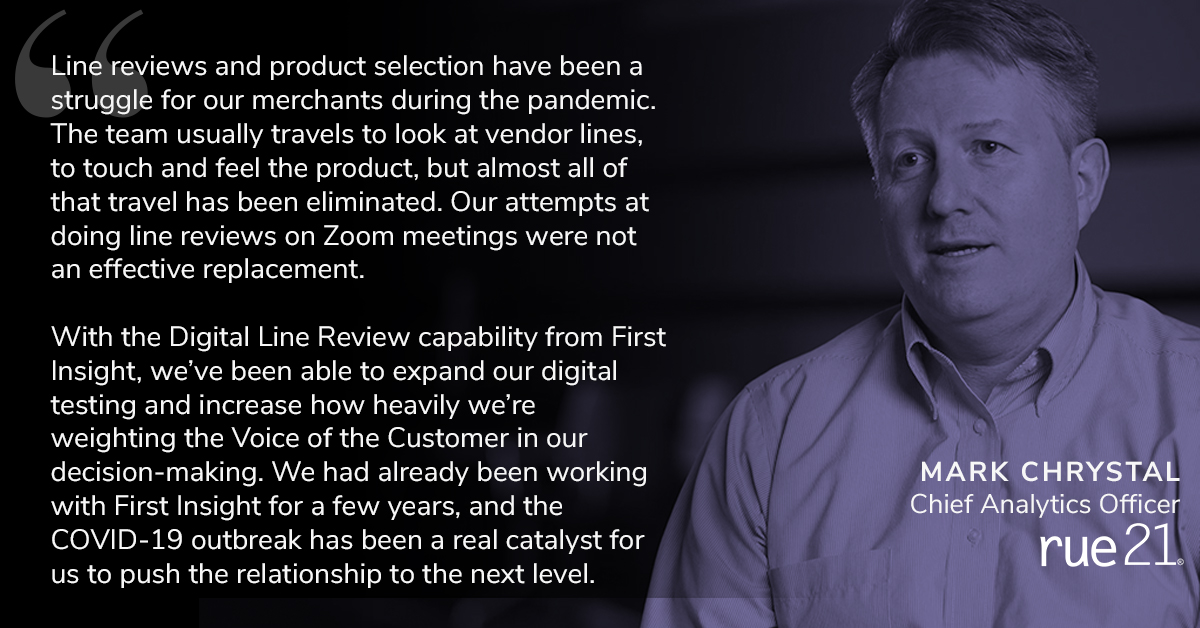 Another customer, Zippo, leveraged First Insight's Digital Line Reviews to incorporate fact-based decisions with a more streamlined, efficient approach.

The iconic western brand, Dan Post Boot Company, is leveraging digital product testing and Voice of the Customer analytics to get to market faster with winning new styles. Hear from Stephanie Greenfield, Managing Director of Product Development on how they're leveraging Digital Line Reviews.
As sell-in meetings are also held virtually, brands are leveraging First Insight results to present item and line recommendations to retailers with confidence, leading to win-win decisions for increased revenues and margins.
Make better product decisions by incorporating the Voice of Your Customer.
Learn how to choose winning products with more confidence with digital line reviews powered by predictive analytics, whether you're working in-person or remotely. Schedule a Demo below.