Times are tough, and budgets are tightening. Inflation is a fact of life – and it's affecting prices across the board. Businesses are looking for ways to maintain their profit margins while consumers are cutting back on spending.
There are several factors contributing to price inflation, from COVID-19 to supply chain chaos to the war in Ukraine. While some of these factors may be short-term in nature, others could persist into an endemic stage. Our latest report shows 42% of those surveyed are most interested in shopping for sales and discounts. Businesses must take measures to better understand how inflation is impacting shoppers during this time by creating strong strategies and positioning their brands accordingly.
With the economy struggling and inflation at a 40-year high reaching 9.1%, businesses need to put the customers at the center of decision-making now more than ever. The last thing you want is to alienate your customer base or be perceived as taking advantage of the situation. Voice of customer (VOC) software and brand experience management are great tools for driving profitability by keeping your customer at the center of your decisions. These tools can help you with price optimization and messaging during economic disruption.
Here are a few things to consider when formulating your marketing positioning and brand strategy during inflation:
In a tough economy, it's important to be sensitive to potential customers' concerns. Avoid marketing messages that could be seen as out of touch with the current economic climate.
Make sure your pricing is in line with what your competitors are charging as well as with what consumers are willing to pay, as inflation can erode customer confidence and loyalty.
Successfully position yourself in a crowded and competitive market by listening to the voice of the customer - a note francesca's took when they analyzed the potential success of launching a new brand during the pandemic.
Adopt price optimization software to capture demand and create winning product assortments that drive your business forward.

The level of inflation in 2022 is not what we've experienced in the past. Managers now have more access to market information, which allows them to make educated decisions. It's a good time for businesses to treat inflation as an opportunity rather than a challenge, and to choose from a better set of options. Rather than worrying about how much more they can charge their customers, they should devote their resources to figuring an optimal price that doesn't offset too much of the development costs onto the customer - and also doesn't leave money on the table.
When market conditions force price increases, businesses can't expect consumers to foot the bill and absorb all the new costs.
First Insight Helps Retailer Increase Ad Revenue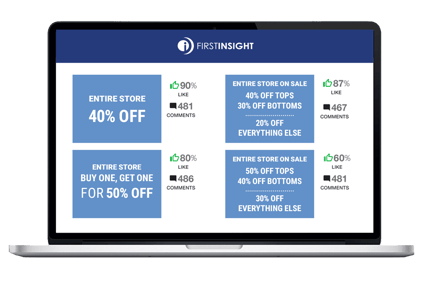 Selecting the right promotion to optimize pricing and sell-thru can be challenging. Certain offers resonate with customers differently. By testing promotional messaging using voice of customer tools, our customer was able to boost revenue by 5% and select a winning markdown strategy.
REQUEST DEMO
The bottom line is that businesses can make better decisions with confidence by closely listening to the customer. First Insight's Next-Gen Brand Experience Management Software maximizes brand loyalty by anticipating your customers' standards and expectations.
The platform represents a proven, breakthrough solution that helps you anticipate outcomes for promotions, advertisements, and brand perception so you can build plans that are achievable. Discover how First Insight's solution can help you better position your company with winning product, brand, product, and customer experiences.