Managing consumers' brand expectations is never an exercise to be taken lightly. Overestimating the depth of consumers' loyalty and trust leads many brands astray, especially when brands embark on an extension or refresh. Everything from changing formulations (remember new Coke?) to "enhancing" logo designs can leave a brand vulnerable to consumer backlash. While inviting the customer in to help drive brand experience decisions reduces the potential for failure, many brands incorrectly believe that the consumer input process negatively impacts speed to market. Today that is no longer true, as technology has proven seamlessly integrate into any decision-making process.
How Experience Management Increases Brand Equity and Customer Loyalty



Experience Management (XM) software and tools help brands make the right decisions by pairing voice of customer data with predictive analytics. Using quick, actionable insights allows businesses to increase success of new offerings through a pre-approval of target audiences, thus

driving profitability, brand equity, and customer loyalty. Brand experience management solutions are great for marketing initiatives while product experience management optimizes assortments and pricing of products.
First Insight's Brand Experience Management solution support customers, typically increasing their success rate for new offerings up to 80%. Launching a new brand, rebrand, or brand extension is not easy, and the cost of failure can be enormous. Brands can fail with the wrong formulation, by changing a well-known or trusted logo, or by not acting in a timely manner. Kodak learned that lesson the hard way when they didn't act quickly before digital photography completely overtook their business model. Ironically, they held significant patents for digital imaging. They just didn't act.
francesca's uses Experience Management Software to Launch a Successful New Brand
Understanding how and when to take advantage of macroeconomic circumstances is one key to success. Andrew Clarke, CEO of francesca's, enlisted First Insight's help to identify new business opportunities during the pandemic. francesca's is a much-loved women's apparel and accessories brand with a loyal and passionate consumer base. Their leadership thought that the brand had an opportunity to expand into the Tween market to offer fun, affordable product that would appeal to both young women and their moms. As Clarke told Forbes, "'We knew that generational shopping takes place where moms, aunts, and big sisters are shopping alongside the Gen Alphas….'" francesca's wisely agreed that they should dive deeper and get actionable data instead of simply relying on gut instinct.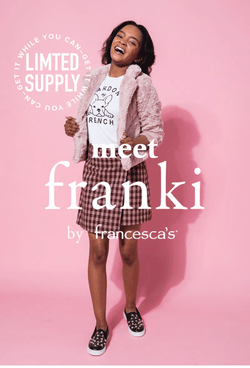 The leadership team wanted to understand the market better and learn:
How to engage tweens in an authentic way?

Did they have a competitive advantage?
If so, how could that advantage best be articulated?
What product categories were most intriguing to this younger consumer?
What logo should they use?
francesca's leadership had a name in mind—franki—which reflected a direct relationship to the parent brand while also capturing the youthful energy and playful nature of the brand extension. However, even with such a perfect name, the team needed to understand how to present it in a way that resonated with their core audience. First Insight sought voice of the customer data on logo options, landing on the one that 66% of consumers loved and more than half ranked as their number-one choice. Using First Insight's Product Experience Management tools, the brand also helped identify the winning products that gave francesca's new brand a competitive advantage in the market. The platform helped francesca's team market franki by deep diving into how the new brand should be positioned in relation to the parent brand. Testing the franki graphic tees using product and brand experience management software generated quantitative consumer response data on various attributes such as font preferences, resonant messaging, preferred color schemes, and winning imagery. francesca's employed invaluable voice of the customer data to establish an exciting – and commercially viable – new brand.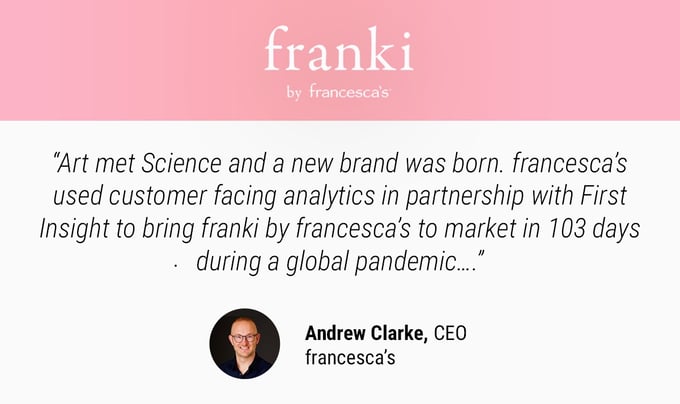 As Andrew Clarke noted in a LinkedIn post, "Art met Science and a new brand was born. francesca's used customer facing analytics in partnership with First Insight to bring franki by francesca's to market in 103 days during a global pandemic…."
How to Avoid Risky Brand Investments and Retain Customers
Misdirected branding initiatives are more time consuming, expensive, and value-destroying, in the long run, than testing a premise to truly understand the commercial opportunity. Advertising can be optimized, messaging can be improved, and offensive or misunderstood products can be avoided with brand XM tools. Creating meaningful brand engagement across the customer journey yields predictive, actionable results that marketers, product teams, and others can use to make decisions with confidence.

It's impossible to build a successful brand, or to create a profitable brand extension, without knowing the consumer. First Insight's brand experience software maximizes brand loyalty by first anticipating consumers' standards and expectations. The software is designed to facilitate informed decision making with predictive analytics, whether it be which brands to carry or which to cut from an assortment. Brand XM tools allow retailers and brands to minimize failure while maximizing profits with more engaged, loyal consumers.