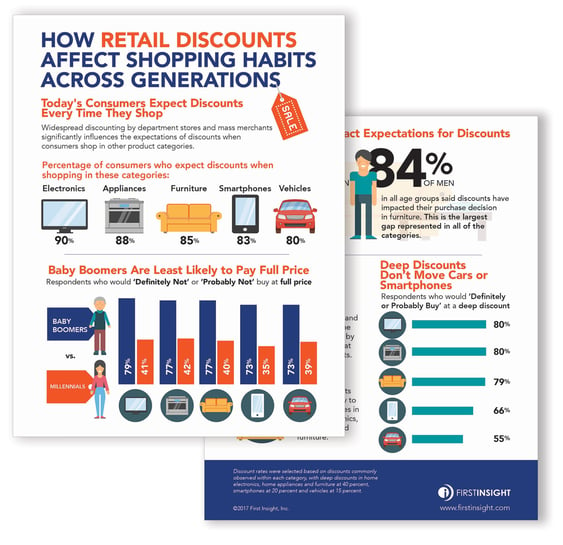 Rampant discounting in department stores has conditioned a great majority of consumers to wait for the "SALE" sign before even entering. And this is impacting how they make purchase decisions in other aspects of their lives. In fact, roughly 90 percent of the 750 consumers First Insight surveyed last month acknowledged that these discounts are influencing their expectations for markdowns on home electronics, home appliances, furniture, and even smartphones and vehicles. (Download the infographic that illustrates the key findings of the survey here.)
What proved to be even more surprising is the emergence of a wide generational gap which points to a very different view on discounts when comparing baby boomers and millennials — the two largest generations with the greatest spending power.
While a majority, 76 percent, of baby boomers surveyed said they wouldn't pay full price for products across every category, millennials are much less affected by discounts. Roughly 40 percent of millennials said they would "definitely not" or "probably not" buy vehicles, furniture, home appliances and home electronics at full price. Only 35 percent would be less likely to buy a smartphone at full price.
It's possible that the gap in expectations between the generations is due to the fact that millennials shop less often in department stores, and are therefore less conditioned to shop the sale. Regardless, it's clear from the results that millennials have a much different perception of value than their baby boomer parents, and a greater willingness to pay for value, whether it's one-off products they find on crowdfunding websites like Kickstarter or the latest hot items from on-trend brands.
To benefit, retailers and marketers need to refocus their attention on how each unique generation defines "value" for the products they seek out and purchase. There can no longer be a one-size-fits-all pricing and discounting approach that will attract and loyalize every consumer to a retailer or brand. Retailers aware of the significant generation divide have a tremendous opportunity to maximize profits and sales.
For example, baby boomers want to be engaged in a promotional way, so retailers offering products to this specific audience should consider offering something special with their purchase, such as a discount or an extra (e.g., "buy one, get one half off"). Millennials are willing to pay more for products they value. Retailers should work to identify the products millennials can't do without or offer something that's unique, and bring value in line with the price tag.
It's worth noting that while women are often considered to be discount shoppers more than men, there was actually no significant gender divide in terms of expectations for discounts. Eighty-nine percent of women stated discounts have had an impact on their purchase decision in furniture vs. 84 percent of men — the widest gap of all the product categories. Women showed only a slightly higher impact (one to three percentage points) in all other categories but smartphones, where 83 percent of both men and women felt there was an impact.
There's a tremendous opportunity for retailers willing to understand, embrace and target consumers with differentiated products and approaches to generate more sales and greater profits. Discounts don't need to be the norm when targeting millennials, a demographic that will only increase its buying power in the years to come. Retailers must look for opportunities to leverage different generational expectations. Those that price products and offer discounts strategically will benefit the most through higher profits.