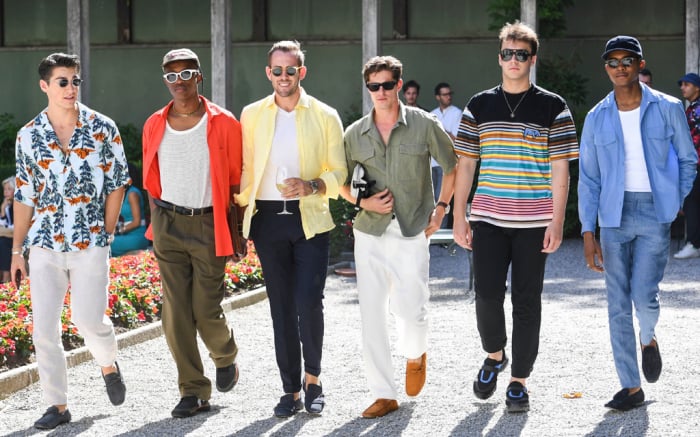 The men's industry is experiencing exponential growth, and sales are set to eclipse those of womenswear by 2021, according to a survey by Euromonitor.
FN spoke to fashion directors, buyers and designers across the industry to examine how men's shopping habits have changed — and what impact that is having on the market at large.
They told us that thanks largely to Instagram, the male shopper is more informed, proactive and adventurous than ever before. He is also increasingly embracing e-commerce and more concerned with sustainability. Here are the three main drivers behind the way men shop now.
1. Social Shopping
"Social media has democratized fashion," said Bruce Pask, men's fashion director at Bergdorf Goodman and Neiman Marcus. What he means is that men can scroll through their Instagram feed until their hearts' content, immediately accessing information they'd once have waited months to see in a magazine.
"This easy availability of visual information and style references has absolutely affected the market and informed the shopper," he continued. "You make more interesting and adventurous choices if you are more informed."
Perhaps this has, in turn, encouraged big houses to take more risks. Take, for instance, the men's spring '20 presentations: With transparent "naked" boots at Dior Men, gold sandals at Celine (both leather and rubber jelly versions, for the record) and floral wellies at Louis Vuitton, the season's footwear certainly looked adventurous.
Additionally, Browns senior buyer Thom Scherdel pointed to the growing power of the influencer. "The pool of 'influence' Instagram accounts [male shoppers] can source from is now huge, and it's become totally normal for guys to follow these people — whereas before, it was less of a thing," he said.
Level Shoes men's buyer Stephanie Moore noted that thanks to social media platforms, men are now much more trend driven and shopping faster and more frequently. "They are looking to peer groups, influencers and celebrities for inspiration and direction on what brands and styles to be seen in," she said, "especially when it comes to sneakers."
They are also more proactive, according to Mr Porter senior buyer David Morris. "Customers visit [our] site already equipped with the information they need to make a purchase," he said. "In some cases, they will reach out to us ahead of key launches to register their interest."
2. Online Uptick
Of course, men aren't just drawing inspiration from the digital realm, they're also shopping there as well in increasing numbers. A January report from First Insight Inc. found that male shoppers made about 41% of their purchases online, up from 38% the previous year.
No surprise, then, that women's retail platforms MyTheresa and LVMH's 24S will both launch menswear divisions for spring '20. MyTheresa has tapped Sneakerboy founder Chris Kyvetos as its new buying director for men's. And 24S has snagged a deal as the exclusive retailer for Dior Men and Celine.
at Footwear News