Consumers Cut Back on Dining Out, Entertainment, and Vacations in Response to Inflation, According to New First Insight Inflation Report
Despite inflationary pressures, Beauty and Pet Services continue to be priorities
Pittsburgh, PA—April 21, 2022 — Dining out tops the list of discretionary spending cuts consumers will make to combat inflation's effect on their wallets, according to First Insight's new inflation report. With 42% of consumers deciding to save on eating out, the road to post pandemic recovery for the struggling hospitality industry looks bumpy. The report further reveals that 33% of consumers will cut back on entertainment costs while 30% will reduce their spending on organic or premium groceries as well as vacations. Spending on fast fashion will be cut by 28% of consumers.
In contrast, the data show that consumers are cutting back the least on Beauty and Personal Care and Pet Services. People are picking their pets over fancy lattes and the latest binge-worthy Netflix shows.
"The effects of the pandemic are still driving consumers' spending priorities today," said Greg Petro, CEO, First Insight. "With pandemic restaurant closures followed by limited reopenings because of the Great Resignation, dining out has become much less of a habit for many consumers today. At the same time, millions of pets were adopted during the pandemic and consumers have decided that the happiness of their pets is far more important to them than eating out. These shifts in consumer spending will continue to evolve for the next several years, disrupting many industries in profound ways."
The top categories in which consumers will reduce spending to cope with rising prices include: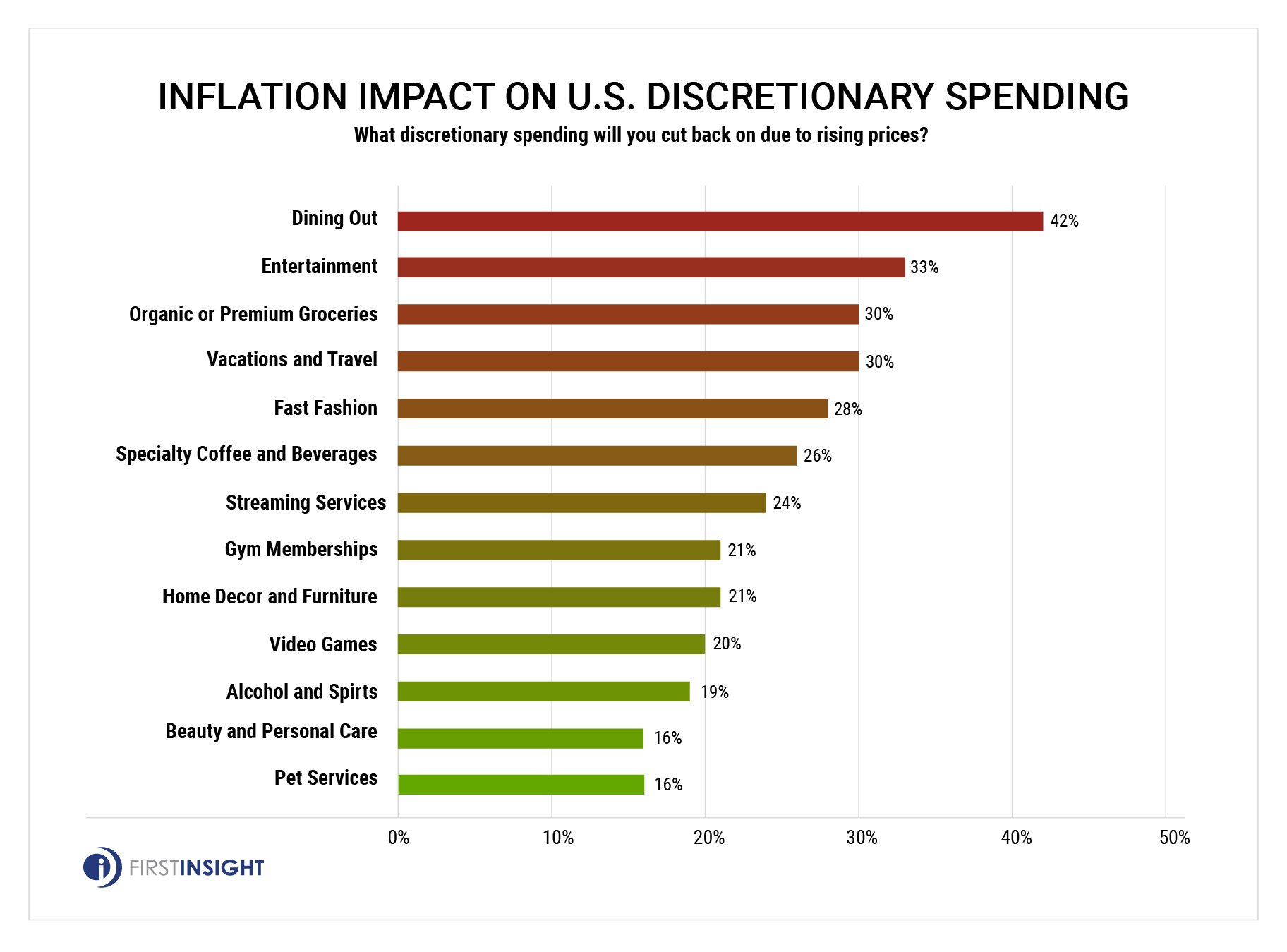 Dining out - 42%

Entertainment -33%
Organic or Premium Groceries - 30%
Vacations and Travel - 30%
Fast Fashion - 28%
Specialty Coffee and Beverages - 26%
Streaming Services - 24%
Gym Memberships - 21%
Video Games - 20%
Alcohol and Spirits - 19%
Beauty and Personal Care - 16%
Pet Services - 16%
The report found overall that high prices for gasoline and groceries are having a trickle-down effect on discretionary spending across the board. This report is the second in a series which will continue to uncover the biggest pain points for consumers as they deal with the highest inflation rate in the US in 40 years.
About First Insight, Inc.
First Insight, the world leader in Next-Gen Experience Management (XM), is transforming how companies make better decisions leading to a sustainable future. Customers include some of the world's leading vertically integrated brands, department stores, consumer products companies, mass merchant retailers and wholesalers. For further information, please visit www.firstinsight.com..

Methodology
First Insight's findings are based upon a survey conducted through its proprietary platform. The report is based on a sample of 1000 people fielded by email in April 2022. The sample was proportionately balanced by generation, region, and gender. Further details on the findings are available upon request.
Media Contact:
Berns Communications Group
Stacy Berns/Michael McMullan
sberns@bcg-pr.com/mmcmullan@bcg-pr.com
First Insight Contact:
Gretchen Jezerc
SVP of Marketing
gretchen.jezerc@firstinsight.com