Soaring prices are straining both consumers and businesses. With inflation at a 40-year high reaching 8.3%, companies need to put their customers at the center of decision-making now more than ever. Our inflation study, The State of Consumer Spending: Inflation Impacting Consumer Confidence, found most consumers are searching for less expensive ways to shop (82%) and sticking to a budget (40%). Not only are shoppers reducing spending, but they are also changing their purchase behavior across dining out, travel, groceries, apparel, entertainment, and more. Business leaders need to understand how inflation is affecting consumer spending and what these rising prices mean for their company.
1. Dining out | Strike three for restaurants?
We all know when COVID struck, restaurants were slammed by the shutdowns. This first wave caused about 17% (over 100,000) of restaurants to shut down according to the National Restaurant Association. Capacity restrictions caused the nation's second-largest private-sector employer to experience a revenue drop of roughly 36%. In the spring of 2021, a second wave hit this industry known as The Great Resignation – when workers began voluntarily leaving the workforce at alarming rates. This new influx of job openings continued to strain the accommodation and food industry. Most of us experience this firsthand dining at restaurants with slower service, fewer menu options, and limited hours of operation. Now, a third wave is closing in…inflation. If you know anything about tsunamis, a key sign before it strikes is the water residing and pulling away from the shore. We may very well be in a similar situation as inflation has already begun pressuring consumers. It may only be a matter of time for the restaurant industry.
Restaurant owners will continue to take a hit if financial situations worsen for families. This decrease in dining out will indirectly impact other peripheral industries such as food and beverage, farming, restaurant technology, entertainment, and more.
2. Entertainment | Grab your popcorn, these cutbacks are cinematic
Rising prices are forcing shoppers to prioritize spending. Entertainment and recreation is one of the top three categories consumers are cutting back on according to our research. Approximately 1/3 of respondents are reducing entertainment spend and prioritizing other categories such as groceries, gas, rent/mortgage, and healthcare. Looking closer at this category, the top five entertainment cutbacks include movie theatres, concerts, nightlife, sporting events, and streaming services. As more Americans absorb the blow of soaring prices, the entertainment industry may continue to take a hit.
Like food service, entertainment companies and organizations impacted by this industry should be prepared to pivot. Businesses must listen to the voice of their customer and consider new creative solutions supported by predictive analytics to navigate these uncertain times.
3. Groceries | Vegetarians may be on the rise with soaring grocery prices
Groceries consistently show up as one of the top two factors impacting consumers. As prices continue to rise, shoppers are not only prioritizing spending on groceries but changing their shopping behavior. One of the most interesting findings businesses should be aware of is Americans are cutting back on name brands and switching to private labels/generic grocery products. When looking at specific groceries, consumers are buying less meat and seafood. According to Evercore ISI's report, chicken prices have increased as much as 70%. Other products consumers are cutting back on include snacks, alcohol, organic food, produce, and many more.
Americans are limiting their discretionary spending and being intentional about where they spend their money. Businesses should test new products and brands that appeal to this new influx of price-conscious customers.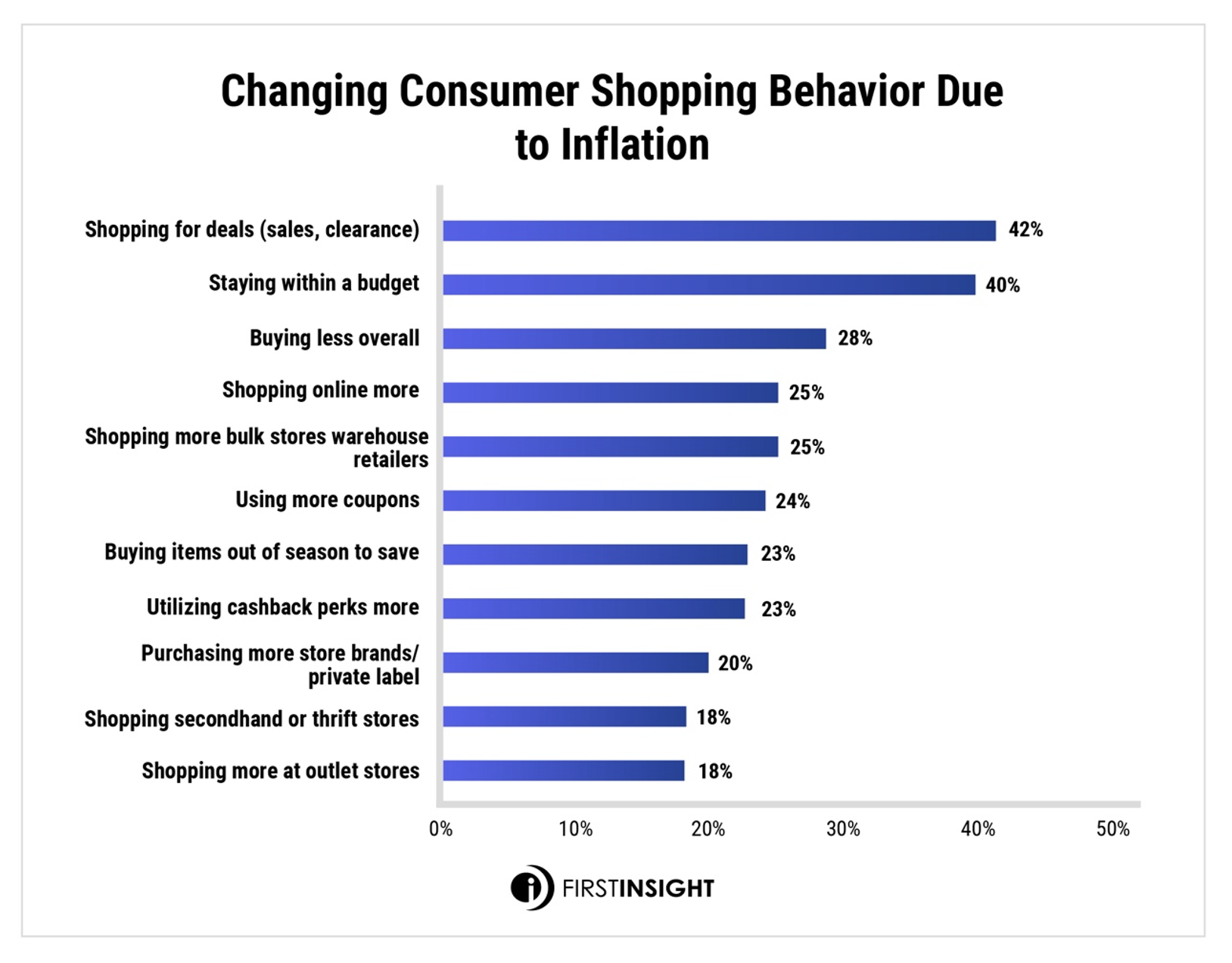 4. Apparel | Consumers purchase apparel, footwear, and accessories based on need and versatility
Over 40% of shoppers are noticing higher prices for apparel footwear and accessories and over 1/3 of consumers are spending less in this area. When looking at how Americans are prioritizing their spending categories, apparel ranked towards the bottom along with entertainment and travel. Inflation is impacting jewelry sales the most followed by dress shoes, seasonal apparel and footwear, handbags, and many others. It was clear in the results that consumers are making purchases based on necessity.
Retailers should focus on creating products that not only meet a need but are versatile for the end-user. With over 40% of consumers shopping for deals and about 25% using more coupons, promotional strategies can help businesses capture demand and increase gross margin. Learn about our retail price optimization tools.
5. Travel | People are simply driving less
It's no secret prices at the pump are skyrocketing. One glance at GasBuddy's latest research is striking. Fuel costs are impacting consumers more than any other category we surveyed, and this effect is not only reducing disposable income but forcing businesses to implement creative solutions that drive results. According to our study, Americans are driving less overall and taking fewer vacations. This decrease in transportation is a significant obstacle for both in-store experiences and supply chain. Passing shipping and material costs on to the consumer is hindering demand capture and sell-thru. As a result, many companies are relying on industry-leading predictive analytics to overcome supply chain disruptions and pricing challenges.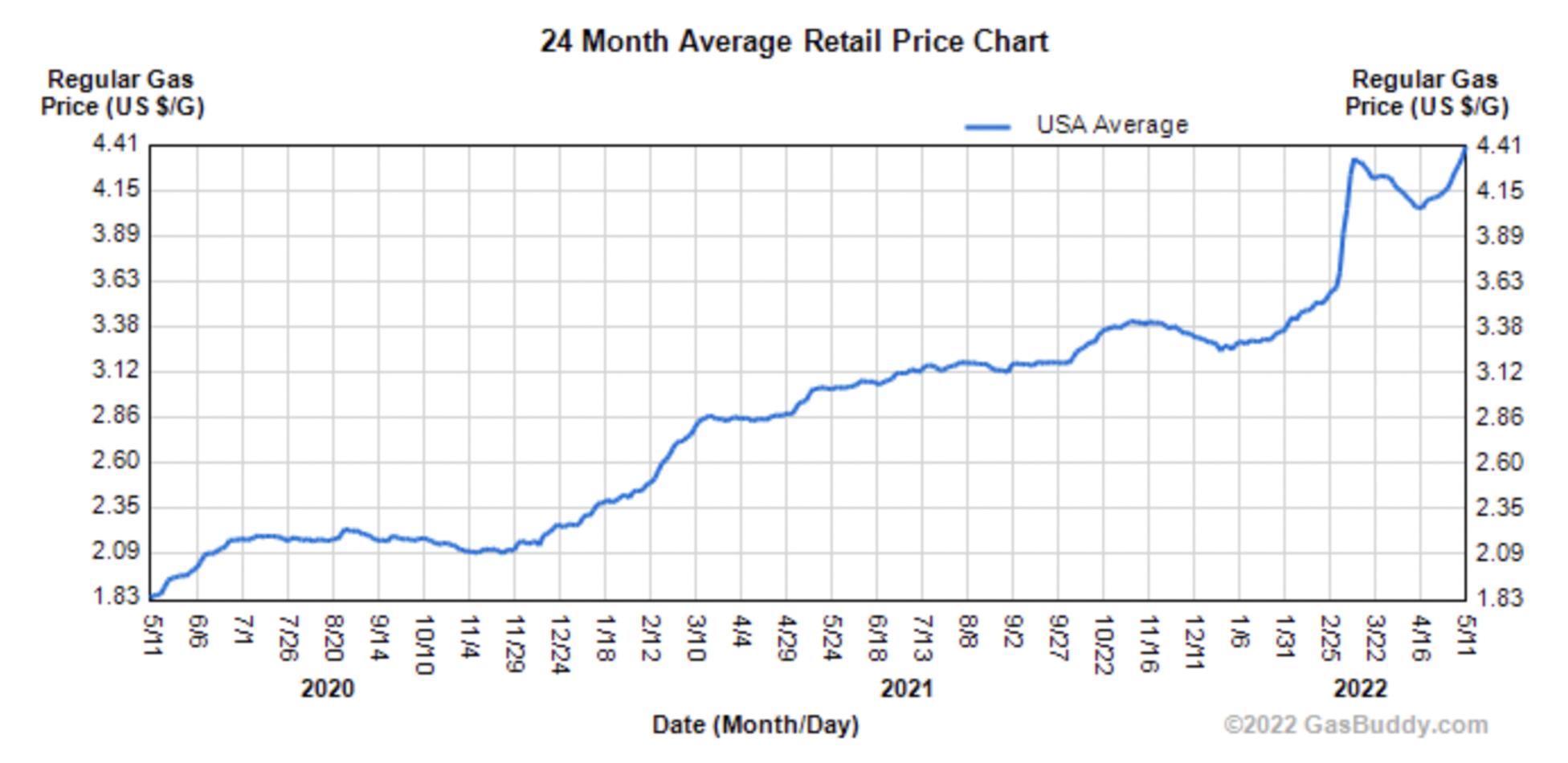 Understanding this shift in travel behavior and spending can help businesses make better decisions around in-store vs online product assortment to create leaner inventory. Companies should also be cautious not to offset too much of their costs caused by inflation onto their consumer. Adopting price optimization software can help you not only capture demand but create winning product assortments that drive your business forward.