Solution is delivering 3-9% gains in sales and margin by providing investment insight on new products.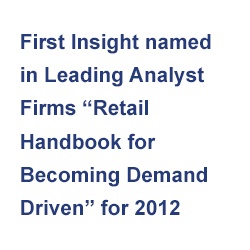 PITTSBURGH, PA – May 21, 2012 – First Insight, Inc., a technology company transforming how leading retailers make new product investment decisions, announced it was named in the "2012 Retail Handbook for Becoming Demand-Driven" by Gartner Inc. - the world's leading information technology research and advisory company.
According to the Gartner Report: "Marketing departments have long had access to consumer data, such as loyalty and shopping pattern information, and that data has been used to identify potential gaps in offerings and guide product design and engineering teams to new areas. Increasingly, however, retailers are interested in tapping consumer insights throughout product design and development cycles to shape the final product. Once a product is on store shelves, it's too late to change much about it, at least until the current inventory has been sold."
The First Insight solution provides actionable inventory investment guidance on new products by applying analytic models to feedback collected from online consumer interactions. The Gartner report states: "Retailers and brands use that feedback to shape final product designs as well as make decisions about pricing, promotions and assortments that affect the success of new product launches."
Furthermore, the Gartner report states that "demand-driven retailers realize 27% greater return on assets (ROA), 23% more inventory turns and 26% greater revenue growth than their peers."
"We are honored to be named in this Gartner report," said Greg Petro, founder and CEO of First Insight. "We continue to work with our retail customers to deliver measurable gains in sales and margins. Our solution is helping struggling retailers return to growth and is helping successful retailers stay ahead of their competitors."

About First Insight, Inc.
First Insight is the leading solution for providing inventory investment and pricing guidance for products that are new to retail assortments. Through the use of online consumer engagement, the First Insight solution gathers real-time consumer preference and pricing data and applies predictive models to create actionable insights, which inform new product decisions. Retailers use the First Insight solution to select the most profitable new products for improved sales, margins and inventory turnover. With the use of First Insight data, retailers gain a forward-looking view of customer demand and merchandise profitability. Implementing First Insight's predictive analytic solution gives retailers guidance for product design, buying, assortment planning, pricing and marketing decisions. Customers include Fortune 500 companies, including leading department stores, specialty retailers and footwear companies. For further information, please visit www.firstinsight.com.