Comprehensive platform gives retailers and manufacturers visibility into performance of new products before introduction.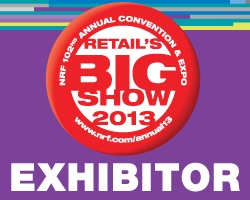 PITTSBURGH, January 3, 2013 - First Insight, the world's leading solution provider empowering retailers and manufacturers to introduce the right new products at the right price, will launch major platform expansion at the National Retail Federation's (NRF's) 102nd Annual Convention and EXPO. The BIG Show takes place January 13 through 16, 2013 at the Jacob K. Javits Convention Center in New York City. First Insight will be exhibiiting in booth #262.
First Insight's new comprehensive platform is equipped with a suite of offerings, all of which are designed to give retailers and manufacturers greater visibility into product performance before products are launched.
"Retailers and manufacturers have endless amounts of intelligence on product performance after products hit the stores. They know exactly which customers are buying which products, where those cusotmers are, and what offers they respond to," said Greg Petro, CEO of First Insight. "First Insight now gives companies this same level of intelligence before the products are launched. We've moved the product/customer data frontier further back in the development and buy cycle, essentially offering a system of record for tomorrow's products - today."
At NRF 2013, First Insight will introduce this new platform along with three major new platform components:
Insight Pricing. First Insight is the first company in the world to generate a price response (or elasticity) curve prior to a product being introduced. Insight Pricing enables companies to accurately set entry price points using a predictive model which identifies the market's response to alternative pricing decisions. First Insight's solution is driving margin gains for its customers by showing them which products - known as MarginMovers - can bear a higher price point than originally planned. Insight Pricing also provides an accurate forecast of a new product's Average Unit Retail (AUR) price prior to product introduction.

Insight Marketing. First Insight's solution now enables retail marketers to understand the optimal customer profile for a new product, well before that product hits the stores. Retailers using Insight Marketing are able to target specific customer groups with tailored messaging for these new products, dramatically increasing new product sell-through and margins.

Insight Selection. First Insight's core new product ranking and recommendation offering features a re-designed user experience, making easier for merchants and planners to view product performance results and make decisions.
First Insight is a Silver Sponsor of the BIG Show, and is also sponsoring the Virtual Golf Challenge, next to First Insight's booth#262. Top prize is $40,000.
First Insight invites retailers, manufacturers, media, analysts, and other attendees to visit them at the EXPO and pre-schedule a meeting in the company's conference room within booth #262. Please contact Brady Dolan at Brady.Dolan@firstinsight.com or 724-759-7141.
About First Insight, Inc.
First Insight empowers reatilers and manufacturers to drive new product success by introducing the right products at the right price. Through the use of online consumer engagements, the First Insight cloud-based solution gathers real-time consumer preference and pricing data and applies a predictive model to create actionable insights, which inform new product decisions. Companies use the First Insight solution to select the most profitable new products for improved sales, margins and inventory turnover. Implementing First Insight's predictive analytic solution give retailers gidance for product design, buying, assortment planning, pricing and marketing decisions. Customers incldue Fortune 500 companies, including leading department stores, specialty retailers and manufacturers.
2012 was a year of significant growth and adoption of the First Insight platform. Highlights include being named one of Gartner's "Cool Vendors in Retail" for 2012, as well as being included in Gartner's " Retail Handbook for Becoming Demand Driven" and in "Best Practices for Product and Service Innovation for Retail", growth in First Insight's customer base, addign industry leaders such as The Limited, PacSun, Vera Bradley, Saks Off Fifth, Avon, and others; and partnering with USA TODAY in predicting fashion trends for back-to-school and holiday shopping. For further information, please visit www.firstinsight.com.
About Gartner's Cool Vendors
Gartner does not endorse any vendor, product or service depicted in its research publications, and does not advise technology users to select only those vendors with the highest ratings. Gartner research publications consist of the opinions of Gartner's research organization and should not be cosntrued as statements of fact. Gartner disclaims all warranties, expressed or implied, with respect ot this research, including any qarranties of merchantability or fitness for a particular purpose.