COVID-19 has dramatically changed consumer behavior and demand. As the retail industry continues to emerge from the pandemic, a big question remains: which consumer behavior changes will stick?
One thing's for sure: quality continues to be more important to consumers than price.
First Insight data from 2018 found that quality was becoming more important than price to most consumers, with 53 percent saying quality was the most important factor when making purchases compared to price (38 percent). We recently conducted new consumer research to temperature check market behavior and found that consumers still rank quality/value of product (51 percent) higher than price (30 percent).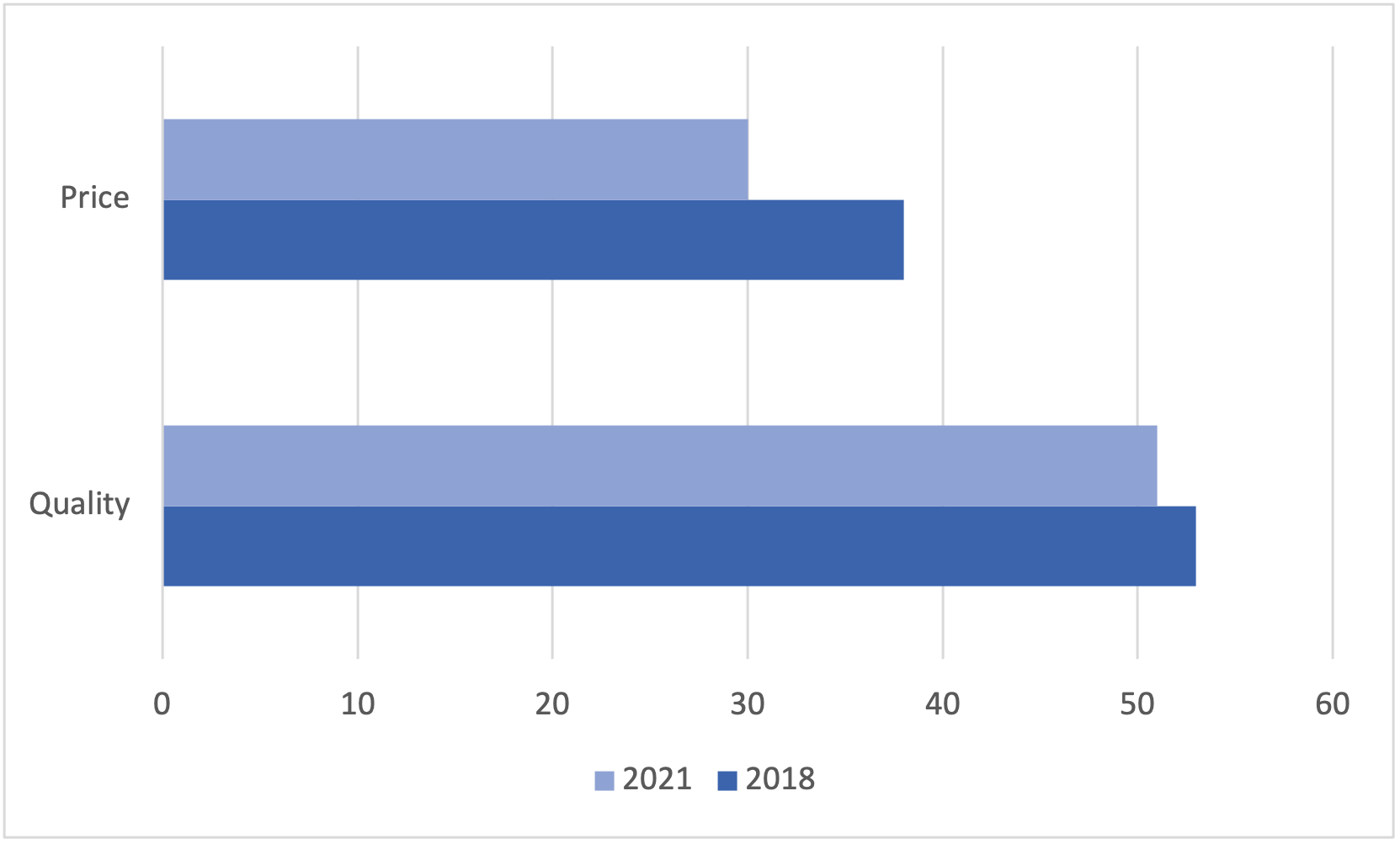 Quality and a company's reputation are often linked. It's table stakes for products to match the standard of quality that customers expect, and a quality product increases the chances of the customer coming back - which ultimately builds customer loyalty. Customers tend to keep coming back when a product is good, even if the price is high, and customers often buy what they perceive as higher quality, even if it costs more.
Over half of new products fail. Leveraging the Voice of the Customer and predictive analytics tools can show you which new products will be successful and which to avoid. First Insight utilizes real-time data analytics and customer feedback to enable retailers and brands to optimize product assortments and identify quality winning products and design elements before costly investment decisions are made.
In today's retail market where consumer behavior and demands are constantly evolving, quality is proving to be more important than ever. Here are a few reasons why it's important to produce quality products:
1. Increase customer loyalty and customer retention
Customer loyalty and customer retention are two sides of the same coin. Loyal customers are predisposed, even physiologically, to continue buying your brand. Customer loyalty increases profits, improves sales success, and allows for growth. Increasing customer loyalty and customer retention helps provide a great experience to the consumer while building and offering value.
2. Positive brand reputation and brand trust
Brand trust is built over time, but it can be destroyed in a second by launching items and campaigns that would negatively impact brand reputation, revenues, and profitability. First Insight's Risk Alert capability helps brands and retailers minimize risk by identifying potentially offensive products or messaging before they're launched and the damage is done.
3. Increase profitability and sales
The bottom line is that it's more important than ever to listen to your customer. Incorporating the Voice of the Customer can help improve your product before going to market so you can anticipate and improve product success.