First Insight's 2023 Report Finds 62% More Shoppers Cite Shipping Costs as Their Number One Consideration to Convert Online
Pittsburgh, PA—November 9, 2023—Thirty-three percent of consumers would be willing to spend at least $10 for shipping this holiday season, according to a new First Insight survey, The State of Consumer Spending: Holiday Shopping Trends 2023. The second annual report finds that shipping costs represented the greatest year-over-year change in what drives consumers to convert online, a 62% increase over last year. Regardless of how much consumers expect to spend on shipping, the majority of online shoppers expect shipping times to take between 3 – 5 business days.
A further breakdown of consumers willing to spend on shipping reveals that this subset is one that retailers would be wise to target this holiday season. Comparing the group of consumers willing to spend more than $15 on shipping sits in stark contrast to others in the survey who indicate that they would spend from zero to $5 on shipping. The higher spenders on shipping are 2.5 times as likely to spend more on holiday shopping overall this year than last. Furthermore, more than three-quarters of the older consumers in this group—Gen X and Boomers—are willing to spend $20 or more on shipping, with half of younger consumers saying the same. Despite their willingness to spend, these consumers do want to believe they are getting a bargain, with 42% stating that they will need a minimum promotional offer of between 35 and 50% in order to entice them to convert.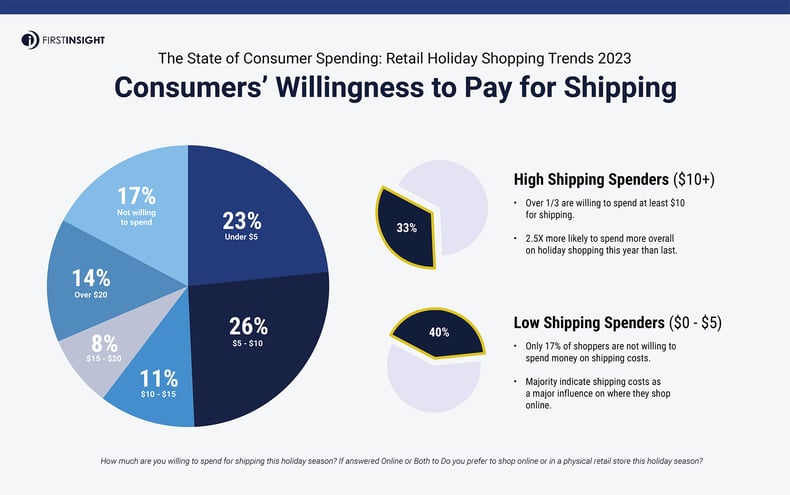 "Targeting those consumers who are willing to spend more on shipping can reap countless rewards for retailers' bottom and top lines this holiday season," said Greg Petro, Chief Executive Officer, First Insight. "These shoppers indicate a greater willingness to spend more overall during a time when retailers routinely provide substantial promotional offers. Furthermore, the days of high consumer expectation for free and fast shipping may be in the rear-view mirror and retailers may no longer have to automatically offer free shipping simply to remain competitive."
The survey also revealed that 71% of younger consumers who will spend more on shipping will also purchase luxury items this holiday season. Overall results for luxury were not as positive, with 35% indicating that they will cut back on luxury spending this year, compared to 26% last year, when 42% intended to buy luxury products.
Seventy-eight percent of the higher shipping spenders use social media to help them find gifts compared to only 37% of the $5 or under shipping spenders. Despite the rush to spend on newer platforms like TikTok, Facebook remains the most popular social media platform overall used by almost two-thirds of respondents. YouTube and Instagram follow at 57% and 56% respectively, with TikTok used by 46% of respondents.
The report also finds:
A remarkable 87% of shoppers say they are willing to pay full price for a gift that they know the recipient truly wants, compared to 79% of shoppers in 2022.


Overall, the minimum promotional offer shoppers are looking for this year is 25 – 30%, consistent with last year.


Of the shoppers who will cut back on spending this year, almost half will do so by looking for deals, while 39% will do so by buying less.


Only 44% of respondents overall are concerned this year about the availability of products, compared to 55% last year.


More shoppers prefer to shop both in-store and online this year, with 54% indicating that they will shop across both formats versus 46% last year.


28% of those surveyed plan to start their holiday shopping between November 1 and Thanksgiving, with just 19% waiting until Black Friday/Cyber Monday.


70% of shoppers say that they rarely return gifts from others, and when they do it's primarily because it's the wrong size. Only 13% return gifts because they don't like them.
# # #
About First Insight
First Insight is the global leader in Voice of the Customer retail solutions, transforming business decision-making through actionable consumer insights and AI. First Insight's platform enables retailers and brands worldwide to boost revenues and profitability by informing strategic decisions with consumer data and removing guesses and personal opinions. Trusted by leading retailers, vertically integrated brands, mass merchant retailers, and wholesalers, First Insight leads in optimizing strategy, product, pricing, planning, and marketing decisions. For further information, visit www.firstinsight.com.


Media Contact:
Berns Communications Group
Michael McMullan
mmcmullan@bcg-pr.com