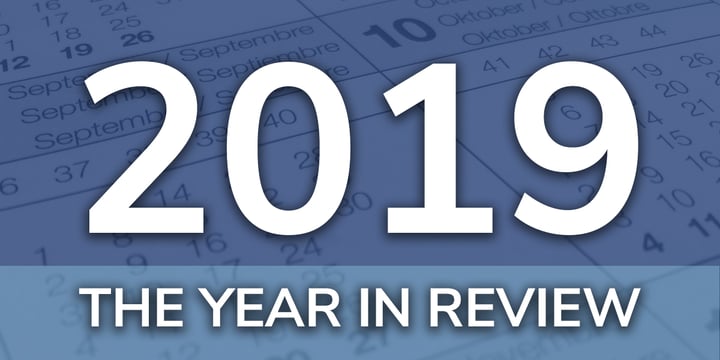 New developments shake up the retail industry every year, but 2019 has been especially eventful. Between offensive product missteps, the trade wars, and legendary retailers like Barneys filing for Chapter 11 bankruptcy protection, 2019 has left us surprised but optimistic for the future as retail adapts to the changing environment. We recap retail and First Insight's top highlights from the year below.
Check out our month-by-month breakdown of highlights – and lowlights:
January

The year kicks off with Retail's Big Show, NRF 2019—which highlights the shifting focus from traditional retail to the customer and data. Leaders from Kohl's, Chico's FAS, and rue21 speak at our panel presentation, Product Paradigm Shift: Customer-Centric Merchandising in the Age of Data and Decision Agility.
Retales from the Frontline features CEO Greg Petro in their podcast on How Retailers and Brands Can Recognize Their Data Assets

hosted by Matt Rubel

.


The U.S. - China Trade War completes its first year. The trade war began January 2018 after the U.S. imposed tariffs on solar panels and certain washing machines.


First Insight announces the addition of 60 new retail and brand partners to the customer-centric merchandising platform.


Misstep: H&M pulls an offensive "coolest monkey in the jungle" hoodie modeled by a black child on their website.


Chapter 11 Reports: Beauty Brands, Innovative Mattress Solutions (Mattress Warehouse, Mattress King, Sleep Outfitters), Shopko, and Gymboree.
February

Misstep: Gucci launches a very offensive "blackface" sweater causing a media firestorm.


Misstep: Burberry models an insensitive at London Fashion Week, causing more media fire for luxury fashion brands.


Misstep: adidas pulls an offensive all-white black history month shoe from its assortment.


Chapter 11 Reports: FullBeauty Brands, Charlotte Russe, Things Remembered, Payless
March

First Insight joins Instagram!


First Insight releases a new report, The State of Consumer Spending: In-Store Impulse Shopping Stands the Test of Time.


STORES Magazine features our customer Crocs in an article, revealing how they use Voice of the Customer Analytics to pick winning products. First Insight throws an office party to celebrate.


Former Chief Merchandising Officer of rue21, Karen Pinney, gives a reference call on how First Insight has helped the fast fashion retailer improve product success, increase speed to market, and prevent disastrous products.


Retail Doctor Bob Phibbs features CEO Greg Petro in Going to Market Smarter in his podcast.


Chapter 11 Reports: Diesel USA, Z Gallerie
April

First Insight announces continued expansion with new offices in Europe and Asia.


President of Hush Puppies at Wolverine Worldwide, Greg Tunney, joins CEO Greg Petro on the stage at the FDRA 2019 Footwear Executive Summit in Washington D.C. to present Increasing Sales and Mitigating Risk through Customer Centric Merchandising.


First Insight hosts a webinar featuring Mark Higgins, Senior Director of Digital Business Development at Deer Stags for Information is Power Using Data to Drive Sell-In and New Product Success.


Chapter 11 Reports: Roberto Cavalli
May

CEO Greg Petro hosts a panel presentation, What is the future of brands? (Hint: it's all about innovation) at the World Retail Congress in Amsterdam with the former Chief Client Officer of Tory Burch, CEO of Shoppers Stop, and CEO of MADE.com.


The U.S. raises tariffs on $200 billion of Chinese goods from 10% to 25%.


First Insight releases a new study, The State of Consumer Spending: Millennials Flexing Their Retail Market Influence in U.S. and U.K.


At the FN CEO Summit, CEO Greg Petro presents Insight is Power citing how customers Crocs, Deer Stags, and Wolverine Worldwide use predictive analytics to increase customer engagement and make better product decisions.
June

CEO Greg Petro writes his most read Forbes article of 2019 with around 70K views, At its Core, Apple is No Longer Innovative.


Simbus Technologies and First Insight forge a strategic partnership to bring the world's leading customer-centric merchandising platform to India.


The U.S. and China agree to restart trade talks after concessions on both sides.


Misstep: Mexico's Culture Secretary accuses Carolina Herrera and brand of cultural appropriation for the Cruise 2020 collection.


Misstep: Kim Kardashian almost launches a new shapewear line called "Kimono" and is accused of cultural appropriation. This did not go over well with Japan's Trade Secretary.
July

August
The U.S. announces a new 10% tariff on $300 billion of additional Chinese goods to begin September 1st. This is added to the existing 25% tariff on $250 billion of other Chinese goods.


Amid China tariff chaos, First Insight shares how retailers and brands can shield themselves from tariff risks in a blog and case study.


FedEx Ground cancels its express delivery contract with Amazon as Amazon announces its one-day shipping initiative for Prime members. CEO Greg Petro writes about the implications in


Misstep: Social media accuses Dior of cultural appropriation of Native Americans for their advertisement of cologne Sauvage. CEO Greg Petro writes about it in Forbes.


Chapter 11 Reports: Barneys New York, A'gaci
September
The trade war rages on as some new tariffs are levied and others are delayed. on September 1st by levying tariffs on $75 billion of U.S. goods.


With all the 2019 missteps and offensive product launches, we share how retailers and brands can prevent this widespread issue through digital product testing in our blog.


In a webinar hosted by WWD, Elaine Wheeler, Head of Digital Product Development at Marks & Spencer, discusses how the London-based retailer leverages Voice of the Customer data to inform product decisions and increase full-price sell-through by 12%.



Misstep:

Bstroy sickens its audience at New York Fashion Week with school shooting hoodies. CEO Greg Petro takes the streetwear fashion company on in Forbes.


Chapter 11 Reports: Fred's, Sugar Fina, Forever 21
October
Chapter 11 Reports: Destination Maternity
November

The U.S. and China continue trade discussions

,

meeting mid-November after the Asia-Pacific Cooperation (Apec) Summit held in Chile.


CNBC announces that Walmart appears to be gaining ground on Amazon as shown in First Insight's study findings.


CEO Greg Petro discusses how much speedy delivery really costs in MarketWatch's SectorWatch video.


Closing Report: Zac Posen goes out of business.
December

What a momentous year it was for retail. Cheers to 2020 as we ring in the new year. "The only constant is change," and we're excited to help our customers be ready for whatever comes next.